WWE 'Monday Night RAW' Results: Extreme Rules Fallout Begins Tonight
Extreme Rules was a chaotic show and tonight's Monday Night RAW will hopefully put the flagship show on track heading into SummerSlam.
The endings to some of the matches on Sunday were head-scratching, but has led to many fans wondering what is actually happening with two of Monday Night RAW's titles. The first is Apollo Crews and the United States Championship. Crews was not physically cleared to compete on Sunday so MVP declared he was the new champion via forfeit. Is MVP's reign as US Champion about to begin or will we have to wait for Apollo to return?
Also, Sasha Banks "pinned" Asuka on Sunday thanks to her best friend Bayley. The SmackDown Women's Champion hit Asuka with the title after the referee was inadvertently hit with the green mist. Bayley proceeded to take the referee's shirt and count the pin on Asuka as she and Banks stole the RAW Women's Championship. Bayley isn't an official, so she has no authority to declare Sasha Banks the winner, but how will this be sorted out tonight?
WWE Champion Drew McIntyre defeated Dolph Ziggler on Sunday, but now that he doesn't have a challenger who will step up to the "Scottish Psychopath"?
And finally, Randy Orton looks to add Big Show's name to the list of legends he has taken out as the two go one-on-one in an unsanctioned match. Can Big Show stop Orton's path of destruction or will Randy continue to go unopposed?
Here's everything that happened on the July 20 edition of Monday Night RAW.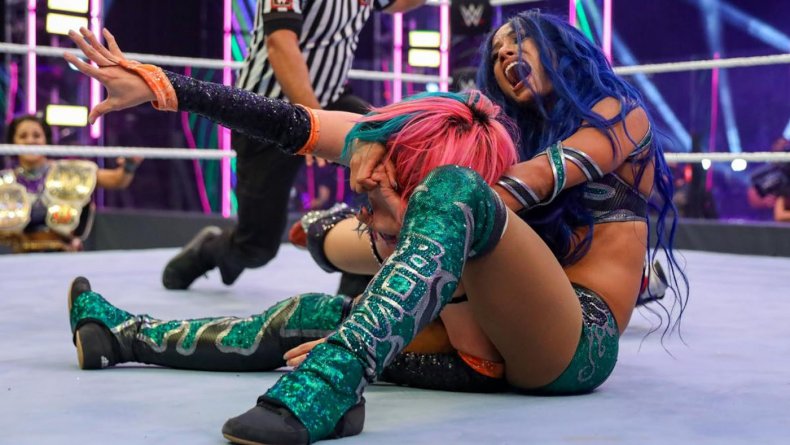 WWE MONDAY NIGHT RAW RESULTS
Seth Rollins Promo
Rollins starts the night with a promo alongside Murphy. Commentary makes a point to say that Rey Mysterio will regain his vision.
Rollins says the visual of what he did on Sunday will remain with him forever. He regrets what he did to Rey, but the WWE Universe should regret for making the monster he has become. He reminds everyone that Rey Mysterio chose this stipulation.
He starts to say that there is no one who will stand in his way for the greater good. Aleister Black interrupts. Black says that he's here to rectify everything Rollins has done. Murphy runs at Aleister up the ramp, but Black hits him. Murphy and Aleister start brawling around the ring. He gets rid of Murphy and slides into the ring, but Rollins rolls out as RAW goes to commercial.
Seth Rollins (with Murphy) vs Aleister Black
Rollins wins via pinfall after The Stomp
After the match, Rollins and Murphy beat down Black and keep attacking the right arm that Seth was working the whole match.
Backstage
Ron Simmons is talking with MVP and Bobby Lashley when he leaves, they call R-Truth over. Truth says that Apollo Crews is the real US Championship and he doesn't want to be put in Lashley's Full Nelson again.
Lashley says that they're talking about the 24/7 Championship and point behind Truth. He turns and gets hit by Shelton Benjamin before being pinned. Benjamin is the new 24/7 Champion.
MVP Promo
MVP comes out to the ring with Bobby Lashley and Shelton Benjamin
Commentary makes it a point that Apollo Crews is still the US Champion.
MVP says that he left Extreme Rules as the new United States Champion. He reiterates how Lashley was the one who put Apollo out of commission, and that it didn't matter because MVP was going to win even if Crews showed up.
MVP says that after they beat Ricochet and Cedric Alexander they'll go to the after party.
Cedric Alexander says that MVP was relevant back in 2006 and that they've been champions before and they know what it takes.
MVP says that since Apollo isn't here, they'll let Ricochet and Cedric pick two of them and they'll have a tag match. Cedric and Ricochet say that they aren't alone and they bring out Mustafa Ali. The faces clear the ring as RAW goes to commercial.
MVP, Shelton Benjamin and Bobby Lashley vs Mustafa Ali, Ricochet and Cedric Alexander
Mustafa Ali pins MVP after the 450
Randy Orton Promo
Orton says that there are plenty of moments that helped him become the legend killer and the greatest wrestler ever, but the moment he's talking about is when he gave Edge a con-chair-to. He says he's made a lot of friends in this business, but they are not etched in stone and those friendships are gone: Edge, Christian, Big Show. Orton says those men helped him save him from himself. He says that he's surprised that one moment that caused so much pain, he enjoyed it.
Orton says that he will enjoy ending Big Show's career with the punt.
Christian Interview
Christian joins RAW via skype and is asked about Randy Orton. The superstar says that he won't be the same after his match with Orton a few weeks ago.
Christian says that he can't wait for Big Show to kick Orton's ass.
Bianca Belair Interview
Backstage she's asked about what the WWE Universe can expect from her. Bianca says that the WWE Universe already knows what to expect from her, and she was being the nicest for helping out Ruby Riott last week.
Peyton Royce interrupts and calls Bianca the dumbest for getting involved in their affairs. Ruby Riott comes out and asks where Billie Kay is. Peyton says to mind her own business and brings up Liv Morgan's name, which causes Ruby to try and attack Royce when Bianca separates them and says that should save it for the ring.
Peyton Royce vs Ruby Riott
Riott pins Royce after a Riott Kick
Zelina's Group Interview
Zelina's group is asked about their match with The Street Profits tonight and they hype up how they're going to win because they are on the same page when Montez Ford and Angelo Dawkins come in and attack Zelina's group. They leave them on the floor.
Street Profits vs Andrade and Angel Garza (with Zelina Vega)
Montez Ford pins Garza after a Frog Splash
Backstage
Zelina Vega chews out Andrade and Garza. Vega says that she needs to fix their mess and calls them kids. Andrade says that they are not kids and Zelina tells them to prove it.
Bayley and Sasha Banks Promo
Bayley tells the audience to cheer for Sasha's success. Banks says that she knows people are accusing her of stealing the RAW Women's Championship. Sasha says that the people forgot that she fought for the title unlike Asuka who was gifted the title from Becky Lynch
Sasha says that Asuka blinded the referee and someone had to officiate her match so Bayley came in. Banks
Asuka comes out and says that Sasha was not ready for her. And that the RAW Women's Championship is her title.
Stephanie McMahon appears on the titantron. She congratulates Sasha and Bayley for being tag champions and SmackDown Women's Champion, but she's not the RAW Women's Champion. Next week, Sasha Banks and Asuka will have a rematch for the title and Stephanie makes a point that Sasha can lose by count out or by DQ especially if Bayley gets involved.
Bayley (with Sasha Banks) vs Kairi Sane (with Asuka)
During the match, Shayna Baszler is shown watching backstage. She's asked if she has interest in the match and she says she does
Kairi Sane wins via pinfall after reversing the Bayley to Belly into a roll up
Drew McIntyre Interview
McIntyre is asked what he's doing tonight. Drew says that he's going to the ring to let the WWE Universe know what's next for him before RAW goes to commercial.
Drew McIntyre Promo
McIntyre gives Dolph Ziggler credit for their match on Sunday. He says Ziggler almost beat him, but "almost" is the story of Dolph's career.
Ziggler interrupts and says that they beat each other for that title on Sunday. He says he was so close for having his moment. McIntyre says he beat Ziggler 24 hours ago and tells him no to another match.
Ziggler says that he's due. McIntyre says that he feels bad for Ziggler and he's going to walk out. Drew is about to leave, but Dolph tries to stop him but McIntyre head butts him.
As McIntyre walks up the ramp, Ziggler pleads for another match and says that Drew can pick the stipulation. McIntyre accepts and he will make Dolph wait to know the stipulation just like he did with him.
Big Show Backstage
Show says that there's more to life than living up to your last name. All of the people who helped Orton out of a bad place he has systematically destroyed. He doesn't know what's in store for him tonight, but Show says he prayed that the legend killer wouldn't come back. Big Show says the voices in Randy's head have gotten louder and they are telling him to take everyone out permanently.
He remembers when Randy and him would travel together and were a tag team.
Show says that this may be the end for him, but he won't go down without a fight.
Big Show vs Randy Orton - Unsanctioned Match
In the early stages of the match, Angel Garza and Andrade come out and beat down Big Show. They hold him down for Randy, but The Viking Raiders come out for the save. The two teams brawl into the back.
Orton wins via pinfall after an RKO--the second of the match after Show kicked out of the first
After the match, Orton hits Big Show with the Punt