WWE Monday Night RAW Live Results: Matches Set for Stomping Grounds Pay-Per-View
It's the final Monday Night RAW before the Stomping Grounds pay-per-view this Sunday, and the superstars of RAW will be building toward their individual matches tonight.
The main storyline of Monday Night RAW has revolved around Seth Rollins' reign as Universal Champion. Baron Corbin became the number one contender for the top title before Super Showdown, but lost his match against Rollins at the Saudi Arabia show.
However, Corbin believes the referee cost him the match and politicked his way into another title shot at Stomping Grounds. But it won't be as easy as their last match, because Corbin will have a special guest referee of his choosing. While Sami Zayn has expressed interest in being chosen, Corbin will make the formal announcement tonight. With a locker room full of heels, it'll be interesting to see who will be the impartial official for this Sunday.
In the midcard, the number one contender for Samoa Joe's US Championship will be decided tonight in a Fatal Five-Way match. Braun Strowman, The Miz, Ricochet, Bobby Lashley and Cesaro will all vie for the opportunity at Joe's title this Sunday at Stomping Grounds. With Joe being a heel, it's logical to have either Strowman, Miz or Ricochet win tonight to have that classic heel/face dynamic, but perhaps WWE will swerve the fans. Either way, it should be an entertaining match.
Daniel Bryan is scheduled to make an appearance on tonight's RAW as part of the "wild card rule." The official WWE.com preview says Bryan will arrive on RAW not by choice, so it's interesting to see what he will have to say. He is one half of the SmackDown Tag Team Champions, so maybe he'll have a showdown with a RAW tag team tonight. Bryan and Rowan did take the titles off of The Usos before Jimmy and Jey were shipped to RAW in the Superstar Shake Up so they can possibly renew their rivalry.
Expect a lot of developments tonight on Monday Night RAW as we build towards Stomping Grounds. Here's everything that happened on the June 17 episode of RAW.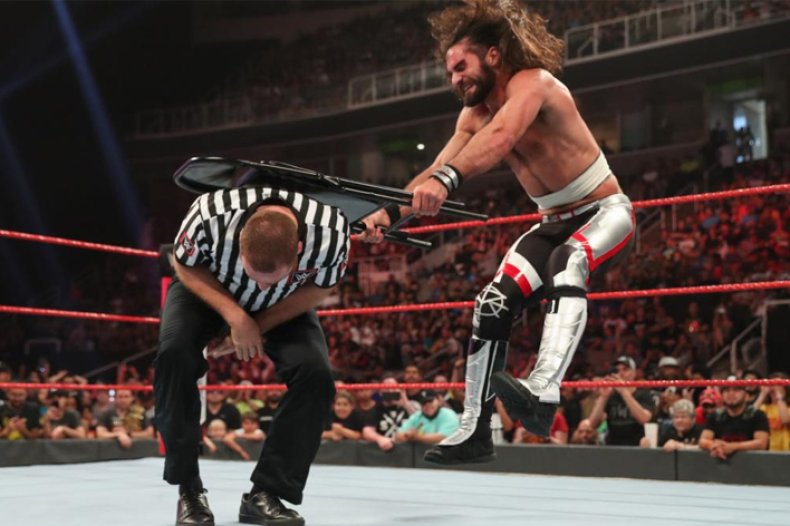 MONDAY NIGHT RAW LIVE RESULTS
Opening Segment
Elias starts the night running down the Los Angeles crowd and a performance. He says he was invited by Baron Corbin to Monday Night RAW to be the special guest referee for his match against Seth Rollins on Sunday. Rollins appears behind Elias and slams a chair to Elias' back over and over.
Seth Rollins says that with everything he's done with Brock Lesnar he's done playing around. He says this is a message to anyone who aligns themselves with Corbin.
Seth goes to the back comes out for his match. The competitors of the Fatal five-way match come in one by one and hit Elias - who is still in the ring - with their finishers
Braun Strowman vs Miz vs Ricochet vs Cesaro vs Bobby Lashley - Fatal Five-Way Elimination Match
Strowman eliminates Cesaro and then Bobby Lashley with Power Slams
When Strowman was going to hit Miz with a Power Slam, Lashley hits Braun with a Spear and then Cesaro hits Strowman with a Gotch Neutralizer.
Ricochet eliminates Strowman after a 630 and pin - with Cesaro and Lashley helping Ricochet pin Braun.
After being eliminated, Strowman tosses Ricochet into Lashley and then throws Cesaro into the LED wall on the top of the ramp.
Ricochet pins and eliminates Miz after a 630. Ricochet will now face Samoa Joe for the US Championship at Stomping Grounds.
After the bell, Joe - who was watching ringside - attacks Ricochet. However, Ricochet gets the upperhand and ends the segment on top.
Becky Lynch Promo
Lynch immediately calls out Lacey Evans. She says that every week she has to hear what Evans deserves but what if she kicks her ass all over Los Angeles.
Evans comes out and says that no one cares. She says that a movie should be made of her life. She was a former marine and that she is what the women's division deserves and needs.
Becky says she respects who Lacey was but who she is now is complete trash and that she doesn't understand why she has to resort to cheap shots. Lacey just says that it's to prove she's what the division needs and as she tries to get in the ring, Becky attacks and hits her with the Bexploder and walks to the back.
Backstage
The Revival are seen walking backstage and enter Shane McMahon's lounge. The team, Shane and Drew McIntyre drink to Shane.
Baron Corbin Interview
It's revealed that Elias doesn't want to be the special guest referee. Corbin says he's not scrambling for a replacement and says he has already chosen and will reveal it tonight on the Kevin and Sami show.
Seth Rollins hits Corbin with a chair from behind and says it seems he has more work to do.
Daniel Bryan Promo
Daniel says he understands why the McMahon's brought him to RAW. He says that it's because this place sucks, both Los Angeles and Monday Night RAW. Bryan continues to rundown the city but says that Rowan and he are there to educate and excite them. Bryan says he will excite the crowd by destroying Seth Rollins tonight and that one half of the Planet's Champions are better than the entire RAW roster. And to show the RAW tag team division why they are the best tag team in history.
The Viking Raiders come out and stare at Bryan and Rowan before making their way to the ring.
Viking Raiders vs Local Enhancement Talent
Viking Raiders win via pinfall after the Viking Experience
24/7 Segment
After the match, R-Truth and Carmella - who are in disguise - are in the crowd when the other wrestlers run down the ramp. They run underneath the ring and they end up pulling Titus O'Neil out from under the ring. Carmella and Truth get out from the other side and run to the back.
Shane McMahon
Heath Slater walks into Shane's lounge and asks Shane for a raise in his contract. Shane says no, but since he walked in here like a man he can walk out like one.
Drew McIntyre walks out and approaches Heath Slater on the phone. Drew says that he's sorry for what happened in there and that he is going to help him. He tries to pull out some money from his pocket and Heath says he doesn't have to. Drew says he wants to because they go way back. McIntyre drops the bills on the floor and when Slater tries to pick it up, Drew slams him against the wall and beats him down.
The Revival pull Drew off and say to save this intensity for Sunday.
Kevin and Sami Show
They bring out Baron Corbin as their guest. Corbin says that he had people lining up to be his special guest referee. He chooses a man who knows how to count to three, that man is EC3.
When EC3 comes out, Seth Rollins hits him with a chair and goes to the back. Corbin says he'll have to go back to the drawing board.
The New Day come out. Sami says that they are not invited guests and that they are not listed as tonight's Wild Cards. Kofi Kingston says that he's the WWE Champion and he can go where and when he wants and he will bring his boys with him.
Kevin Owens says that he should be worried because if Dolph doesn't take the WWE Champion from Kofi, he will the next chance he gets. Kofi says that KO couldn't beat him at MITB and he has Dolph exactly where he wants him.
Corbin says that since Sami and KO don't want to be his special guest referees why don't they team up to take on the New Day. The New Day pick up EC3 - Weekend at Bernie's-style - to make this match official (he is a referee after all)
Backstage
AJ Styles is in the trainer's office and is approached by Luke Gallows and Karl Anderson in doctors coats.
Styles says that three years ago they made their debut in the Staples Center. He talks about their careers in Japan and when they first got to WWE. Styles says that the best tag team is the Usos and says they have been complacent. He says that he misses the old Gallows and Anderson.
Anderson says that they'll have a match with The Usos tonight and show AJ how good they are.
The New Day vs Kevin Owens, Sami Zayn and Baron Corbin - 2 out of 3 Falls Match
Xavier Woods rolls up Sami Zayn for the first fall
During the match, Corbin clotheslines Sami Zayn by mistake. Kevin Owens gets upset and he kicks Baron. KO and Sami leave Corbin alone which leads to the finish.
Kofi Kingston pins Corbin after a Trouble in Paradise.
Backstage
Alexa Bliss approaches Nikki Cross in the locker room and tells Cross that they have a Women's Tag Team Championship match against The IIconics. She brings up Bayley and her social media activity like she did last week, but she promises Nikki that she will do everything to help her win the titles tonight.
Paul Heyman Promo
Heyman says he's not comfortable being out there tonight with Seth Rollins using the chair all night. Heyman says he won't be the special guest referee this Sunday because you have to be an idiot to take the job with Rollins doing what he's been doing all night.
Heyman says Rollins traded his balls for a chair because that's the only way he can hurt Brock Lesnar. He says that with Rollins in the building and having a match tonight, maybe Brock Lesnar is in the building. Maybe he's not. No one knows if Lesnar will be here tonight next Monday or whenever. The only one who will know is Seth Rollins.
Backstage
Corbin approaches Eric Young to be his referee. Young says he'll think about it. Seth Rollins approaches him and Young says that he only said that to Corbin to stop talking to him. Rollins says they go back a long ways and he wouldn't compromise that. Young walks away when Seth Rollins hits him with a chair.
The Usos vs Luke Gallows and Karl Anderson
Anderson and Gallows are noticeably more vicious but they were too arrogant to put the Usos away.
Usos win pinfall after Double Superkicks to Gallows.
AJ Styles was watching backstage and was visibly upset with their loss.
Roman Reigns Promo
Roman says the last week has not been good since his loss at Super Showdown. But he wants Shane to come to the ring and get his ass kicked.
Shane McMahon appears on the Titantron and says that Roman shouldn't be ashamed of losing to the best in the world. Shane says he won't come to the ring but Roman should be worried about Drew McIntyre.
Drew says the sole reason he's not in the ring is because of Shane McMahon. But at Stomping Grounds, he won't be there to stop him. Roman's night will end when he will physically disfigure him.
Roman Reigns leaves the ring and walks to the back where the lounge is. The Revival go out there but Roman takes out both Dawson and Wilder. Roman enters the lounge. Roman and Drew start fighting but Reigns puts McIntyre through a table. Roman chases after Shane. The two run towards the ring and Roman gets his hands on Shane. Roman throws Shane in the ring and hits him with a Spear.
The segment ends with Roman telling Shane to crawl to the back and tell Drew that he'll kicks his ass on Sunday.
The IIconics (c) vs Alexa Bliss and Nikki Cross - Women's Tag Team Championship Match
Before the match, IIconics say they were surprised they were challenged by Alexa and Nikki, and are sad that there were no other tag teams who wanted to challenge them.
Before the bell, Bayley shows up. In the locker room, Bayley was shown with Naomi and Natalya when she's asked about Alexa's comments from earlier. Bayley says she's going to the ring to shut Alexa up.
Billie Kaye rolls up Nikki Cross for the win.
The finish was set up when Alexa Bliss is thrown from the apron and lands in front of Bayley. Bliss pushes Bayley, which causes the SmackDown Women's Champion to retaliate before Bliss could go in to break up the pin.
Backstage
Alexa Bliss apologizes for what happened. Nikki Cross says that Bayley took away her dream of winning a championship and she wants to see Alexa do that to her. She will be in Alexa's corner on Sunday.
Firefly Fun House
Daniel Bryan Interview
Bryan says why did no one have the sense to take the chair from Seth Rollins. He says that Seth Rollins is not a better wrestler than Daniel Bryan and he's never beaten him.
Daniel Bryan vs Seth Rollins
Rowan slams Seth causing a DQ.
After the bell, Daniel and Rowan start to beat down Seth which cause The New Day to come out for the save. The Revival, Sami and Kevin Owens, and then The Usos come out.
The ring announcer states the match between Bryan and Seth will restart with everyone banned from ringside.
Rollins wins via pinfall after a Stomp.
Seth walks up the ramp and faces the crowd. Baron Corbin shows up and hits Rollins with a chair. Corbin throws Seth in the ring and hits him with The End of Days. The show closes with Baron holding the Universal Champion over his head.
WWE Monday Night RAW Live Results: Matches Set for Stomping Grounds Pay-Per-View | Sports