WWE Monday Night RAW Results: Edge Returns to Confront Randy Orton
We're just a few weeks from WrestleMania—and the first post-Elimination Chamber pay-per-view edition of Monday Night RAW is tonight, continuing the build to the premiere show on WWE's calendar.
In what is likely the main event segment, Edge is set to return to Monday Night RAW to address Randy Orton's attack on his wife, Beth Phoenix.
Orton took out Edge following the Royal Rumble and gave his reasons last week to Phoenix. Randy feels he is saving Edge from himself from getting hurt again by doing it himself. Edge will arrive on RAW looking for a confrontation with "The Viper" and this will likely set up their WrestleMania match.
Drew McIntyre hit WWE Champion Brock Lesnar with not one but three Claymores on last week's show. McIntyre isn't afraid of "The Beast" and he will hope to prove it at WrestleMania but what does RAW hold for the number one contender? Well, McIntyre is billed to be in action tonight against who is anyone's guess.
AJ Styles lost to Aleister Black on Sunday, with the help of The Undertaker. Now that "The Deadman" cost Styles two matches in two weeks how will "The Phenomenal One" respond?
The Street Profits retained the RAW Tag Team Championships against Seth Rollins and Murphy with the help of Kevin Owens. The loss seemingly put a fracture in Rollins and Murphy's partnership but what's the next chapter in Rollins and Owens' feud and who will challenge the Street Profits next?
And finally, Shayna Baszler became the number one contender for Becky Lynch's RAW Women's Championship last night at Elimination Chamber. Baszler eliminated Natalya, Sarah Logan, Ruby Riott, Liv Morgan and Asuka en route to her victory.
But what's next for the "Queen of Spades" and how will Lynch react to Baszler's dominant performance?
Here's everything that happened on the March 9 episode of Monday Night RAW.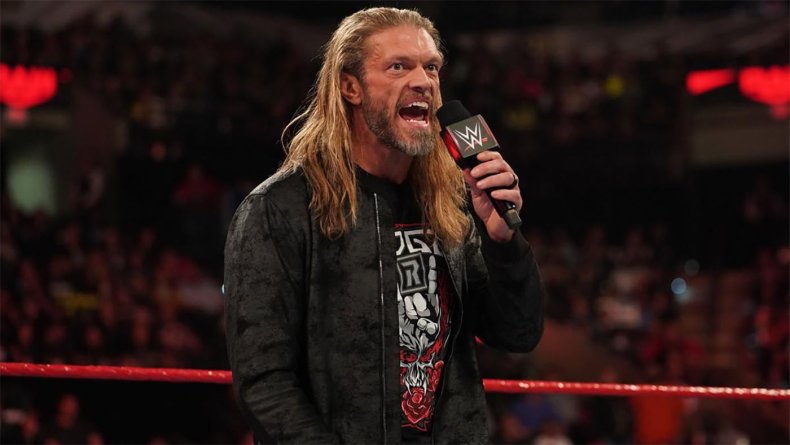 WWE MONDAY NIGHT RAW RESULTS
Becky Lynch Promo
Becky Lynch starts the night off saying she's finally ready for WrestleMania now that she knows who she's facing.
Lynch puts over Baszler as an MMA fighter and as the NXT Champion, but also says she's the "blackhole of charisma." She says that Baszler disrespected her after she didn't shake her hand when she won the double titles at WrestleMania.
She says that Baszler doesn't realize that Becky can defeat a "killer" because she already did against Ronda Rousey last year and she'll do it again.
Rey Mysterio vs Angel Garza (with Zelina Vega)
Mysterio wins via pinfall after a 619 and a springboard elbow
Backstage
Earlier before the show, AOP, Murphy and Seth Rollins meet Kevin Owens when he enters the arena. Rollins offers KO popcorn, when Owens throws his luggage at AOP.
Unfortunately, KO is jumped by Seth's crew and tossed into crates. Producers stop the assault and tend to Owens.
Charlotte Flair Promo
After the Rhea Ripley at WrestleMania video package that was shown last week, Charlotte comes out and says that Rhea is the "shiny new toy" of the WWE.
She says that there is no one like Charlotte and there will never be another like her. She's going to teach Rhea a lesson at WrestleMania and it's one thing to stand in that stadium when it's empty, it's another when you're in front of thousands of fans.
Rhea Ripley comes out to the ring to interrupt. Charlotte says this isn't NXT, this is Monday Night RAW and it's her kingdom. She tells Rhea she's excuses before Ripley punches Charlotte.
Bobby Lashley vs Zack Ryder (with Curt Hawkins)
Lana isn't with Lashley (she's filming a movie)
Lashley wins via pinfall after a Dominator in a quick match
Aleister Black Segment
Black is in his dark room when he gets a knock at his door.
Rollins and Murphy come in. Rollins says that he's noticed that Black has found problems with the numbers game. Seth says he wants Aleister on his side. Murphy tosses a Seth shirt to Black.
Aleister says no and tosses the shirt back to Murphy.
Rollins says that Aleister is either with him or against him. Black says that this sounds like a challenge and since he knocked on his door, he accepts.
Erick Rowan vs Drew McIntyre
During the match, McIntyre grabs Rowan's cage and crushes it with the steel steps
McIntyre wins via pinfall after a Claymore in a relatively short match
Kabuki Warriors vs Natalya and Liv Morgan
Before the match, Kairi and Asuka get on the mic and just laugh. They talk in Japanese, but Kairi seems to be upset about what happened to Asuka at Elimination Chamber
During the match, Ruby Riott comes ringside to watch the match
Sarah Logan eventually comes ringside to watch the match and she and Ruby start fighting on the outside. Liv Morgan jumps on both of them from the top rope leaving Natalya alone.
Asuka pins Natalya after a kick to the head when she had a Kairi in the Sharpshooter. She didn't realize there was a tag
AJ Styles Promo
Styles comes out with Gallows and Anderson and says that when he saw Undertaker lose to Roman Reigns three years ago he thought that was it. He even thinks that when Brock Lesnar broke the streak, Undertaker should have called it quits.
Styles ponders why The Undertaker keeps coming back (even using Taker's real name) and says that it's Michelle McCool's idea. She gets what she wants and she is going to run Taker into the ground and AJ is going to help her.
He challenges Undertaker to a one on one match at WrestleMania.
Randy Orton Interview
Backstage, Charlie Caruso approaches Orton and asks for his thoughts on Edge coming to RAW. Orton doesn't say anything causing Charlie to leave.
Riddick Moss (c) vs Cedric Alexander - 24/7 Championship Match
Riddick Moss wins via pinfall after his neckbreaker finisher
Edge and Randy Orton Segment
MVP comes out and says that he is here to help Edge get back to where he needs to be. Edge is shown getting into the arena and makes a beeline to the ring.
Edge gets in the ring and calls out Randy Orton. Orton appears from behind and tries to him him with the RKO, but Edge actually hits Randy with his own finisher. He then takes out MVP after Randy leaves the ring.
Edge hits MVP with two con-chair-tos as Randy Orton watches from the ramp. Orton goes to the back and Edge runs after him before RAW goes to commercial
Contract Signing
It's announced that next week will be the official contract signing for AJ Styles and Undertaker's match at WrestleMania
Brock Lesnar/Drew McIntyre Video Package
Heyman says that Lesnar has been the most dominant force for the last 18 years and lists off Brock's victims including WWE Hall of Famers
McIntyre says that everything Heyman says is true, but he's the one who eliminated Lesnar at the Rumble and laid him out on RAW last week and he will do it again at WrestleMania.
Backstage
Edge is looking for Randy when Charlie Caruso tells him that Orton has left the arena.
Aleister Black vs Seth Rollins (with Murphy)
Black wins via disqualification after Murphy breaks up the pin
After the bell, Rollins and Murphy gang up on Black. AOP come to the ring and beat Aleister down too.
The Viking Raiders come out and start brawling with the AOP. The Street Profits come out to help too. Street Profits call for an eight-man tag match before RAW goes to commercial
Street Profits and Viking Raiders vs Rollins/Murphy and AOP
Rollins pins Ford after a Stomp
Finish was set up when Ford took out most of the wrestlers on both sides with a high flying move on the outside. When he rolls back in, Rollins hits his finisher.
After the match, Kevin Owens grabs Rollins and fights him on the outside.
The fight spills back into the ring with KO hitting Murphy and AOP with Stunners but Rollins ends the show hitting Owens with two Stomps.
Murphy tries to get in the ring to celebrate but Rollins tells him to get out of the ring so he can having his moment and hit KO with a third Stomp.