WWE 'Monday Night RAW' Results: Apollo Crews' MITB Replacement Determined Tonight
It's the final Monday Night RAW before the Money in the Bank pay-per-view and there's still some loose ends to tie before Sunday's show.
The first and most important is WWE finding a replacement for Apollo Crews in the men's Money in the Bank ladder match. After being injured in his U.S. Championship match against Andrade last week, the WWE determined that Crews will be unable to compete on Sunday and his replacement will be determined in a gauntlet match.
Dubbed the "last chance" gauntlet match, the winner will take Apollo Crews' spot. However, the competitors have yet to be revealed but it could include wrestlers on the RAW brand who lost their qualifying match. This would include Austin Theory, MVP and Murphy. We could see other competitors join them including Angel Garza, the returning Jinder Mahal and possibly Andrade.
The only other confirmed match for tonight's episode is the tag team bout between the RAW Tag Team Champions The Street Profits and the Viking Raiders.
Erick and Ivar of the Viking Raiders have defeated Montez Ford and Angelo Dawkins each time they've faced each other, even dating back to their times in NXT. But Ford and Dawkins are more determined than ever to defeat their rivals and cement themselves at the top of the RAW tag team division.
WWE Champion Drew McIntyre is ready to face Seth Rollins this Sunday and after their contract signing last week, it would seem the champ isn't buying what "The Monday Night Messiah" is selling.
Rollins is trying to convince McIntyre that he can't handle the burden of being champion and that he should give it to him. Drew, who has been fighting for this title for over 10 years, isn't ready to relinquish the title he won at WrestleMania.
Murphy, Rollins' disciple, returned to Seth's side last week and now that he has the numbers game what will be the next chapter in the McIntyre and Rollins feud?
Here's everything that happened on the May 4th episode of Monday Night RAW.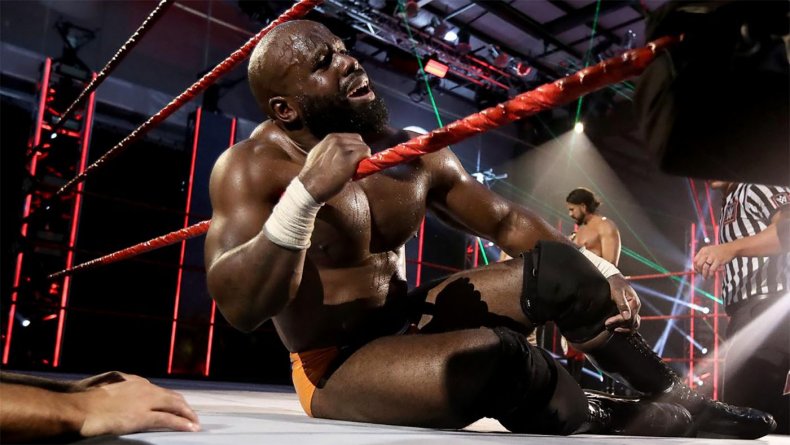 WWE MONDAY NIGHT RAW RESULTS
VIP Lounge
MVP says that last week, the VIP Lounge went sideways. He says this week, he's going to bring out the RAW women of the MITB ladder match.
Nia Jax, Asuka and Shayna Baszler come and take seats in the ring. MVP asks Nia about having the skillset to get the briefcase on Sunday. Nia says she has the skillset to destroy her opponents.
Asuka responds in Japanese and brings up Kairi Sane and calls Nia rude.
MVP asks Shayna how her skills in a cage help her win in a ladder match. Shayna simply says she does all her talking with her action and that sets her apart from everyone in this match. And insinuates that Asuka knows first-hand. The two get in front of each other, before the turn to Nia and both women kick her off her seat and she rolls out of the ring. MVP comes in to stand in between Shayna and Asuka.
Last Chance Gauntlet Match
Bobby Lashley and Titus O'Neil are the first competitors
Lashley eliminates O'Neil after a Spear in quick fashion
Akira Tozawa is next
Lashley eliminates Tozawa after a Spear in quick fashion
Shelton Benjamin is next
Lashley eliminates Benjamin after a Spear (the most competitive match to this point)
Humberto Carrillo is next
Bobby Lashley is disqualified from the match after putting his hands on the referee. Afterwards, Lashley hits Carrillo with a Spear
Angel Garza is next
Carrillo eliminates Garza after reversing the Wing Clipper into a roll up
Austin Theory is next
Carrillo eliminates Theory after a roll up
AJ Styles is next
Styles eliminates Carrillo with a Calf Crusher
AJ Styles wins and becomes the new entrant in the MITB ladder match
After the match, AJ Styles knocks Carrillo's leg into the post. He gets on the mic and says he's not a zombie and there's no Undertaker to stop him. Yea he knows he was buried, but says he didn't lose. But now Styles says he's seized an opportunity to participate in the most unique MITB ladder match. He says he'll do anything to get that MITB contract even if it means throwing Rey Mysterio or Aleister Black off the roof. He will make this MITB match one to remember.
Seth Rollins Interview
In the ring, Rollins is asked about any last-minute predictions for McIntyre's match with Murphy tonight. Seth says whatever is meant to be will be. He has confidence in Murphy.
Rollins says that McIntyre is not a leader. And it's not his destiny to be the champion that takes WWE into the future, it's his. He says that McIntyre is not ready for the burdens of being the champion. He's not trying to take Drew's dream, he's just trying to unburden.
Backstage
Shane Thorne and Brendan Vink are backstage when MVP walks up to them. He gives the team a word of encouragement and that they can make the best of this opportunity. Vink and Thorne say that they'll make the best of this opportunity and will defeat Ricochet and Cedric Alexander
Murphy Interview
Backstage, Murphy is asked why he's so loyal to Seth Rollins. Murphy says that Rollins believed in him when no one else would and he believes in Seth's message and he will do what's necessary tonight. He not only believes Seth can beat Drew, he believes he can defeat McIntyre.
Cedric Alexander and Ricochet vs Brendan Vink and Shane Thorne
Vink pins Ricochet after a Big Boot
The Street Profits vs Viking Raiders
Before the match, The Street Profits say that the Performance Center is where they met and became a team. And ever since the Viking Raiders signed and joined the PC, they've been chasing them. But tonight, they are ready for them and want the smoke.
Viking Raiders pin Angelo Dawkins after the Viking Experience
The match was highly contested with a lot of near falls
Drew McIntyre Interview
Backstage Drew is asked about Murphy's comments. He says that Murphy is a confused man, the kind of person that Rollins preys upon. But if he wants to sacrifice himself for Seth, who is he to deny it.
Viking Raiders Interview
Backstage, they are asked about their victory over the Street Profits. They say that they respect and like the Street Profits, but they prove that they are the better tag team.
Aleister Black Promo
Following a recap of AJ Styles' return and him calling out Aleister Black. Black asks how it felt to be buried six feet under. He also brings up how that time away hasn't made Styles humble, and if he does think he can throw him off the roof AJ better make sure Black doesn't get back up.
Rey Mysterio Promo
Mysterio says that he's been a part of a lot of matches, but nothing like this Sunday's ladder match.
Charlotte Promo
In the ring Charlotte gets on the mic. She says that she's been pulling double duty and this Wednesday she'll face Io Shirai. And while Shirai has fought all over the world, but she'll make her bow down to the queen.
Liv Morgan comes out and interrupts. Charlotte says that Liv wants her to take her seriously. Liv says that she didn't grow up with a golden spoon in her mouth or with a dad that walked her to the front of the line.
Charlotte says that Liv is saying the same thing that everyone else has. But if Liv wants to fight, then they can do it.
Charlotte vs Liv Morgan
Charlotte wins via submission after a Figure Eight
Charlotte was pushed to the limit and reversed Liv's finisher into the submission
Drew McIntyre vs Murphy (with Seth Rollins)
McIntyre wins via pinfall after a Claymore
The finish was set up when Murphy had the upperhand and did the Claymore countdown, but was hit with the finisher instead
After the match, Seth walks to the ring and McIntyre begs him to come into the ring and fight him. Seth walks away. While Drew is talking to the camera, Rollins comes up from behind and hits McIntyre with the Super Kick. Rollins screams that this is bigger than them. He picks up the WWE Championship and drops it before going for The Stomp. McIntyre avoids the move and hits Seth with the Glasgow Kiss and prepares for a Claymore, but Rollins rolls out.