WWE 'Monday Night RAW' Results: Drew McIntyre and Keith Lee Have Their Rematch
It's the final Monday Night RAW before the Clash of Champions pay-per-view and there are still some champions on the red brand that need an opponent for this Sunday.
WWE Champion Drew McIntyre is scheduled to face Randy Orton this Sunday, but after attacking him with a trio of Claymores a few weeks back, "The Viper" may not be able to participate. Because of this, Keith Lee has been offered the spot if Orton can't make it as long as he can beat McIntyre.
Last week, their bout was interrupted by Retribution and now they will go at it again tonight. Lee wins, he gets a title shot if Orton can't wrestle on Sunday it's as simple as that and the champion won't make it easy for the "Limitless" one.
RAW Women's Champion Asuka dispatched Mickie James last week in a weird finish, but Zelina Vega was quick to step up to the champ after the match. Vega is best-known for his managerial work with Andrade and Angel Garza, but she's looking to step in the ring with Asuka and take the title off of her. Will she get her title shot this Sunday, or will she have to go through the rest of the locker room to get to her?
Speaking of the locker room, The Riott Squad has a lot of momentum heading into their Women's Tag Team Championship match against Nia Jax and Shayna Baszler. Can they continue their hot streak before their weekend bout?
The Street Profits have had a dominant run as the RAW Tag Team Champions and don't currently have a challenger for Clash of Champions. Andrade and Angel Garza will take on Seth Rollins and Murphy, and Dominik Mysterio and Humberto Carrillo in a triple threat bout with the winner going on to Sunday to take on Montez Ford and Angelo Dawkins.
In RAW Underground, undefeated Dabba-Kato will take on Braun Strowman in a monstrous bout. Will Strowman become the new "champion" of RAW Underground?
Here's everything that happened on the September 21 episode of Monday Night RAW.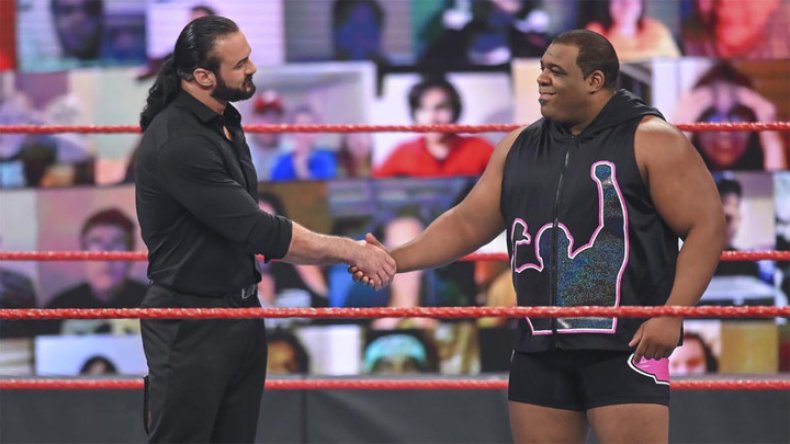 WWE MONDAY NIGHT RAW RESULTS
Opening Segment
Retribution appears in the ring without their masks. It's revealed that it's Mia Yim, Mercedes Martinez, Dominik Dijakovic, Dio Madden and Shane Thorne.
Mia Yim says that they aren't content for just signing contracts in the WWE and that the WWE superstars are only motivated by money. Dijakovic, says that this place has become a hell hole because the superstars only want money and that Retribution is here to change this place.
The Hurt Business arrives--in their suits--and walk to the ring. When they do, Retribution rolls out of the ring.
MVP gets on the mic and says that when the "realness" shows up, Retribution isn't so tough. They said that if they want their opportunity, they can come get it.
The core members of Retribution summon more members and they clear the ring before RAW goes to commercial.
Rey Mysterio Interview
Mysterio is hanging out backstage with his wife and daughter and is asked how he feels that Dominik is pursuing his first title and he says that he couldn't be prouder.
Andrade and Angel Garza vs Seth Rollins and Murphy vs Dominik Mysterio and Humberto Carrillo
Street Profits are on commentary.
Garza pins Murphy after a Wing Clipper.
The finish was set up when Seth Rollins decided to walk out on Murphy leaving him to take double team offense from the winners.
Retribution Segment
Dijakovic talks about how The Hurt Business embodies what the WWE is, with the wrestlers out in the cold while they line their pockets. And they formally challenge the Hurt Business tonight.
Kevin Owens Show
Shane McMahon is the guest on the KO Show.
Kevin Owens brings up their shared history especially how he got Shane fired at Hell in a Cell and he's back anyways, but he says that's water under the bridge. He says he's brought Shane to promote the big match on RAW Underground.
Shane hypes up Dabba-Kato and Braun Strowman's match and brings out Dabba-Kato.
KO gets in Kato's face and slaps him in the face, but Shane holds him back. Owens introduces Braun Strowman as his next guest. Strowman comes out and into the ring.
Shane gets in between both men and says that they have to get to the back for RAW Underground. During the confusion, Aleister Black grabs KO's legs and pulls him into the post to crotch him a few times.
Drew McIntyre Interview
Backstage, he's asked about wrestling with a fractured jaw. He says yea he's concerned about it. He says that he doesn't take anything Keith Lee has done personally and says that they will likely have a drink after this is all over. He then ends by saying that the drinks will be on him when he beats Lee tonight.
Backstage
Retribution is shown beating down RAW superstars like Humberto Carrillo and Titus O'Neil.
Keith Lee vs Drew McIntyre
McIntyre wins via disqualification after Randy Orton hits Drew with a steel chair.
McIntyre hit Lee with the Claymore, but Orton hit him before he could go for the cover.
After the bell, Orton delivered shots to McIntyre's jaw. He then punts Keith Lee when Drew rolls out of the ring.
Randy Orton Promo
He talks about how when McIntyre hit him with those three Claymores, he now knows what all the legends he put down feels like.
Orton talks about the ambulance and what it means to different people. To him, the ambulance means he's getting his 14th title reign this Sunday.
Asuka Interview
She's asked if Zelina Vega or Mickie James poses the greater threat to her. Before she can talk, Billie Kaye interrupts and says that she wants a match with Asuka. Peyton Royce comes out and interrupts and asks for a match.
Asuka asks if they are still friends, and both say they are with Peyton saying that just because they aren't a tag team any more they can still support each other.
Asuka laughs and says at Clash of Champions, no one is ready for her and Peyton isn't ready for her either.
Zelina Vega vs Mickie James
Winner takes on Asuka at Clash of Champions
Vega wins via pinfall after a Back Stabber
Backstage
The Hurt Business are shown beating down the non-core members of Retribution. MVP says that they can do what Retribution does.
Bianca Belair Vignette
Bianca is in the gym outdoes a random guy in the PC gym.
24/7 Segment
Earlier in the day, Akira Tozawa and a ninja go into the ocean to wait for R-Truth. Truth shows up and is swimming in the ocean with Lil Jimmy when a shark appears and Truth drops the 24/7 title in the ocean.
Truth goes into the ocean to find the title and the title washes up on shore.
Cedric Alexander (with MVP) vs Apollo Crews (with Ricochet)
Before the match, MVP calls out Retribution ahead of their six-man tag match later tonight. Cedric tells Apollo that the hurting he puts on him tonight will be for the weeks he was used for Crews to get the US Championship, a title he didn't deserve.
Apollo comes out with Ricochet and says that they don't care about why Cedric betrayed them, he just wants to tell MVP that he hasn't forgotten about the US Championship and will win it back on Sunday.
Crews pins Cedric after a roll up.
The finish was set up when Alexander went to the outside and confronted Ricochet, but when he went back into the ring, Crews was waiting for him.
After the bell, the rest of Hurt Business come out and take out Crews and Ricochet. The segment ends when Lashley puts Apollo in the Hurt Lock.
RAW Underground
Dolph Ziggler defeats Arturo Ruas in the first match.
Breonna Brandy interviews Braun Strowman on the outside asking about what he thinks of his match tonight. Strowman runs down everyone in RAW Underground and even tells Shane McMahon to get in the ring.
Seth Rollins Promo
Rollins says that he's obtained photographs of the Mysterio family this week and wants the world to know the truth. He shows a photo of the Mysterio family and suggests that Dominik isn't actually Rey's son because of the differences between them.
He says he has the results of his investigation and asks the Mysterio family to come out to the ring.
The Mysterio family comes out and Rey says that they are about to beat him like they did to Murphy.
Seth says that he's grown to respect Rey and his family and is inspired by them. Seth says that science and technology has come a long way since this has been brought up before and that the WWE Universe deserve the truth.
Rollins opens up the envelope to say that Rey Mysterio is not the father. Rey says that they've been there before. Seth says he's right, and is actually talking about Aliyah, his daughter.
Rollins shows what Aliyah did with Murphy last week and asks what she was doing there. Rey says that she doesn't need to answer to him and that he needs to leave her alone because she's only 19 and naive to their world.
This annoys her and she walks to the back with her mother. Rey and Dominik go back there and Seth says that he's sorry for doing what he did. He walks up the ramp, and stops before smiling.
Shayna Baszler and Nia Jax vs Lana and Natalya
Baszler submits Lana after a Kirifuda Clutch
The Riott Squad are on commentary and after the match, the tag champs get in Ruby and Liv's face. Jax gets Ruby up for the Samoan Drop on the table, but Liv saves her.
Nia grabs Lana instead and puts her through the table.
Backstage
Drew McIntyre is seen in the medical room icing his jaw. He says he feels fine and can't wait for Sunday. For now, he wants to pick a fight.
Mysterio Family Segment
Rey is talking with his daughter and says that he's just trying to protect her. She says that she doesn't need protecting.
RAW Underground
Riddick Moss defeats Erik of the Viking Raiders.
Asuka vs Peyton Royce (with Billie Kaye)
Asuka wins via disqualification when Zelina Vega comes in and attacks her.
Asuka had Peyton in the Asuka Lock before Vega came in. Asuka fights Zelina off.
Backstage
Murphy walks up to Aliyah backstage and comes to apologize for what he did to her family before walking away.
RAW Underground
Strowman defeats Dabba-Kato after a ref stoppage.
Retribution vs Hurt Business
It's revealed the names of the three guys from Retribution are Slapjack, T-Bar and Mace. Dio Maddin is Mace. Dijakovic is T-Bar. Unidentified Retribution member is Slapjack.
Hurt Business wins after the referee stops the match after Retribution pokes Lashley's in the eyes.
The rest of Retribution shows up and starts beating down Hurt Business when Drew McIntyre and the RAW locker room show up to fend off Retribution. When McIntyre isn't looking, Orton hits Drew with an RKO.