WWE 'Monday Night RAW' Results: Keith Lee and Drew McIntyre Square Off Tonight
The Clash of Champions pay-per-view is getting closer and Monday Night RAW looks to build towards that show tonight with major matches that can shift who defends their titles later this month.
Drew McIntyre will defend the WWE Championship against Randy Orton at Clash of Champions, but the two have been at odds long before that. Back-to-back weeks saw Orton and McIntyre take it to the other using their finishers, but Keith Lee has seen his matches ruined in the process.
Lee, who is a friend of McIntyre, has called out the champ for interfering in his matches against Orton twice this month. Now, the two will go at it one-on-one to let off some steam and to further cement Keith Lee as a main event player on RAW.
Dominik Mysterio and his family took it to Murphy last week as he defeated the "disciple" in a street fight. This week, young Mysterio will take on Seth Rollins in a steel cage match. Will this be the final chapter in the Rollins/Mysterio feud?
RAW Women's Champion Asuka is set to defend her title ahead of Clash of Champions against Mickie James. With James earning her title shot, will the two get their one-on-one or will Lana and Natalya continue to meddle in their feud?
The Tag Team division on WWE is in flux and SmackDown Tag Team Champions, Cesaro and Shinsuke Nakamura, are set to appear on RAW to take on The Street Profits in a champion vs champion bout tonight. Who will leave RAW as the "top team" on WWE?
Speaking of tag teams, the Women's Tag Team Champions, Nia Jax and Shayna Baszler dispatched Sasha Banks and Bayley once and for all and are looking for their next challenge. The Riott Squad--Liv Morgan and Ruby Riott--are next in line, but after Retribution's interruption last week we never got to see if the Riott Squad could pin Nia Jax in a handicap match. The next chapter in their feud likely continue tonight as they build toward Clash of Champions.
Here's everything that happened on the September 14 episode of Monday Night RAW.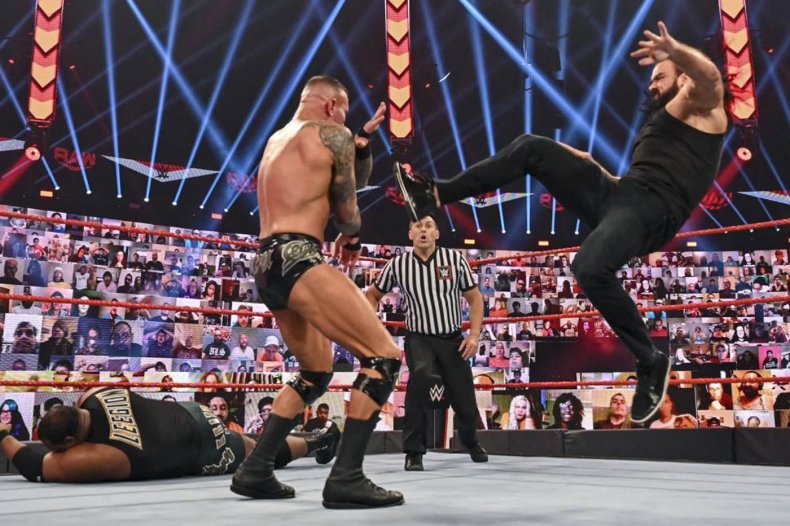 WWE MONDAY NIGHT RAW RESULTS
Drew McIntyre Promo
Michael Cole and Dolph Ziggler replace Samoa Joe and Tom Phillips this week on commentary.
McIntyre starts the night and gives an injury update on himself. He says that WWE medical personnel told him to take some time off because he has a displaced fracture in his jaw and if he takes one bad hit he will need his jaw wired shut. If he took the time off, he would have to forfeit his title.
McIntyre proposes to Randy Orton that they can have their title match in an ambulance match at Clash of Champions.
McIntyre explains how he created the Claymore and shows a photoshopped image of his victims.
Adam Pearce interrupts and says that Randy Orton may not make the match at Clash of Champions and adds a stipulation to McIntyre's match with Keith Lee tonight. If Lee wins tonight and Orton can't make the pay-per-view, then McIntyre takes on Keith for the title.
Keith Lee comes out and gets in the ring with McIntyre. He smiles at Drew and sticks out his hand. The two shake hands and when McIntyre tries to leave, he pulls him back. Lee then tries to leave, but McIntyre pulls him back as RAW goes to commercial.
The Street Profits vs Cesaro and Shinsuke Nakamura
Dawkins pins Cesaro after a Cash Out Splash
Backstage
Lana talks to Angel Garza backstage. She says that she can't believe Mickie James got the title shot instead of Natalya.
Garza starts flirting with Lana when Zelina Vega and Andrade interrupt. Vega blames Garza for what's been happening with them recently.
Garza says that it's Andrade who has lost and he should be blamed. Andrade gets in Garza's face and the two starts jawing when Zelina breaks them up and says she can't do this anymore as Andrade and Garza start fighting.
Hurt Business Promo
Cedric Alexander says that this is his job and will do anything to keep it and that's why he did what he did to Apollo and Ricochet.
Apollo and Ricochet interrupt. Crews says that Cedric is too weak-minded and allowed himself to be manipulated by MVP and now Alexander will have to live with the consequences. Apollo says that they were always there for him.
Alexander says that's wrong and that he wasn't there when he was getting beat down every week when Apollo was US Champion.
Shelton Benjamin tells Cedric not to care about his former friends when Ricochet interrupts and says they were brothers and Cedric aligned with Hurt Business so he wouldn't have a target on his back, but now he does from him and Apollo.
Cedric Alexander (with Hurt Business) vs Ricochet (with Apollo Crews)
During the match, Bobby Lashley is about to take out Ricochet on the outside while the referee's back is turned when Erik of the Viking Raiders comes out and he and Lashley start fighting. These two have a match later tonight.
Alexanders wins via Lumbar Check
After the win, Retribution appears on the screens and talks about how those who give their bodies to this company who tosses them to the trash are garbage themselves and they will change things.
Mickie James Interview
Backstage, Mickie James says that she has always had what it takes to be a women's champion again.Asu
Backstage
Adam Pearce is laying into the security when Hurt Business comes up to him and tells him to deal with the Retribution problem. MVP suggests that they upgrade to using them to deal with Retribution.
Pearce thanks them for volunteering, but MVP laughs and says that this is a business and they'll need to be paid.
Asuka (c) vs Mickie James - RAW Women's Championship Match
Asuka wins after the referee stops the match
Zelina Vega comes out and says that she's tired of managing those two "ingrates" and wants a piece of Asuka's title. Asuka starts yelling at Zelina, but Vega slaps her and rolls out of the ring.
Bobby Lashley vs Erik
MVP is on commentary
Lashley wins via submission after the Hurt Lock (Full Nelson)
Kevin Owens Interview
Backstage Owens is asked about why Aleister Black has a vendetta against him. KO mocks Black, but he doesn't care why but he cares about how much pain he will inflict on Aleister so that they're even. He says it doesn't matter because he's Kevin Owens.
When KO leaves, Aleister Black walks into frame to watch Owens walk away.
RAW Underground
Shane McMahon welcomes the RAW Underground security when Braun Strowman shows up and says that he wants in and to send the best fighters at him.
Backstage
Seth Rollins welcomes Murphy into his locker room. Rollins says he's been waiting for him all night. Murphy looks downtrodden, but Rollins tells him that forgiveness is part of the process and that it's in the past. Tonight is an opportunity for the future.
Rollins then slaps and pins Murphy against the locker and asks if he understands him. Murphy says he does before Rollins lets him go and heads out for his match.
Seth Rollins vs Dominik Mysterio - Steel Cage Match
Murphy shows up ringside to give Seth a kendo stick. Murphy stops Dominik from leaving the cage through the door, but accidentally closes the door on Seth.
Rollins pins Dominik after two Stomps.
After the match, Seth beats down Murphy. Rollins walks up to Rey's wife and daughter and tells her that he hopes she turns out better than Dominik.
The two women walk into the cage to be with their family, but before she does Aaliyah tries to tend to Murphy before walking into the cage.
RAW Underground
Ziggler wins his first match via submission and then Riddick Moss steps up to him. Braun Strowman runs in and breaks up both men. He then lays them both out.
Drew McIntyre Interview
McIntyre is asked about Keith Lee's comments from earlier. Drew says that he doesn't care about Lee, but that's when Keith shows up and explains how the only time McIntyre didn't interfere, he beat Orton. He then tries to touch the title, but McIntyre slaps his hand away. Lee tries to touch it again and McIntyre eventually punches Keith in the chest.
The two start brawling before they are broken apart.
RAW Underground
Titus O'Neil tells the doorman that he wants in, and he's eventually let in.
Inside, Strowman is continuing to dominate when Titus takes him down but Strowman eventually knocks him out.
Aleister Black vs Kevin Owens
Before the match, Black hits KO from behind in the ring.
Owens wins via pinfall after a Stunner.
The finish was set up when the lights flicker causing a distraction. Black was dominating throughout the match.
The Riott Squad vs Natalya and Lana
Nia Jax and Shayna Baszler are on commentary.
Ruby Riott pins Lana after a Riott Kick.
After the match, Shayna and Nia take out Lana and Natalya.
RAW Underground
Braun Strowman continues his dominance before Ziggler and Moss double team him. However, Strowman tosses them out of the ring before Dabba Kato steps up to Braun. Shane announces that match will happen next week.
Keith Lee vs Drew McIntyre
Lee focuses on Drew's jaw throughout the match.
The match is thrown out when Retribution storms the ring and overwhelm both wrestlers.
The Hurt Business eventually come out and they start fighting Retribution. The show ends with Lee and McIntyre taking out everyone with running top rope swantons.