WWE Monday Night RAW Live Results: New Episode of Firefly Fun House Announced, King of the Ring Tournament Continues
We're getting closer to the Clash of Champions pay-per-view and the WWE is ramping up the feuds on tonight's Monday Night RAW.
Two more matches in the King of the Ring tournament go down tonight as Baron Corbin looks to ground Cedric Alexander and Ricochet looks to defeat Samoa Joe once again. Ricochet defeated Joe to win the US Championship over the summer while Corbin and Alexander will meet for the first time in one-on-one action.
A new episode of Bray Wyatt's Firefly Fun House is scheduled for tonight. We're not sure exactly what to expect - do we ever? - but the WWE Universe may get a hint as to who Wyatt's next opponent will be.
Rey Mysterio will also appear on tonight's episode. After almost retiring a couple of weeks ago - Mysterio's son, Dominick, being the one to make his father reconsider - the WWE Universe is curious to see what is next for one of the best luchadors of all time.
Sasha Banks is scheduled to appear tonight, and after taking out Natalya in their match last week will someone else stand up to The Boss? Or will Becky Lynch return to enact some revenge?
WWE announced that Lynch and Bayley are set to team up against the Women's Tag Team Champions, Alexa Bliss and Nikki Cross. Fans can expect Banks to not be far behind.
Braun Strowman will have a busy night during Clash of Champions later this month. He will have to defend the RAW Tag Team Championships with his partner Seth Rollins against Dolph Ziggler and Bobby Roode, and later that night he will go one-on-one against his partner Rollins, for the Universal Championship. How will the partners/opponents co-exist tonight.
Here's everything that happened on the September 2 episode of Monday Night RAW.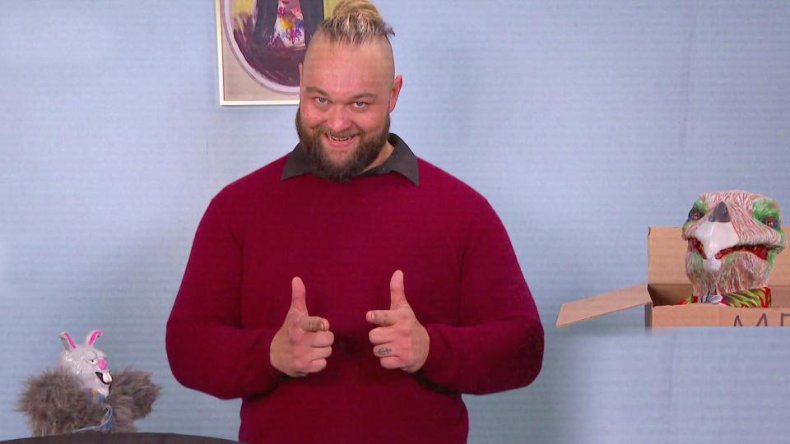 MONDAY NIGHT RAW RESULTS
Universal Championship Contract Signing
Seth Rollins is asked about defending both titles at Clash of Champions. Seth says he has done it before and that he and Braun can beat Ziggler and Roode. Seth says that he's going in and out of Clash as double champion.
Braun says that they will beat Ziggler and Roode, but he'll beat Seth for the Universal Championship
Seth says that he had to slay the beast to get the Universal Championship, something that Braun has never done. And at Clash of Champions, he will slay a monster.
AJ Styles, Luke Gallows and Karl Anderson interrupt. Styles says that at Clash of Champions, history will be made. Styles asks why did Braun get a Universal title shot. Styles says that as US Champion, he should be first in line to compete against Seth Rollins. AJ asks who will he face at Clash of Champions. He then asks why Ziggler and Roode get an opportunity at the RAW Tag Team Championships. They aren't a real team.
Styles says that if Gallows and Anderson doesn't get what they want and AJ doesn't get what he wants, no one will. They surround and then enter the ring with AJ picking up and ripping the just-signed contract. Strowman flips a table that takes out Styles and Braun and Seth take out Gallows and Anderson before RAW goes to commercial.
Braun Strowman and Seth Rollins vs Luke Gallows and Karl Anderson (with AJ Styles)
Rollins pins Anderson with a roll up
Immediately after the bell, AJ jumps Seth, but Rollins throws him out of the ring. Strowman charges around the ring and takes out Gallows and Anderson but accidentally takes out Rollins. Ziggler and Roode come out to help the OC take out Strowman with the steel steps. Roode takes out Rollins with a Glorious DDT. The two tag teams hit Strowman with a Magic Killer and then AJ hits Braun with a Phenomenal Forearm
Cedric Alexander Interview
Backstage, Alexander is asked about his preparations for tonight's match with Corbin. He says that while Corbin was playing dress up with the crown, he was preparing.
The OC jump Alexander and lay him out.
Dolph Ziggler and Robert Roode vs Zack Ryder and Curt Hawkins
Roode pins Hawkins after a Glorious DDT
Lacey Evans vs Natalya
While Evans was walking down the ramp, Natalya gives Lacey a shoulder tackle
Evans wins via pinfall after a Women's Right after throwing her handkerchief at Natalya causing a distraction
Becky Lynch Promo
Lynch asks Sasha Bank where she is. Becky says that she heard what Sasha said last week and said it was all a load of crap. She says that in NXT, Banks was the centerpiece while Becky was just the sidekick. She says that Sasha was given everything while she had to fight for everything she got.
Becky says that Bayley has been doing just fine since Sasha left, and that it must hurt. Lynch also says in that time she is the face of the company and that she can't wait to get her hands on Sasha.
Banks comes out and says that she was supposed to be Becky. She was supposed to main event WrestleMania and get all the accolades and money. Sasha says the only reason Becky got all of that because Nia Jax broke Becky's face. Banks says that this isn't personal it's just business. Sasha says that if Becky wants to make it personal she can. Becky calls Sasha into the ring.
Sasha says she isn't doing anything for free for "these people." She says she will wrestle when she gets paid and that will be at Clash of Champions for the RAW Women's Championship.
Becky accepts the challenge. Sasha says that after Becky loses, The Man will be The Boss' bitch.
Street Profits Segment
Montez and Dawkins look on in shock and cut to commercial
Baron Corbin vs Cedric Alexander - King of the Ring
Corbin pins Alexander after an End of Days
After the match, Corbin sits in the king's chair
Bayley Interview
Backstage, Bayley is asked about Sasha's return. Bayley just shrugs. It's brought up how Sasha said that the Women's Tag Team Championships don't mean anything. Bayley says she spoke to Sasha but what was said is personal.
She's asked if she feels overshadowed by Becky. Bayley says she doesn't feel overshadowed and that the SmackDown Women's Championship means just as much as the RAW title.
Viking Raiders vs Local Enhancement Talent
The local competitors are interviewed before the match and asked why they agreed to this match. They said they drove all the way to Pittsburgh for the opportunity (RAW is in Baltimore).
Viking Raiders win via pinfall after a Viking Experience
Backstage
Sasha is asked about Bayley's comments and Banks scares the interviewer away by yelling at her.
Samoa Joe vs Ricochet - King of the Ring Match
Before the match, Joe says that he's not doing this for any of the people and that King Joe has a good ring to it.
The match ends after the referee counts to three when both men had their shoulders down. The referee gets on a headset and talks to someone in the back and asks if they saw the same thing. The ref tells both competitors that they'll decide who won later and leaves.
After the decision, Joe attacks Ricochet but the segment ends with Samoa Joe taking a Recoil from Ricochet.
Backstage
Strowman approaches Seth and says that Stone Cold is moderating their contract signing. Strowman says that he doesn't like it because he saw when Austin praised Rollins after winning the Universal Championship.
Rollins says that he understands why Braun is paranoid but Strowman needs to understand that Seth knows what it's like to turn his back on his partners and be backstabbed by his best friend.
Strowman says that if Austin gets in his face, he'll make sure Stone Cold gets these hands
Firefly Fun House
Bray tells Finn Balor what The Fiend did was super rude. He says sorry to Balor.
Devil Vince puppet appears and tells Bray how dare he make a match against Seth or Braun for the Universal Championship at Hell in a Cell. Before the Vince puppet could fire Bray, Wyatt shows what he has been doing. He pulls out a wad of money and Vince is happy as Bray feeds the puppet the bills.
Wyatt says that Seth and Braun doesn't know how to be a team and that they took something from him. Bray says that he knows how to be a part of a team and they help him cope with the pain. The Fiend helps Bray inflict it.
The episode ends with Bray saying "I'll see you in hell" before waving goodbye.
Backstage
Corey Graves asks the referee what the result of Joe and Ricochet's match. Baron shows up and says that both Joe and Ricochet should be eliminated. The referee instead says that next week's King of the Ring match will be a triple threat between Ricochet, Joe and Baron.
Rey Mysterio Interview
Mysterio recaps what happened two weeks ago when his son convinced him not to retire. Rey says that Dominick told him that it meant a lot for him to grow up in the WWE family.
Rey says as parents it's up to them to push their children to pursue their passions, but it was Dominick who convinced him to continue with his. He says he's not done and has a lot left to accomplish and is doing this for Dominick.
The Miz vs Cesaro
Miz wins via pinfall after a Skull-Crushing Finale
Nikki Cross and Alexa Bliss vs Bayley and Becky Lynch
During the match, Sasha Banks appears.
Bayley and Lynch win via disqualification after Sasha hits Becky with a Backstabber
After the bell, Sasha is beating down Becky with a steel chair when Bayley grabs the chair from Banks. Bayley shakes her head to tell Sasha to stop, but then grins and lays into Becky too.