WWE Announces Release of Samoa Joe, Mickie James and Others
WWE announced a round of releases from its roster of wrestlers on Thursday, including Mickie James, Samoa Joe and others.
The wrestling promotion confirmed that it's cutting nine wrestlers, with former champions and a future Hall of Famer among them: Mickie James, Samoa Joe, Peyton Royce, Bo Dallas, Chelsea Green, Billie Kay, Tucker, Mojo Rawley, Kalisto and Wesley Blake.
"WWE has come to terms on the release of Samoa Joe, Billie Kay, Peyton Royce, Mickie James, Chelsea Green, Tucker, Kalisto, Mojo Rawley, Bo Dallas and Wesley Blake as of today April 15, 2021. We wish them the best in all of their future endeavors," WWE wrote in a post on the promotion's site.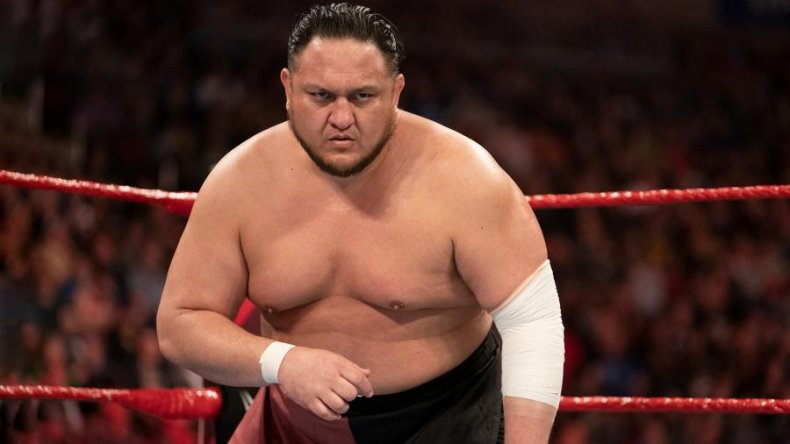 These latest releases comes a year to the date when WWE released a number of on-air talent and behind-the-scenes workers. Some of the on-air talent cut included Karl Anderson and Luke Gallows, EC3 and even Hall of Famer Kurt Angle.
WWE made that earlier announcement on April 15, 2020, citing the COVID-19 pandemic.
"Due to COVID-19 and current government mandated impacts on WWE and the media business generally, the Company went through an extensive evaluation of its operations over the past several weeks. This analysis resulted in the implementation of various short-term cost reductions and cash flow improvement actions," WWE wrote in a press release at the time.
WWE would report $286.2 million in Operating Income Before Depreciation and Amortization (OIBDA) in 2020, an all-time record, in February 2021.
As the news of the releases began to circulate, the wrestlers on the short list took to social media to share their feelings with their followers.
Mickie James expressed gratitude to WWE for her second run with the company after leaving in 2010 and returning in 2016.
"Grateful for the memories. Grateful for the locker room. Grateful for the fans. Grateful for these little keys to my golden handcuffs. You can never expected others vision of you to be big as your own dreams. Thank you Vince McMahon," James wrote.
Tucker, one half of the tag team Heavy Machinery, simply wrote, "Freedom baby!"
Matt Cardona, formerly known as Zack Ryder in WWE and the current fiancé of Chelsea Green, had some fiery words for those recently released.
"I was literally making a post about how this past year has been a blessing in disguise as the news of these releases broke," Cardona wrote. "You will all be fine. Work your a** off. Create your own opportunities."
Green would eventually take to social to post a picture of the "Hot Mess" Laura Van Ness, her character before she arrived in WWE with the caption "Welcome back, it's been awhile."
Green then tweeted a message about her time in WWE and what's next for her.
Samoa Joe tweeted out a simple gif with the caption, "be well."
Wesley Blake tweeted a simple message to his followers writing, "One door closes, another opens. Thank you to all who have help me along the way. Much love."
Billie Kay would take to Twitter to post a heartfelt note, which you can read in full below.
This story is still developing...