Daniel Bryan Reveals Roman Reigns' Attacker is a Rowan Lookalike?
After a string of attacks on WWE superstar Roman Reigns, Daniel Bryan supposedly delivered on his promise to find the culprit.
On the August 20 episode of SmackDown Live, Bryan and Rowan entered the arena with a man whose face was covered by a towel. As the show went on, Bryan and Rowan were confident that they found their man.
In the final segment of the evening, Roman Reigns entered the room where Bryan, Rowan and the mystery individual were. Bryan said he went through a lot to clear Rowan's name when he reveals a gentleman who has some resemblance to the towering WWE superstar.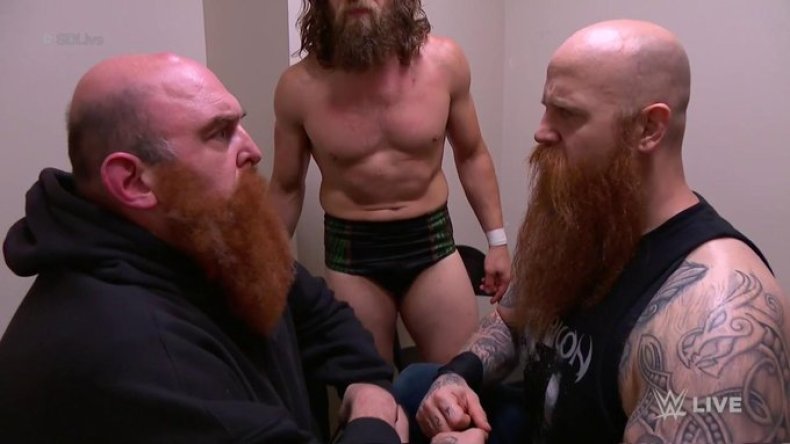 The show went off the air with Roman Reigns looking confused, as the man - who was essentially taken - doesn't say a word. Now, it's hard to believe this random guy is the one who tried to run Roman over with a car so there's likely more to this story.
Many in the WWE Universe believe it's actually Daniel Bryan who is the mastermind of the attacks. Dave Meltzer on an episode of Wrestling Observer Radio before SummerSlam said the plan was to have Reigns vs Bryan, but the WWE missed their timing. This could be a way to get to that match, but we'll have to see how this plays out next week.
The attacks on Roman Reigns began before SummerSlam when the former Universal Champion was on his way to a backstage interview. This is when a lighting rig fell on Roman. Reigns was not hurt but obviously frazzled by the incident.
Reigns would then begin to accuse Samoa Joe, who he was feuding with at the time, of being behind the incident. On an episode of Monday Night RAW, Joe would confront Roman Reigns in the parking lot of the arena when someone tried to hit Roman with a car.
Roman would apologize to Joe for accusing him, but he had questions for Buddy Murphy who was identified at the scene of the lighting rig accident. Reigns confronted Murphy, and after a brawl Buddy would reveal that Rowan was at the scene of the crime.
Daniel Bryan would come to the defense of his tag team partner and say that Murphy only said Rowan's name because Roman gave him no other choice. Bryan and Rowan would attack Murphy backstage and force him to admit he was lying about Rowan being the one who tried to hurt Roman.
In the beginning of this week's episode, Roman Reigns approached Buddy Murphy asking if he was lying to him or to Daniel Bryan. Murphy swears he thinks he saw Rowan at the scene. Roman doesn't like that Buddy isn't so confident with his answer and promises to return if he finds out Murphy is lying to him.
Murphy, on the other hand, would go on to defeat Daniel Bryan in the match of the night after a pin. Following their match, Bryan and Rowan would attack Buddy Murphy saying he didn't deserve the adulation for defeating him.
What do you think about this latest development in the case of Roman's attacker? Let us know in the comments section below.