WWE SmackDown Live Results: Roman Reigns' Attacker Revealed? King of the Ring Tournament Continues
The mystery of who attacked Roman Reigns may finally be solved on this week's episode of SmackDown Live.
Reigns was almost buried under lighting equipment and almost struck by a car a few weeks ago, and "The Big Dog" has been on the warpath looking for the culprit. After Buddy Murphy said - under duress - that he saw Rowan at the scene, Reigns has been looking for him.
Daniel Bryan and Rowan went to Murphy after Buddy's long and hard fought fight with Roman last week to get him to renounce his statement and say he lied. The Planet's Champions told Roman at the end of SmackDown week that they will reveal the culprit after their own investigation.
Will it be Daniel Bryan as the WWE Universe suspects or is it someone else?
The King of the Ring tournament continues with two more first round matches. The first match is between Andrade and Apollo Crews. The two have had numerous matches in the past with Andrade ultimately getting the better of Apollo. Can Crews change his luck against Andrade or will El Idolo continue his quest to takeover SmackDown Live?
Kevin Owens will go one-on-one with Elias in the first round of the King of the Ring tournament. Elias has aligned himself with Shane McMahon recently, so he and Kevin Owens have come to blow a lot over the last few weeks. This time, Elias is the 24/7 Champion and that could play into this match. Will KO's quest to be the king stop here or can he rub it in Shane's face for another week?
Randy Orton attacked Xavier Woods and Big E during their tag match against The Revival on last night's episode of Monday Night RAW. WWE Champion Kofi Kingston arrived for the save, but Randy and The Revival would get the better of The New Day with Woods suffering a leg injury thanks to Scott Dawson and Dash Wilder. How will Kofi react to Randy's actions on Tuesday night?
Here's everything that happened on the August 20 episode of SmackDown Live.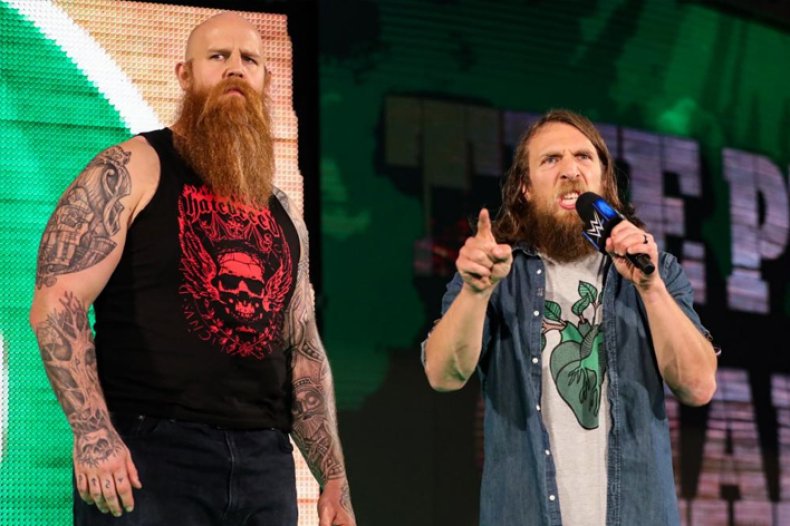 SMACKDOWN LIVE RESULTS
Opening Segment
Randy Orton comes out to start the night. He says that at SummerSlam Kofi ran away from him and their fight. He says that he did this because Kofi is stupid. He says he gave Kofi a chance and he got RKO'd twice. He calls Kofi Kingston stupid.
New Day's music hits and Randy waits for Kofi to arrive, but Kingston pops up behind Orton and hits him with a Trouble in Paradise. The Revival come out to save Randy Orton, but Kofi hits them both with chair shots.
Backstage
Shane McMahon calls Kevin Owens into his office. KO says he's not here to make things worse. Shane asks what's on Owens' mind.
KO says that he's pissed about the $100,000 fine, but he took time to reflect. He admits he got a little heated and asks for Shane to reconsider the fine. Shane says he'll consider it and excuses KO.
Andrade (with Zelina Vega) vs Apollo Crews - King of the Ring Tournament
Andrade wins via pinfall after a Hammerlock DDT
Finish was set up by Zelina Vega's distraction
Backstage
Daniel Bryan and Rowan are seen bringing someone with a towel over their head into a room. Bryan says that everyone knows what they did, and to not move or he'll be very sorry.
Elsewhere, Elias is strumming his guitar backstage when he stops to see a referee dressed in hat and jacket. Elias asks where Truth is and the referee points to a travel case. Drake Maverick jumps out, but Elias chokes him before handing him a letter. The 24/7 Championship rules have been suspended for the night so Elias could focus on his match against Kevin Owens. Elias slams Drake into the case and closes the lid.
Moment of Bliss
Bliss says that just because she and Nikki Cross are champions, they will welcome the less fortunate on their show. Alexa says that Charlotte Flair, her guest tonight, asked for this appearance.
Charlotte says that the King of the Ring chair is more her style. Charlotte says that Trish didn't pass the torch because she's the face of the women's division.
Alexa says that some people say the face of the SmackDown women's division is Bayley because she's the champion.
Charlotte says that she may not be champion, she is the brand. WWE doesn't send Bayley to the red carpet and on interviews because Charlotte is SmackDown.
Bayley comes out and says that all the rhetoric about red carpets and interviews sounds like excuses. Bayley says that she's the champion and that means she's better than her and it eats Charlotte up inside.
Charlotte says that no one wasn't talking about Bayley's match with Ember Moon at SummerSlam. They were talking about her match with Trish. And she will beat Bayley at Clash of Champions.
Bayley says if that's a challenge, she accepts. She also says that she's going to do everyone a favor and shut Charlotte up. Before she leaves, Bayley pushes Charlotte and her chair over.
Backstage
Roman Reigns enters the locker room while Buddy Murphy is getting ready. Roman says he wants to know who is Buddy is lying to. Murphy says he's pretty sure he saw Rowan, and that he's only trying to help Roman.
Roman says if he finds out Buddy is lying to him, he's going to come back and whoop his ass
Daniel Bryan (with Rowan) vs Buddy Murphy
Before the match, Daniel Bryan gets on the mic and asks if Murphy is lying again. But they found the culprit for Roman's attacks and they'll reveal it later.
Murphy wins via pinfall after Murphy's Law
The match was very competitive with a lot of near falls. Rowan even tried to get involved, but Murphy overcame it.
Buddy Murphy Interview
Murphy is getting ready to be interviewed when Rowan attacks him. Bryan is yelling at Murphy saying that he deserves to be hurt because he's a coward and a liar. Rowan hits Murphy with the Iron Claw on one of the travel cases backstage.
The Revival vs Heavy Machinery
Before the match, The Revival calls The New Day cowards. Wilder says that Big E couldn't even bother to show up on SmackDown because he had to help Xavier Woods walk. They formally challenge the New Day to a match for the SmackDown Tag Team Championships at Clash of Champions.
Revival wins via pinfall
Chad Gable Interview
Gable is asked about being the underdog in his first round match. Gable says that he has constantly been called different things, and that he looks to prove people wrong. He says he plans to open some eyes during his run in the King of the Ring.
Shelton Benjamin is seen in the background putting a sign on the locker room door, making fun of Gable's height
Miz TV
Miz's guest, Sami Zayn, asked to be on this forum
Sami says he asked to be on because he had something to say. He says that he's fought for what is right and that the path to redemption is through helping other people. He says that there are a lot of people on SmackDown that needs his help. Miz asks who?
Shinsuke Nakamura comes out. Miz asks why Shinsuke needs to allign himself with Sami? Zayn says that Shinsuke and him are two sides of the same coin. Miz tries to talk to Shinsuke, but Nakamura points to Sami. Zayn talks while Shinsuke attacks Miz from behind.
Backstage
Shane calls Kevin Owens into his office. Shane says that KO hasn't apologized for putting on a WWE official. Owens apologizes, and Shane restates that he is considering lifting the fine. McMahon says that if KO touches another official, he will be immediately fired. KO puts out his hand, but Shane says that he's not there yet.
Elias vs Kevin Owens - King of the Ring Tournament
In the middle of the match, Shane McMahon comes out to watch ringside
Towards the end of the match, Shane stops KO from going after Elias and reveals that he is now an official in this match.
Elias wins via pinfall after a rollup and a Shane fast count
Backstage
Roman Reigns walks into the room where Bryan, Rowan and the mystery man are.
Bryan says he had to go to extreme lengths to exonerate Rowan. Bryan pulls the towel off to show a man who looks a lot like Rowan. Roman looks confused.