WWE Monday Night RAW Results: Sasha Banks, King of the Ring Begins and More
Last week's Monday Night RAW had a lot going on. Sasha Banks returned after months of being away, and the return of the King of the Ring tournament was announced so this week's episode has quite a bit to live up to.
So what can WWE fans expect from this Monday's RAW? Braun Strowman will challenge AJ Styles in a match for the United States Championship. After Styles and The OC got themselves disqualified in the main event last week, Strowman came in for the save on Seth Rollins and Ricochet, while fending off The OC.
Styles didn't take too kindly to Strowman hitting him with two Running Powerslams, and now "The Phenomenal One" looks to show "The Monster Among Men" who runs Monday Night RAW.
After her unexpected return, Sasha Banks is set to appear on Monday Night RAW as a part of Jerry Lawler's "King's Court." With Banks attacking not just Natalya, but Becky Lynch who came out for the save. "The Boss" has a target on her back and "The Man" want to take her shot tonight. Banks is set to explain her actions from last week, but will it matter to Lynch?
Two first round matchups in the 2019 King of the Ring tournament goes tonight. The first will pit Cedric Alexander against Sami Zayn, while the other match will have Cesaro take on Samoa Joe. Who will win and advance in the tournament?
There's a lot expected to go down, here's everything that happened on the August 19 episode of Monday Night RAW.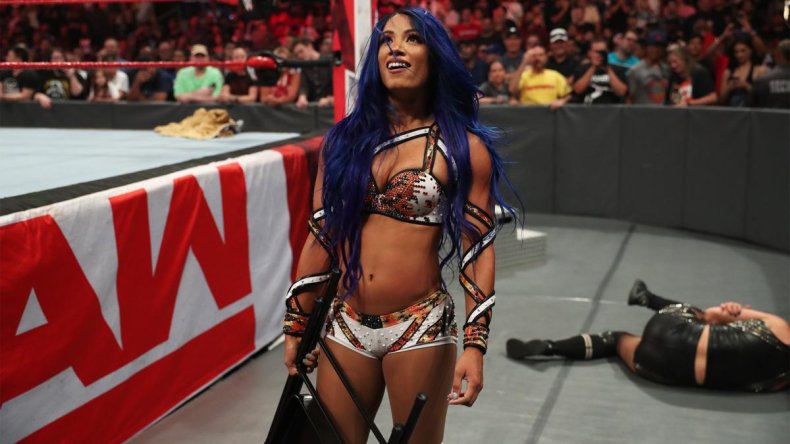 MONDAY NIGHT RAW RESULTS
Roman Reigns vs Dolph Ziggler
Apparently, this match was made because Ziggler took to Twitter to start a fight with Roman
Before the bell, Ziggler gets on the mic and says that he's glad Roman is ok after the attacks over the last couple of weeks. He says that Roman is getting all the care for "almost" being hurt, but no one cared about him when Goldberg hit him with three Spears at SummerSlam. He says that he's embarrassed to have lost to Miz and Ric Flair's move last week. Ziggler gets in the ring and hits Roman with a Super Kick when Reigns wasn't ready.
Reigns gets up and gives the referee the ok to start the match.
There are multiple near falls from both sides. Ziggler kicked out of a Superman Punch.
Reigns wins via pinfall after one Spear.
Becky Lynch Promo
Earlier in the day, Lynch says that people keep asking her why she calls everyone out.
Lynch answers that she wants the best and most aggressive version of her opponents. She wants to fight everyone at their most interesting and at their peak. This is where Sasha is right now. She says that Sasha ran away from the WWE crying, and now she's back. What did she do in those four months? Nothing. Becky says that she put more work to get the fire out of Sasha. She calls Sasha the greatest woman to not be great.
King's Court
Sasha Banks is Lawler's scheduled guest
Before Sasha comes out, Lawler talks about the King of the Ring tournament. He says it's his favorite. The "king" title is not just that, it's often used as a launching pad. He mentions Bret Hart, Stone Cold and Brock Lesnar as past winners. Lawler says that on the RAW side, he sees Ricochet or Cedric Alexander winning. When he's about to name the SmackDown frontrunners, the lights begin to flicker. Lawler leaves the ring and runs up the ramp, but the lights go down and The Fiend appears behind him.
The Fiend attacks Lawler with the Mandible Claw and leaves when the lights go down.
When RAW comes back from commercial, Vic Joseph replaces Lawler on commentary.
Ricochet and The Miz vs Drew McIntyre and Baron Corbin
Ricochet pins Corbin after a Code Breaker-like move that commentary may have called "The Recoil."
Booker T Interview
Booker T calls in via Skype and asks about The Fiend attacking Hall of Famers recently. Booker T says that you have to either put him down or run away.
He's asked about winning the King of the Ring. Booker T thinks about the past winners and is honored to be among them. He says that Drew McIntyre is his pick to win the King of the Ring tournament.
Braun Strowman vs AJ Styles (c) (with Luke Gallows and Karl Anderson) - US Championship Match
Strowman wins via disqualification
When Strowman has AJ on the ropes, Gallows and Anderson get in the ring and attack Braun. The RAW Tag Team Champions beat down Strowman when Seth Rollins comes in for the save
After Rollins cause The OC to run off, Seth shakes Braun's hand and The Monster Among Men just shakes his head.
Backstage
Braun Strowman is walking backstage when Seth Rollins stops. He says that he saw Strowman looking at the Universal Championship and he'll give him a shot. But Seth says that they need to take care of The OC first and he's going to ask for a RAW Tag Team Championship with Gallows and Anderson for tonight.
Samoa Joe vs Cesaro - King of the Ring Tournament
Joe wins via submission after reversing a springboard European uppercut into the Coquina Clutch
Elias Segment
What's promoted as Elias' last performance. Elias says that he has so much going on in his life, the King of the Ring tournament and the 24/7 Championship, he can't risk being out there every week.
During his promo, the audio would crackle every so often. Elias' guitar is out of tune and asks for another guitar. Someone dressed in black gets in the ring and its revealed its R-Truth.
R-Truth tries to roll up Elias a few times and is unsuccessful. He hits Elias with the scissor kick and that doesn't work. Truth picks up Elias' guitar and swings for Elias but the champion gets out of the ring. Elias escapes with the 24/7 Championship
Rey Mysterio Interview
Mysterio says he's been a fortunate man and a great career. He says recently things haven't been clicking for him and says that Andrade ripping his mask off was a disgrace. He says the worst part is that he hasn't been able to do anything about it. He says that his injuries are catching up to him and wants to give the next generation of wrestlers a chance and that he needs to hang up his mask.
Mysterio is about to take his mask off when his son Dominick stops him and tells his father to not retire. He says that he will make Rey proud. Mysterio says that he will do stay because of his son.
The New Day vs The Revival
The New Day win via disqualification after Randy Orton hit Big E with an RKO
Kofi Kingston comes out and takes out Orton and The Revival before Randy hits and RKO to the WWE Champion.
Xavier Woods tries to help Kofi, but gets an RKO with an assist from The Revival
Randy holds Kofi down, as The Revival hurt Xavier Woods' knee.
Sasha Banks Interview
Sasha says that it's been an emotional week for her. She says that last week she looked in the mirror and told herself to lose her color. Sasha says that she's become the talk of the wrestling world and she feels and look better.
Cole presses and asks why she did what she did last week. Sasha thinks about it and just says, "you're welcome."
Alexa Bliss and Nikki Cross vs Mandy Rose and Sonya Deville
Cross pins Deville after a Swinging Neck Breaker
Backstage
Seth and Braun are getting ready in the locker room. Seth tries to come up with a plan, but Strowman is looking at the Universal Championship.
Seth tells Braun to focus. Strowman says that Rollins needs to follow his lead and they'll be tag champions tonight.
Cedric Alexander vs Sami Zayn - King of the Ring Tournament
Street Profits Segment
Natalya Segment
Seth Rollins and Braun Strowman vs Luke Gallows and Karl Anderson (c) (with AJ Styles) - RAW Tag Team Championship Match
The OC target Seth's injured ribs through the match
Strowman pins Anderson after a Running PowerSlam
When Seth and Braun are holding the titles on the ramp, Strowman looks at the Universal Championship