WWE Monday Night RAW Results: What's Next for Seth Rollins?
Following an eventful SummerSlam, Monday Night RAW will set up the next WWE pay-per-view in September.
While many of the matches were predictable, there was one massive title change that will affect RAW and that's Seth Rollins pinning Brock Lesnar to win the Universal Championship back.
Improbably, Rollins hit Lesnar with three Stomps to get the Universal Championship back but that leads the WWE Universe to questions what's next for "The Architect"? There are plenty of possible opponents for Rollins including Drew McIntyre, Bobby Lashley and Bray Wyatt's "The Fiend." There's always the possibility that Lesnar will want a rematch, but since the rematch clause has been discarded it could be a new challenger.
Speaking of challengers, Becky Lynch took out Natalya to retain the RAW Women's Championship and now is in search of a new challenge. She's taken out just about everyone in the RAW Women's locker room, but is her next challenger currently not on the roster?
WWE.com has confirmed there are two scheduled matches for Monday. Dolph Ziggler, coming off his loss to Goldberg, will take on long-time rival The Miz. Can Ziggler get back on track or will he continue his losing ways?
Alexa Bliss and Nikki Cross, fresh off their Women's Tag Team Championship defense against The IIconics on the SummerSlam kickoff, will take on the Kabuki Warriors on Monday Night RAW. Asuka and Kairi Sane were defeated by Bliss and Cross last week, so they look to get retribution and take the titles off the newly crowned champs.
It's the Monday Night RAW after SummerSlam so a lot can happen. Here's everything that happened on the August 12 episode of RAW.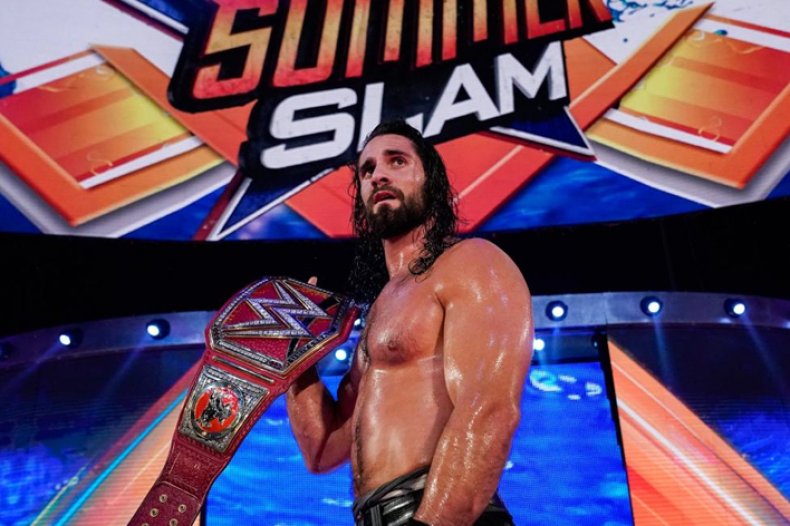 MONDAY NIGHT RAW RESULTS
Opening Segment
Seth Rollins starts the night off. He says that last night he didn't know what it took to defeat Brock Lesnar. He says that the last few weeks were the hardest of his career. He says that Lesnar is a beast in the ring. He says when he emptied the tank, the crowd came alive and they took him to a place where he's never been. And he remembered that he is Seth "friggin'" Rollins and that's why he's Universal Champion.
AJ Styles and The OC interrupt. Styles says that they want to be the first to congratulate Seth Rollins. AJ says that Seth doesn't have to worry about Brock Lesnar anymore, but he has to worry about him. Styles says that he has a lot to prove and challenges Seth to prove he's a better champion.
Rollins says he always had a ton of respect for him but not any more. He says it doesn't matter if he's hurt, he'll accept.
AJ Styles offers his hand but Seth doesn't take it. AJ asks The OC to leave the ring and only then does Rollins shake Styles' hand. Once they shake The OC get on the apron, but nothing happens.
Street Profits Segment
Montez Ford recap that AJ and Seth will fight tonight. Dawkins says that the SummerSlam afterparty went too long and he's dehydrated.
Sami Zayn comes out and says that the longer Street Profits are here, the crowd will suck their soul out of them. He runs down Seth Rollins and Becky Lynch.
Samoa Joe appears behind Sami without him knowing, and Street Profits ask about him. Sami runs down Joe, and then Samoa Joe challenges him now and asks Sami to prove he's more than just Kevin Owens' waterboy.
Samoa Joe vs Sami Zayn
Joe wins via submission after a Coquina Clutch in a very short match
After the bell, Joe gets on the mic and says that he may forgive Roman Reigns for pointing his finger at him, that forgiveness is not extended to the WWE Universe. And he won't forgive the people for blaming him.
The Miz vs Dolph Ziggler
Dolph says that everyone knew that he didn't have a chance against him so he sicked Goldberg on him. He says that he can't medically compete tonight because of all the spears he took on Sunday.
When Miz turns his back on Dolph as Ziggler tried to leave the ring, Dolph attacks The Miz.
Miz wins via submission after a Figure Four
After the bell, Dolph gets on the mic and says that Miz isn't even the best wrestler in his family, Maryse is. This causes Miz to get back in the ring and hit Dolph with the Skull-Crushing Finale
Becky Lynch Interview
Becky says she didn't come to RAW to celebrate. She gives Natalya respect for their match on Sunday, but she is not here to make friends. She is here to get everyone in the locker room before they get her and they should try and do the same.
Elias Segment
Elias says he thinks he has figured it out. He sings a song and then some superstar comes and interrupts him. He says whoever is going to interrupt him, they should do it now. He counts down from three, but no one appears. He does it again and no one appears. He then says this will be the first uninterrupted performance, when Ricochet's music hits.
Ricochet comes out and tells Elias that people interrupt him because he sucks. Elias says that he won't let someone who is dressed like a comic book character tell him what's good. A match is made.
Elias vs Ricochet
Ricochet wins via pinfall after a roll up
The commentary team make a big deal that Elias' shoulder was up, even showing a replay.
Rey Mysterio vs Andrade (with Zelina Vega) - 2 out of 3 Falls Match
Andrade pins Mysterio after Zelina Vega holds Andrade's legs on the rope to give him leverage.
Andrade pins Mysterio following a Hammerlock DDT after getting his knees up on Mysterio's Frog Splash
Stone Cold Steve Austin Interview
Steven Austin is interviewed via Skype. He's asked about Seth Rollins' performance at SummerSlam. He puts over Seth's performance.
Backstage
Rey Mysterio is asked about his performance against Andrade. Mysterio says he's never lost two falls like that before and he doesn't know where his career is going, but he has a family to support. Charlie Caruso asks if there's something Rey is trying to say, but the only thing Mysterio could say is he's doing this for his family.
Street Profits Segment
Montez Ford tells Mysterio to keep his head up because he's a legend. Angelo Dawkins is asleep with a gallon of water. Montez says that they have to hype up Nikki Cross and Alexa Bliss. Ford asks who Angelo thinks is going to win but all he can do is chug the gallon of water.
Drew McIntyre Interview
Drew says this match up with Cedric Alexander ends tonight. There's no feud or rivalry. He says that he's going to cave Cedric's skull in and then his fairy tale will be over.
Drew McIntyre vs Cedric Alexander
McIntyre wins via pinfall after Claymore Kick in a highly competitive match
The OC Segment
Anderson jokes that AJ couldn't beat Brock Lesnar. Styles says that he's sick of Seth getting all the opportunities but he'll put a stop to it tonight.
Backstage, Paul Heyman is seen walking into Brock Lesnar's locker room.
Robert Roode vs No Way Jose
Roode wins via pinfall after a Glorious DDT
Paul Heyman Interview
Heyman says that Brock Lesnar was not granted a rematch with Seth Rollins and he can't even finish his sentence.
The Revival vs Lucha House Party (Gran Metallik and Lince Dorado)
The match is thrown out when R-Truth and Carmella run into the ring with the rest of the locker room behind them.
The Revival hit Truth with the Hart Attack and they both pin Truth to become the 24/7 Champions. Kalisto hits Scott Dawson with the Solina del Sol and is about to pin him when Dash Wilder pulls him off. Carmella then pulls Truth onto Dawson and wins the title back.
Carmella and Truth run backstage when Elias hits Truth with the guitar and pins him to become the new 24/7 Champion
Natalya Promo
Natalya comes out and says she has a dislocated elbow from her match with Becky Lynch. She says Becky was the better woman that day and that they will meet again. She's about to talk about her father, since it's been one year since his untimely passing when she's interrupted by Sasha Banks.
Sasha gets in the ring and looks to console her when she begins to attack Natalya.
Becky Lynch comes out for the save and the two brawl but Sasha ends the segment on top when she takes a steel chair to The Man.
Viking Raiders vs Local Enhancement Talent
Viking Raiders win via pinfall after the Viking Experience
Alexa Bliss and Nikki Cross (c) vs The Kabuki Warriors - Women's Tag Team Championship Match
In an interview before the match, Bliss says that unlike The IIconics they will defend the titles
Paige isn't ringside because she's going to have surgery
Bliss pins Kairi Sane after a Swinging Neck Breaker from Nikki and a Twisted Bliss
Seth Rollins Promo
Seth says that he's the champion that AJ Styles wishes he was. He says that AJ forgets about their match at Money in the Bank and he'll remind him who the champion is.
Seth Rollins vs AJ Styles (with Karl Anderson and Luke Gallows)
The OC get involved with the match and are tossed from ringside.
However, Anderson and Gallows get in the ring and attack Rollins causing a disqualification
Ricochet comes out for the save but eventually takes the Boot of Doom. The OC are laying into Seth Rollins when Braun Strowman comes out for the save.
Strowman hits AJ Styles with two Running Power Slams. Seth Rollins looks on concerned from the corner when Strowman grabs the Universal Championship and hands it to Rollins, but not before looking at it.
Strowman and Rollins shake hands before the faces end the show in the ring.