After an eventful Monday Night RAW, the WWE Universe wants to see what the SmackDown Live after SummerSlam holds.
The main question going through the blue brand is who attacked Roman Reigns. Last week, Roman was almost struck by a car on Monday Night RAW. The Big Dog stormed SmackDown the next night to confront Buddy Murphy who was at the scene of the attack.
After a short tussle, Murphy told Roman that it was Rowan who was present. Daniel Bryan denies this allegation, and Rowan even attacked Buddy Murphy on the SummerSlam Kickoff show. Looking to prove himself, Buddy Murphy challenged Roman on social media to a proper match, which Reigns has accepted.
With both men entwined in this "who dunnit?" storyline, will we ever learn the identity of the attacker?
SmackDown Women's Champion Bayley disposed of Ember Moon on Sunday and is now looking for a new challenge. Her friend Sasha Banks returned on Monday Night RAW, so she's likely out of the picture. But with a locker room full of talent, it'll be interesting to see who might step up next.
Kevin Owens took out Shane McMahon at SummerSlam, staving off his own resignation. Now that he knocked the boss' son down a few pegs, what's next for KO? Will Shane continue to make KO's life a living hell, or does Owens have title aspirations?
Speaking of titles, WWE Champion Kofi Kingston and Randy Orton fought to a double countout on Sunday after The Viper looked at the champ's family funny. Kingston took to Twitter to announce that their feud isn't over, so where will both men take their rivalry next?
The August 13 episode of SmackDown Live is expected to be stacked, and here's everything that happened.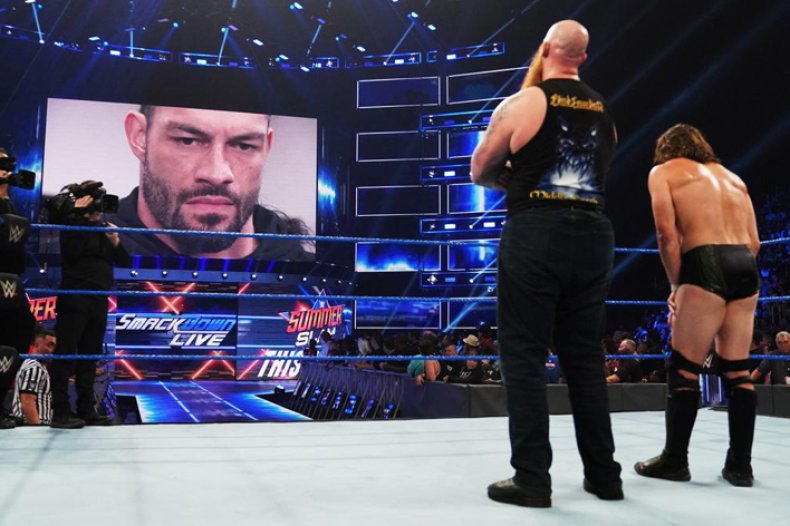 SMACKDOWN LIVE RESULTS
Opening Segment
Kevin Owens comes out to start the night. He says that today is the five-year anniversary when he signed with the WWE. He says although he was in the ring with Shane on Sunday, it was a night he will always remember because his family got to share that moment with him. He also got to kick Shane's ass in front of this crowd.
He says that he'll be in the King of the Ring tournament starting next week and winning it will be as good as winning any title because he wants to be talked about like past winners.
Shane McMahon interrupts and says that KO's victory on Sunday was tainted because Owens hit him with a low blow and that's in the spirit of competition. Shane says that he'll always be known as a cheater and he wished that Owens was on the unemployment line. Shane says that he's fining KO $100,000 for hitting Elias - an official - on Sunday.
KO tells Shane to reconsider because it'll affect his family. Shane says "nope" and leaves.
Backstage
Kevin Owens storms into Shane's office. Shane says that he's not a competitor and if he touches him now, he'll sue him and put his family in peril.
KO says let's make it a $105,000 and throws a stool at the tv in the office
Charlotte Flair vs Ember Moon
Flair wins via submission after a Figure Eight
It was a highly competitive match
Daniel Bryan Promo
Daniel Bryan says it's obvious someone is out to get Roman Reigns and he and Rowan had nothing to do with the backstage stuff that's happened in the last couple of weeks. Bryan says Buddy Murphy is a liar. He doesn't blame Buddy Murphy because everyone would lie and cave if Roman Reigns had their face pressed against the wall.
Bryan says that he doesn't blame Buddy Murphy he just got the name wrong. He reiterates that he and Rowan had nothing to do with the incidents and they are going to prove it tonight.
Backstage
Inside Shane's office, McMahon is asked who KO's opponent tonight will be. Samoa Joe enters the office and tells Shane that he wants to prove that the only badass on SmackDown is him.
Aleister Black Segment
Aleister Black says that everyone has a debt to pay and all they have to do to pay it is to knock on his door.
Buddy Murphy vs Roman Reigns
Reigns wins via pinfall after a Spear in a long and competitive fight
Backstage
Kofi Kingston and Big E console Xavier Woods for not being in the King of the Ring tournament. They are asked about The Revival's comments that the New Day ruined the tag team division
The New Days says they handle their business in the tag division.
Kofi says that people may feel he overreacted on Sunday, but when someone as dangerous as Randy looks at his family he'll do it again.
Kevin Owens vs Samoa Joe
Elias is appointed the special guest enforcer
Samoa Joe wins via pinfall after a roll up and Elias does a fast count
Backstage
Daniel Bryan and Rowan approach Buddy Murphy in the locker room and tell him to admit that he lied about saying Rowan did it.
After Murphy says he lied they both beat him down.
The New Day Promo
Before the scheduled match against The Revial, Randy Orton comes out and goads Kofi Kingston saying that he took the easy way out on Sunday because he knows that he can't beat him.
He gives Kofi another chance and proposes a six-man tag match, which The New Day accepts
The New Day vs The Revival and Randy Orton
Dawson pins Xavier Woods after a Shatter Machine
After the bell, The Revival attack Big E and Xavier Woods. Kofi Kingston saves them, but Randy Orton hits the WWE Champion with an RKO
Orton then hits Xavier Woods with an RKO, and then to Big E - with the help of The Revival. Randy picks up Kofi and hits him with an RKO, again.
Backstage
Roman Reigns walks up to Daniel Bryan and Rowan in the locker room. Bryan tells Roman to apologize to Rowan. Roman Reigns is about to fight them when Daniel stops him. Bryan says that they have done their own investigation and they'll bring the culprit to Roman next week.
Uncommon Knowledge
Newsweek is committed to challenging conventional wisdom and finding connections in the search for common ground.
Newsweek is committed to challenging conventional wisdom and finding connections in the search for common ground.
About the writer
Phillip Martinez is a game and culture reporter for Newsweek. Prior to joining Newsweek in 2018, he was a reporter and editor for iDigitalTimes and Player.One. A Bronx native, he graduated with his Bachelor's degree in Journalism from St. John's University in 2010. An avid Nintendo fan and wrestling mark, he's always looking to become a Pokémon Master while fantasy booking this year's WrestleMania. You can contact him at p.martinez@newsweek.com