Rusev and Lana Storyline Continues as She Explains Her Side of the Story on WWE Monday Night RAW
The next chapter in the Rusev, Lana and Bobby Lashley saga continued on this week's WWE Monday Night RAW.
Following weeks of Lashley and Lana being seen together at the show and out of the arena, Jerry "The King" Lawler wanted to get to the bottom of the problem between the "Ravishing" Lana and Rusev on a special edition of the King's Court.
Lana met Rusev in the ring and explained why she seemingly has ended her marriage to the former US Champion. She says that the only thing Rusev wants from her is sex and to get Lana pregnant. Lana says that as a model and fashion influencer she is thinking about her career.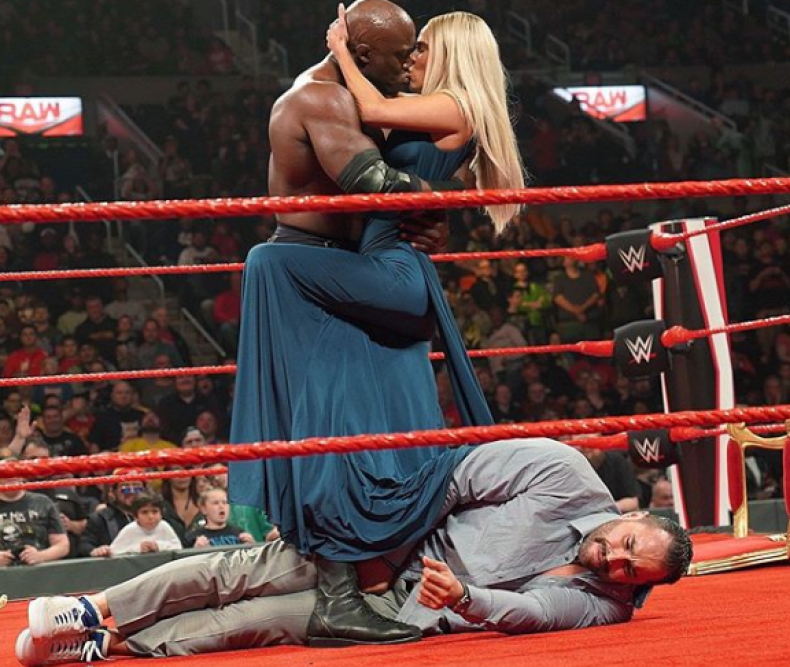 However, things turned when Lawler pressed Lana if there was anything else that caused her to leave Rusev. Lana reveals that Bobby Lashley told her that Rusev cheated on her. This, of course, leads to Rusev denying it, saying "[Lashley is] talking s--- that's what he's doing."
This brings out Lashley who runs to the ring and the two brutes fight for a bit. Rusev has the upperhand before Lana hits her husband with the kendo stick. Rusev takes the weapon away and while his back is turned, Lashley hits the Bulbarian Brute with a low blow. The segment ends with Lashley and Lana kissing over a keeled over Rusev.
After the cameras went off the air, Lashley had his message for Rusev.
The Lashley, Rusev and Lana storyline began in early October a week after Rusev was in a storyline featuring Mike and Maria Kannellis. While that story fizzled out quickly, Rusev found himself in another scandalous angle on Monday Night RAW when Lana made her first on-screen WWE appearance in months in the arms of Bobby Lashley.
Since then, Lashley has taken Lana out to restaurants, spas and on dates all while Rusev tries to win back his wife. After tonight, Rusev may want to rethink that.
Rusev and Bobby Lashley are scheduled to take part in the Crown Jewel pay-per-view on Thursday in Saudi Arabia. Lashley is a part of Team Flair alongside Randy Orton, Drew McIntyre, King Corbin and Shinsuke Nakamura. Rusev is a part of Team Hogan alongside Ricochet, Ali, Roman Reigns and Shorty G.
What do you think of the current Rusev and Lana storyline? Where do you think it will end? Let us know in the comments section.