WWE SmackDown Live Results: Kofi Kingston's SummerSlam Opponent Chosen?
Following the RAW Reunion on Monday, SmackDown Live will have more work to do than usual in advancing storylines as we head to SummerSlam.
The biggest storyline for the blue brand concerns who will challenge WWE Champion Kofi Kingston at SummerSlam. Last week, Randy Orton, Elias and Samoa Joe all staked claims to a shot at Kingston in August. After a six-man tag match, Randy Orton dropped Kingston with an RKO so The Viper could be first in line to take on Kofi. But who will the WWE Champion decide to face?
Shane McMahon has run rampant on SmackDown Live in recent months, but it seems that Kevin Owens is on a mission to take him out. Shane is set to address the Kevin Owens situation on tonight's show, but whenever McMahon has an open forum in the ring he's hit with a stunner from KO. Does the boss' son have a plan for Owens?
SmackDown Women's Champion Bayley asked Ember Moon to be her opponent at SummerSlam, which the War Goddess accepted. However, last week's episode also saw the return of Charlotte Flair who defeated Liv Morgan. Now the two will square off in a match that could prove invaluable to Moon as she gets ready for her championship match against Bayley.
The biggest mystery from SmackDown Live last week was the "career-altering" decision Daniel Bryan was going to announce. Unfortunately for fans, Bryan didn't make that announcement. Perhaps the former WWE Champion will make his announcement on Tuesday. The WWE Universe will want to tune in to see where everything goes.
Here's everything that happened on the July 23 episode of SmackDown Live.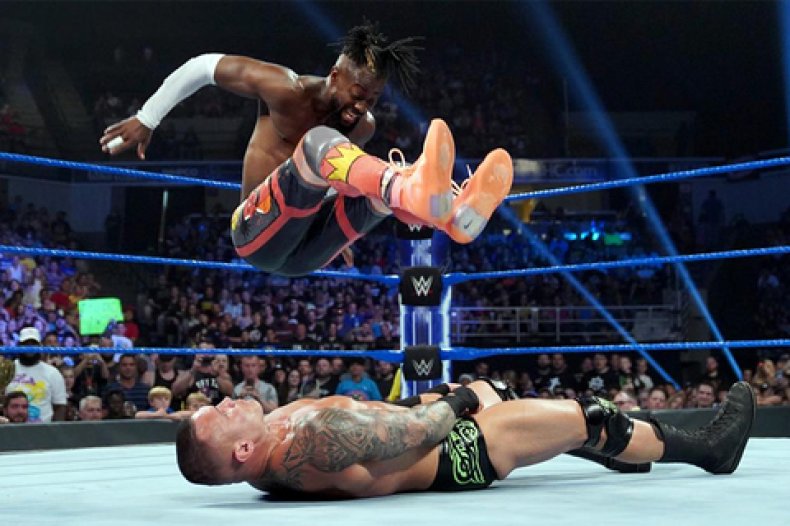 SMACKDOWN LIVE RESULTS
Opening Segment
Big E, Xavier Woods and David Otunga are on commentary, filling in for Corey Graves and Byron Saxton. Shane McMahon comes out and says that he was at RAW Reunion praising the superstars of the past. He brings up Kevin Owens' tweet where he challenges Shane at SummerSlam.
Shane replays a clip from August 2018 when Kevin Owens appeared on RAW and said he quit. Shane says that when he beats KO at SummerSlam, he will indeed be out of WWE but he wants it in writing.
Kevin Owens comes out to interrupt. He says that Shane is smart because he drew up that footage from last year. He says that was the lowest point of his career, but that's the version of KO he doesn't like and that's now who he is today. He says that he knew that Shane would accept that challenge because McMahon wants the spotlight.
KO says that maybe he won't wait for SummerSlam to beat the hell out of Shane. Shane says that if he attacks him, their match won't happen. McMahon instead says that he has made a match between KO and Roman Reigns tonight.
Backstage
Shane runs into Elias and Drew McIntyre. They congratulate Shane on making the match between KO and Roman. Shane says that this match needs something more special. It needs a special guest referee. Shane chooses Drew McIntyre. Shane makes Elias the timekeeper and himself the ring announcer.
Shinsuke Nakamura vs Apollo Crews
Nakamura wins via pinfall after a Kinchasa
It was a very competitive match with Apollo getting a lot of near falls
After the match, Shinsuke kicks Apollo around and delivers another Kinchasa.
Backstage
Mandy Rose approaches Sonya Deville and tells her that she told Shane how The IIconics were laughing with Kevin Owens so McMahon made a tag team match with them. And if Sonya and Mandy win, they get a Women's Tag Team Championship shot.
Ali Vignette
Ali says that his injury that had him replaced by Kofi Kingston cost him everything, but he says that it doesn't matter because he will become WWE Champion.
Miz TV with Shawn Michaels
After a lengthy recap package of RAW Reunion. Shawn Michaels comes out and says that it was a great time last night and puts over Seth Rollins.
Dolph Ziggler comes out and says that they used to look up to Shawn because he could have walked out into the sunset but he came back to the ring last year.
Shawn says that he doesn't disagree with Dolph, but he'd rather feel that way then be a second rate Shawn Michaels, wannabe.
Dolph says that Shawn is the second rate Shawn Michaels. He starts to say to do his entitled schtick when Miz cuts him off and tells Dolph to do something about it instead of complaining. Miz puts his chin out but Dolph walks away. Shawn Michaels touches Ziggler on the shoulder when he turns to punch. Michaels ducks and hits Miz, Shawn punches Dolph before he tends to Miz. Dolph then Superkicks Shawn.
Charlotte Flair vs Ember Moon
About 20 seconds into the match, Bayley comes out and Ember Moon rolls up Charlotte for the win using the distraction.
After the bell, Ember throws Bayley into the ring. Charlotte hits Bayley with the big boot. Ember Moon then hits Charlotte with the Eclipse and then hits one on Bayley.
Kofi Kingston Promo
Kofi calls out Randy Orton to be his opponent at SummerSlam.
After Randy meets Kofi in the ring, Kofi says that he remembers one night at Madison Square Garden in 2009 when he beat him. Kofi shows a clip from that match and says that moment gives him goosebumps because that was supposed the moment that brought him to the main event scene. Kofi says that Randy used his influence to keep him out of the main event scene and it almost worked until Kingston finally broke through.
Randy says he used his influence but he was doing Kofi a favor because Kingston wasn't ready. He says that he's still not ready, his win at WrestleMania was a fluke. Randy says that he didn't need to grind to get where he's at, he just had to be Randy Orton. Orton says that he injured Ali, giving Kofi the chance to become champion.
Kofi says that why don't they put the title on the line at SummerSlam and Randy Orton accepts.
As Randy leaves, Samoa Joe comes out for his match against Kofi and decides to stay to watch.
Samoa Joe vs Kofi Kingston
Kofi Kingston wins via disqualification after Randy Orton jumps in and tries to hit Kofi with the RKO. Kofi pushes Randy off, and Orton instead hits Samoa Joe with the RKO. Kofi then hits Randy with the Trouble in Paradise.
Finn Balor Interview
Finn is reminded about his hardships lately, losing the IC Title to Shinsuke and then being attacked by Bray Wyatt.
Finn says that he doesn't know if Bray is back to settle a score or something more. Finn says that Bray is more twisted than before but he's not afraid and challenges Wyatt at SummerSlam.
Bray appears in the Firefly Fun House and says that he, Mercy and Ramblin Rabbit are fans of Finn but the Fiend isn't. Bray says that The Fiend accepts Finn's challenge. But he warns Finn that while Balor may fear no man, The Fiend isn't a man, he's an abomination.
Charlotte Interview
Charlotte says what happened earlier in the night is a slap in the face. Not having a SummerSlam match is a slap in the face. She asks how can you leave her off of SummerSlam. She demands to have a match at SummerSlam and it'll be a better opponent than Ember Moon.
Kevin Owens vs Roman Reigns
Shane starts to run his mouth about Kevin Owens, which leads to KO getting on the mic saying that he'll go through Roman, Elias and Drew tonight to drop Shane.
Roman grabs the mic and is surprised by what KO said. Reigns says that he guesses he's whoopin' everyone's ass tonight.
In the beginning of the match, Drew gets too involved and Roman hits McIntyre while KO drops Elias who gets in the ring. The heel team get the upperhand on Roman before KO grabs Shane to the outside. Roman and Kevin Owens eventually clear the ring with Shane eating a Superman Punch and a Stunner.