WWE Superstar Titus O'Neil Talks New Book and Navigating Fatherhood in 2019
WWE Superstar Titus O'Neil is known for many things. He's an accomplished college football player, and a former champion in the WWE. However, he's becoming better known as the face of the WWE's outreach and community programs too.
His philanthropic efforts reach the cities WWE visits and, especially, in his home state of Florida. But O'Neil - real name Thaddeus Bullard - along with co-writer Paul Guzzo are looking to bring that same energy of his new book, There's No Such Thing as a Bad Kid.
The new book - in stores now - tells the story of O'Neil's life growing up in poverty in Florida. O'Neil may have been labeled a "bad kid" to those who didn't know him, but there were underlying issues that prompted his actions. t's through the intervention of key figures in his life that he began to understand what was going on, and it led him to his success today.
As the WWE superstar told us, he hopes the book will "push the needle with people on how to speak with kids and dealing with their behavior."
Newsweek caught up with Titus O'Neil to speak about There's No Such Thing as a Bad Kid and being a father in 2019.
Note: This interview has been lightly edited for clarity and length.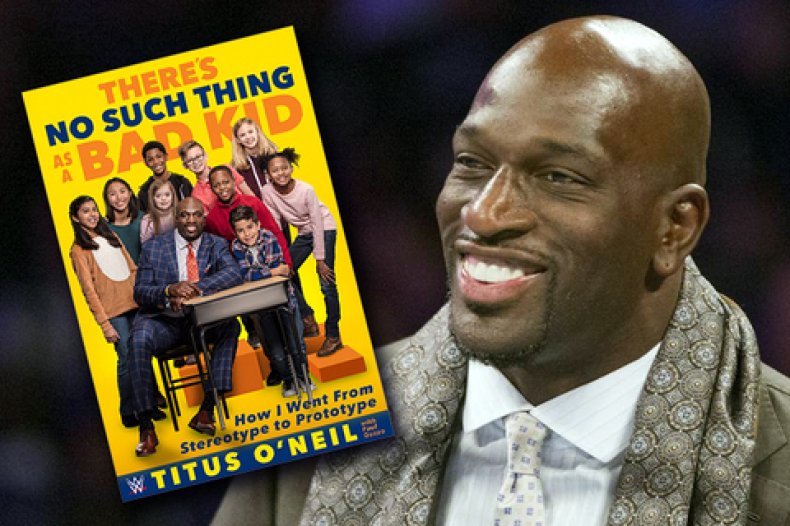 You say that releasing this book is nerve-wracking. What's nerve-wracking about it?
It's being able to put something together that obviously was years in the making and have it be well-received and used as a teaching tool. Some people write books because they love writing. I wrote this book because I wanted to utilize it to expand people's minds when it comes to dealing with our youth, especially when it comes to all the things that are going on in our world and especially in our country. I just wanted to put something out there that was positive, that people can turn to and say, "hey, TItus O'Neil used to be in this situation just like you and this is what he did. Here's his book and I want you to read it and learn some things."
How long did it take to write this?
It never was a case of which I felt like I needed to do this now. It was more so people saying "you should write a book." That's from co-workers, people in my family, etc, and I didn't want to write a book just to write a book. I wanted to write something that would hopefully be impactful on not only telling my story, but also motivating people around the world to be better human beings and to look deeper than the surface issues.
You see a kid acting out of character or out of turn and you automatically call him a "bad kid." You don't know if that kid is hungry, was abused the night before, if that kid watched his mother pass away that morning... You just don't know until you start having these conversations and diving deeper into a situation. A lot of people go into my life and my background and allowed me to grow because they understood me better and how to deal with me better. I felt like they cared more because they knew more.
Your book starts off with a jarring confession of how you were conceived and dives into your mother's story. What did you want to achieve by doing that?
Because I wanted people to understand that, yeah, you may see this cover and you might see me on television, but none of this would have been possible without my mom. And you need to know my mom's story of how I even came about. he's the important piece that a lot of people don't know. You hear that I come from a single parent home and but you don't know the reason why it was a single parent home.
As for me, I'm a product of a rape and my mom had me despite others telling her to have an abortion and she still refused to do it. I don't get into politics when it comes to pro-life or pro-choice, I just know that my mom made the decision she wanted to make because she felt that's what God wanted. And I know thousands and thousands of people are thankful for it.
Throughout the book, you mention moments with your mom and go into her background a little. Was that purposeful?
My idea of getting the book out and not going too deep into me and my mom's relationship was because I do want her to tell her story. My thinking is I'll put out the first book, and, if you want me to, it'll be a mother and son project for the next one. People do want to know her side, and what she was dealing with. They do want to know what made her make that decision. It should be in writing and we should have some fun stories between us too that talk about the tumultuous relationship we had when I was a kid. And then I realized that we were both kids at the time. My mom was a kid raising a kid and so, I say this in the book, I used to hate my mother growing up. The minute I found out how I was conceived all the hate I had toward my mother instantly turned into love. I just look at a lot of things differently, especially now that I see young teenagers that are pregnant. It bothers me. Because some of them that are dealing with men that are much older than them and it just gives me the creeps.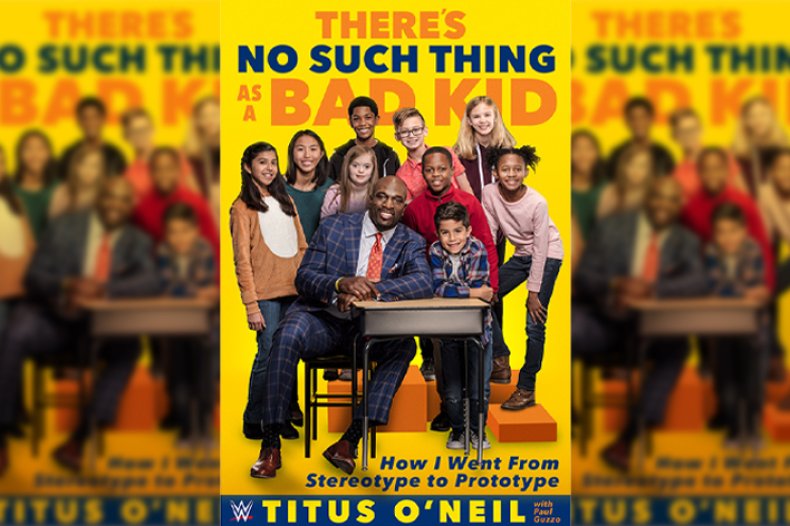 You grew up in a single parent home, but your book mentions people you met that became father figures to you. How important were they?
I used to say, and I still say now, my mom was an excellent single mother. But she could never teach me how to be a man. She can teach me how to be a good human being, but not a man. But that doesn't mean she couldn't teach me to be a positive, powerful person in our society. I used to believe that we suffer from the issues that we have because of a lack of male role models. But over the years I've come to find that there are same sex-couples that are raising families and single dads raising kdis without a mother. The positivie influences shouldn't be isolated to sex or gender. It should be isolated to having powerful and positive people around to make the biggest difference possible.
Being that positive influence in young peoples' lives is what drives you now?
I want to give [the kids] exposure. I want to bring awareness to the issues that they have to face on a daily basis because a lot of time folks don't give credence to issues. They give in to behavior. It's the issue that gives to that behavior. Once you understand that, you can have more positive outcomes. It drives me every single day to give back to the world what was put into me.
With technology being so pervasive and the rise of cyber bullying, is it more difficult to be a parent these days?
No, because I live for my kids and not through them. I feel like, as long as I'm leading by example, they have a chance to escape some of the issues kids have to deal with nowadays. Now, they are on their phones all the time, so technology has definitely taken over in that regard. But as far as how you treat other people and preparing for school and sports, my kids have a good grasp on that because they see how I handle myself. And I'm not perfect in any stretch of the imagination. That's clearly been illustrated by the Greatest Royal Rumble moment with me sliding under the ring that I'm not perfect. Although, that was probably the best slide in sports entertainment period. It's not taking yourself too seriously. We all can be the butt of a joke every once in awhile, and I'm not going to drop the hammer down on my kids for every mistake that they make.
As an African-American man living in America, how do you handle raising kids in today's climate?
I talk to my kids and they see the difficulties of being black and brown in some places in America. They also see the disparities in certain neighborhoods because where we live is nowhere near where I serve. So they can see that there are two different sides of the track. But I always tell my kids that I want them to be men of character, character regardless of what color or background you come from. Character will always come to the forefront when you do anything. Whether it's applying for a job or applying for college, loan or whatever. Always understand that being a great human being and a great person of character will open a door.
They are also very cognizant of the history of our country, the history of our justice and education system. I don't hide the truth from them. I don't know if you saw the series on Netflix, When they See Us about the Central Park five, but having seen it with some of their friends, the day before they wanted to go out to some teen party, we watched that. The next day I told them, "I don't mind you going to this party, but after watching that you have to understand that you don't have to be the one that instigates issues or problems. But because you look a certain way and you're in the wrong place at the wrong time, you more so than other people will get pinpointed. These kids were beaten and prosecuted for something they never did. And you got people calling for them to be executed right on the spot and they haven't been proven guilty or innocent."
And so the realities of black and brown, and women... People always talk about how great our country is. Our country has a great amount of opportunity, but if it was so great we wouldn't be leading the world in mass incarcerations and in mass shootings. We wouldn't lead the world in homelessness. I just feel like we need to start by being better human beings.
There seems to be a growing problem of toxic masculinity, and a notion where men can't show emotion and things like that. How do you raise your kids to avoid those cultural norms?
My kids see me laugh, they see me cry and they see me upset. They know, just like I know when they see injustice happening, it bothers them at any level. Whether it's law enforcement or a kid picking another kid, we hate people being bullied because I was bullied growing up. For my family, especially my two sons, I don't want them to be abrasive when it comes to dealing with certain issues, but I do want them to stand up for themselves. And I want them to stand up for others, even if it means you're going to get arrested for doing so. As long as you're arrested for doing the right thing I have zero problems with it.
What do you want your legacy to be and what do you hope people get from the book?
First and foremost, what I want people to get from this book is that one positive conversation can change a whole person's life. And to dive deeper into a person's background before you assume or place a stereotype on them.
As far as legacy is concerned, I just want to be known as the guy who did everything he could to to make everything and everyone around him better. And because of that he was a better person. I am a better person when I'm in that space, when I have the opportunity to change people's lives. I feel happier and better about what's going on. And I'm able to bring people and corporate sponsors together for one cause. It gives me a great sense of pride and gives us a great opportunity to realize that we can all make a difference.