WWE Star Velveteen Dream Denies Allegations of Inappropriate Communication with a Minor
WWE NXT Superstar Velveteen Dream has denied allegations that he had any inappropriate communication with a minor.
Friday, Dream (real name Patrick Clark Jr.) was accused of sending inappropriate photos to minors in a now-deleted post on Reddit. The alleged victim claims that the photos were sent over Instagram direct messaging and provided screenshots of the exchange.
The victim claims to be 17 years old, however their friends, who allegedly also received inappropriate photos, are 15 and 16. The alleged victim says that the exchange was from Dream's verified Instagram account and that the phone number used is from a Washington D.C. area code, Dream's hometown. They also alleged that the "voice in the calls was accurate" and that "the picture he sent is believable."
Velveteen Dream denied the allegations on Twitter.
"Be assured I did not communicate inappropriately with anyone. A private photo of mine was shared without my consent or knowledge and I am working with a third party to look into this matter," he wrote.
At the time of this writing, no charges have been filed. Newsweek has reached out to the WWE for a statement and will update if one is delivered.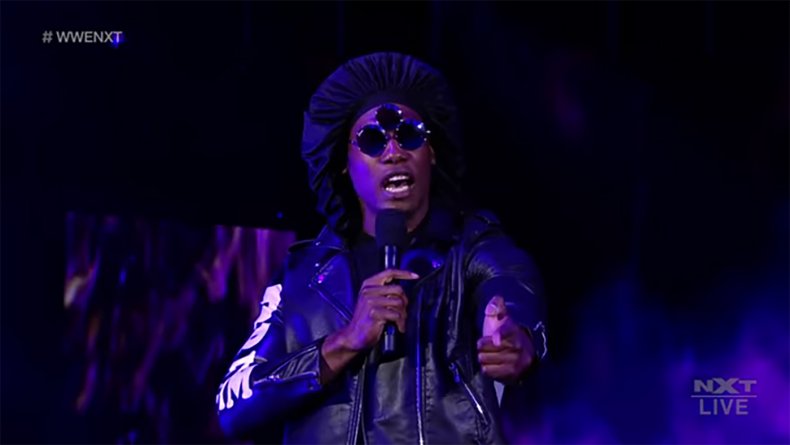 Patrick Clark Jr. began with the WWE in 2015 after signing a developmental deal and wrestled periodically with NXT. It wouldn't be until 2017 that he debuted the Velveteen Dream, a Prince-esque character, when Clark would get his break and become a popular member of the NXT brand.
After winning the NXT North American Championship in February 2019 defeating Johnny Gargano he would hold onto the title for a record 231 days before he lost it to Roderick Strong in September.
Dream would suffer a back injury that would sideline him until February 2020 and is now in a program with NXT Champion Adam Cole.
This latest controversy involving the WWE comes at a time where the wrestling promotion has come under fire for continuing to shoot live weekly episodes of Monday Night RAW, Friday Night SmackDown and NXT at its Performance Center facility in Orlando.
Florida Governor Ron DeSantis deemed sports and entertainment entities, including the WWE, an essential business in early April allowing for the WWE to continue to put on live shows on a closed set. Since then, the WWE has changed its schedule to have fewer live gatherings.
That was followed by the massive roster releases and employee layoffs on April 15 due to the "COVID-19 and current government mandated impacts on WWE."