WWE Explains the New "Wild Card Rule" and It's Still Confusing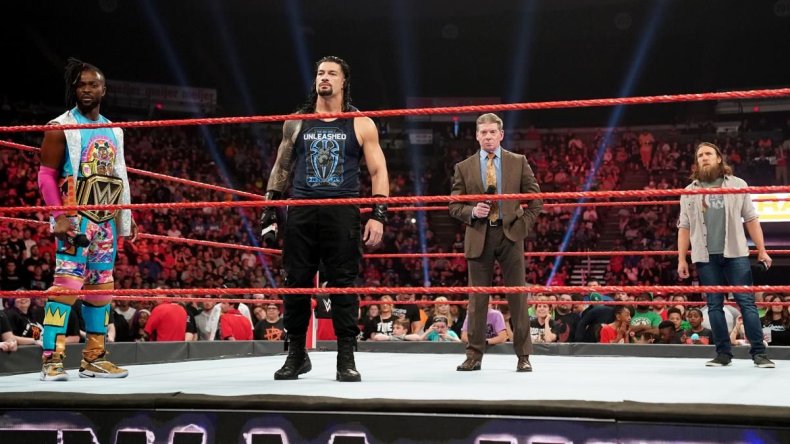 One of many baffling events that occurred on the May 6 episode of Monday Night RAW was the introduction of the "Wild Card Rule."
Mr. McMahon came out to explain the Wild Card Rule last night and after being interrupted by Roman Reigns, Daniel Bryan and WWE Champion Kofi Kingston - all SmackDown Live superstars - told the audience why they were on the show.
So, is the Brand Split over? Not exactly. Mr. McMahon explained that he's implementing a new "Wild Card Rule" that allows for a handful of superstars from one show to appear on another seemingly on a whim.
If that's still confusing, WWE.com has an official explanation of the Wild Card Rule. The Wild Card Rule is when " a limited number of Superstars from Raw or SmackDown would be invited to cross brand lines for one-night-only appearances, with unauthorized jumps to be penalized by fines or even potential firing."
WWE made note that Becky Lynch is exempt because she holds both women's titles as are The IIconics because the Women's Tag Team Championships are floating titles so they can appear on whichever show they choose.
Mr. McMahon explained that this rule will apply to only three superstars. For last night's show it was just Roman Reigns, Daniel Bryan and Kofi Kingston but as with many of WWE's "rules" and proclamations it's always fluid to fit the company's needs.
Lars Sullivan would appear later on in the night to take out No Way Jose and his conga line and scowl at Mr. McMahon backstage to get him to change the rule from three superstars to four.
So if a superstar wants to appear on a show that they are not a roster member of will they have to go through the McMahons and get the ok? Again, unclear.
Interesting enough, Shane McMahon - the general manager and frequent competitor for SmackDown Live - inserted himself in the Reigns and Drew McIntyre match. You can say that Shane is an exception since he's an Authority figure, but what about Elias who accompanied him and is a full-time member of the blue brand?
Guess Elias will be handed a fine on tonight's episode of SmackDown Live - or not.
Whatever the case, the Wild Card Rule now opens up possibilities for various superstars to appear on different shows adding a sense of unpredictability on what has become a stale Monday Night RAW for weeks now. Whether that's a good or bad thing is yet to be seen, I'm just waiting for when "the WWE Universe is the authority now!" era begins.
What do you think of the new "Wild Card Rule"? Which RAW superstars do you want to see on SmackDown tonight? Let us know in the comments section below.