Wyoming Limiting Child Marriage Sparks Republican Outrage
The Wyoming Republican Party is seeking to kill a bill working its way through the state Legislature proposing to raise the state's legal marriage age to 16, arguing that putting "arbitrary" limits on child marriage interferes with parental rights and religious liberty.
The bill—which already passed the Republican-controlled Wyoming House of Representatives on a 36-25 vote late last month—proposes banning state residents from marrying anyone under the age of 16, while requiring anyone under the age of 18 seeking to get married to receive written consent from their parents under the eye of a competent witness.
The debate has been a longstanding one in Wyoming.
Currently, Wyoming is one of just eight states in the country—including California, Michigan, Mississippi, New Mexico, Oklahoma, Washington and West Virginia—without a minimum age requirement for marriage, and it currently ranks among the top ten states in the country for child marriages, according to a 2021 study by advocacy group Unchained at Last.
Efforts to raise the age of marriage in the state have consistently stalled. For years, now-retired Laramie Democratic Representative Charles Pelkey sponsored legislation to raise the age of marriage to 18, only to fail with every effort.
It's also a common practice across the country, even now: While the number of child marriages nationally has been in steady free fall over the last few decades, just seven states to date have voted to ban it entirely, even as countries like the Philippines passed national laws banning the practice.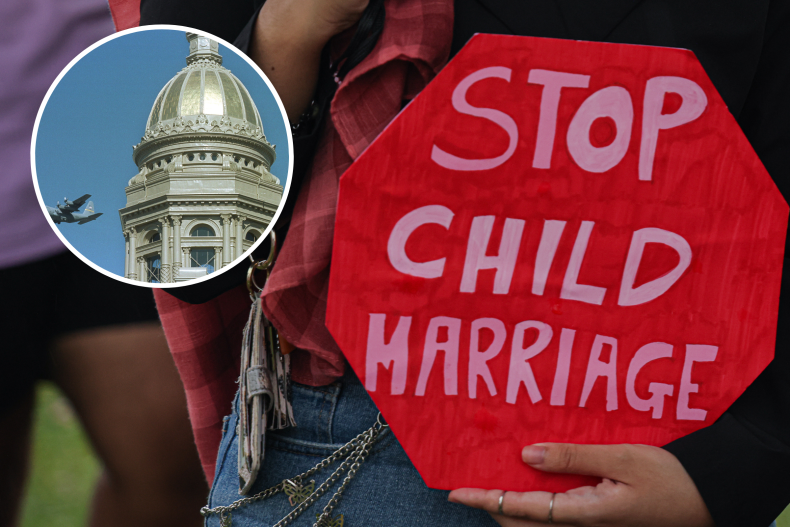 Other states, like Tennessee, have actually sought to go in the opposite direction, with Republicans there seeking last year to eliminate any limits on marriage entirely until public outrage forced them to reverse course.
This year, however, a proposal in Wyoming to impose an age floor of 16 has found favor with some Republicans in the state, leading to the first real momentum the bill has seen in some time. Earlier this week, the Wyoming Senate voted up the bill on first reading, leaving it just two more votes before it would ultimately head to Governor Mark Gordon's desk.
It's essentially a do-nothing bill: According to Unchained at Last, an anti-child marriage advocacy group, approximately 97 percent of child marriages in Wyoming are to girls aged 16 and 17, meaning it would likely impact only a small number of children.
"It's really great the legislators want to protect 3 percent of those who are impacted by child marriage," Frady Reiss, founder of Unchained At Last and a forced marriage survivor, told Newsweek. "But to us, if you're failing to protect 97 percent of the people you're claiming to protect, you don't really have the right to get to brag about that. To me, it's just the bill is not even worth the paper that it's printed on at that point."
The Wyoming Republican Party, however, is urging its constituents to oppose it not because the bill is too weak, but because it believed the bill stood to rob their constituents of constitutional rights in ways the "seemingly harmless" bill did not immediately make clear.
To make the point, the party shared materials in a Thursday evening email to constituents containing talking points from Wyoming Family Watch, a religious lobbying group organized by a conservative pastor in the state.
Among other points, the letter argued that preventing children under 16 years old from marrying "denies the fundamental purpose of marriage," robbing teen parents from the ability to remain together under one roof for any children they might bear together—even though nothing in state law would prevent those children from co-parenting.
"Since young men and women may be physically capable of begetting and bearing children prior to the age of 16, marriage MUST remain open to them for the sake of those children," the post read. "The sad fact that physical maturity often does not match emotional and intellectual maturity is an indictment of our modern educational system. That is a problem that should be addressed. But we should not use it as an excuse to instantiate bad law."
However, research depicts a different reality for child marriage.
According to Unchained at Last, in the U.S., approximately 60,000 marriages since 2000 have occurred at spousal age differences that could have been considered a sex crime, allowing a marriage license to become a sort of "get out of jail free" card for a would-be rapist. Particularly if they impregnate the victim.
"In the case of a girl who gets raped and gets pregnant, the answer for them is, instead of putting the rapist in prison prosecuting him, we're gonna marry him off to the girl he raped," said Reiss. "I mean, it's unspeakable. It's unfathomable. It's absolutely horrific."
The potential is there. In Wyoming, approximately 20 child marriages take place in the state each year, state records show, with occasionally disparate age differences.
During a hearing on the bill earlier this year, the deputy state registrar of vital statistics told lawmakers they had seen one case in which a 32-year-old man married a 16-year-old girl in Wyoming, the Casper Star-Tribune reported, while there have reportedly been several instances of 14-year-olds being married in the state.
Meanwhile, other research from groups like UNICEF has argued any loopholes are largely insufficient to address coerced marriage—depriving the child of any agency in the decision.
"Parental approval can often be synonymous with parental coercion—especially in the case of an unexpected pregnancy, financial instability or other situations that might influence a parent's decision," a 2021 UNICEF policy brief reads. "In all scenarios, child marriage limits the rights of a child and deprives them of the opportunity to control their future."
That still was not enough to convince some critics, however.
Despite state testimony, critics argued there was no evidence presented to demonstrate Wyoming was facing any statistical uptick of coerced marriages, making the passage of any bill a moot point with no clear rationale to support it.
"In the House committee, there was no testimony weighing the trade-off of parental rights over against any 'significant issue' with child marriage in Wyoming," Wyoming Family Watch argued in its letter.
"To the contrary, the sponsor of the bill openly admitted that 'it is not what we would call a problem in this state.' On average 20 marriages per year under 18 and under in Wyoming. There was no testimony about the factual number under 16. Nor was there any testimony about why under 16 years old there should be no judicial exceptions," the group added.
Newsweek has reached out to the Wyoming Republican Party for comment. However Reiss said anything short of an outright prohibition on child marriage does nothing more than give legal cover to potential rapists while trapping children—particularly young girls—in a legal quandary they cannot escape.
"What we're arguing about in most states is the idea of entering a minor into a marriage before they're old enough to bring a legal action in their own name, or get into a domestic violence shelter," said Reiss. "It's a horrific legal trap that we're creating for minors. That's usually what we're arguing. And it's just really despicable that in Wyoming, this has become an argument of whether we want to continue marrying off girls to their rapists."
Update 2/10/2023, 4:15 p.m. ET: This article has been updated with comments from Frady Reiss.