Xenophobic Violence in South Africa Exposes Unresolved Tensions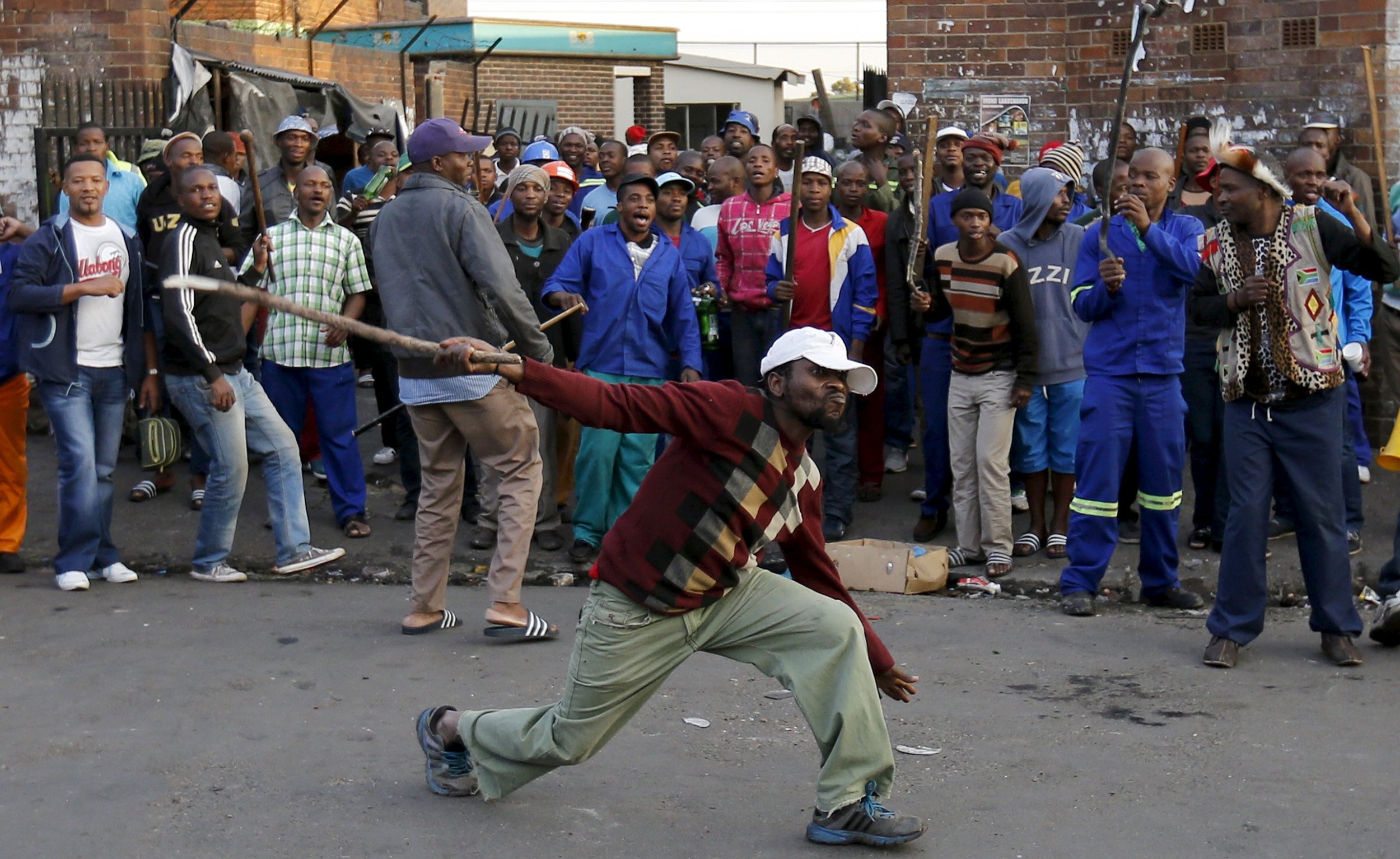 Recent attacks on foreign nationals in the South African coastal city of Durban, which have now spread north to the country's largest city, Johannesburg, have been a long time coming, say workers helping displaced foreign nationals. More than five people have died, including a 14-year-old South African boy, and 8,000 foreigners are now living in five refugee camps that have sprung up near the violence's epicenter.
On Friday, clashes erupted between police, who fired rubber bullets into crowds, and anti-immigrant protesters in Johannesburg. Foreigners closed down shops in the city out of fear of looting, one day after 18 people were arrested in the city. On Thursday, 5,000 people took to the streets of Durban to protest the attacks, chanting "Down with xenophobia" and "A united Africa," the BBC reports.
"And so we are back to what we were, a nation with unrest and flashpoints," Ranjeni Munusamy writes in the South African Daily Maverick. "A country where mobs sharpen their machetes and vow to kill in front of a wall of riot policemen poised to fire. That was the image of Apartheid South Africa. Now it is the image of post-democracy South Africa."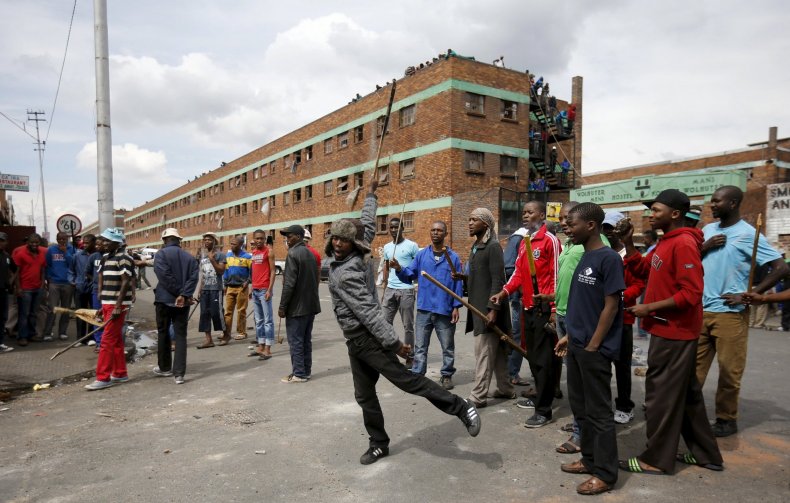 For local observers, the attacks were not unexpected and reveal a long-simmering tension between impoverished South Africans and entrepreneurial migrants trying to make a living at a time when the unemployment rate is 25.5 percent. Still, the violence has shocked many in a country that prides itself on its relatively peaceful transition to democracy after decades of apartheid.
"The attacks in Durban happened because the government failed to deal with the root cause of xenophobia," which is South Africa's dire economic situation and high crime rates, said Dewa Mavhinga, a senior researcher for the Human Rights Watch Africa division. He is Zimbabwean and decided to return home from Johannesburg this week after witnessing threats of violence against foreigners.
Despite assurances by police and government officials that foreign nationals would be protected, Mavhinga said he feared for his family's safety. "There's no sense of protection. I would not feel that the police would be able to protect me," he said.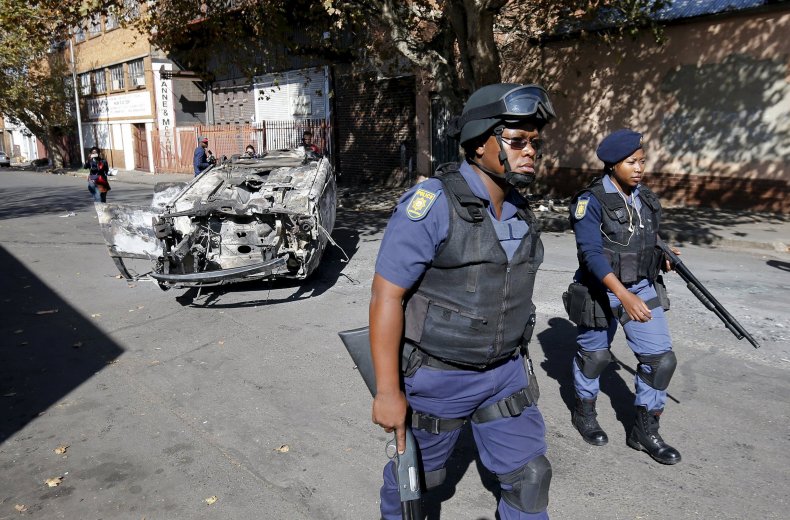 The episode recalls the anti-foreigner attacks in 2008, when 62 people were killed in violence across the country. Tens of thousands of foreigners were displaced by the violence, which then-President Thabo Mbeki vowed would never be seen again in South Africa.
Small, isolated incidents occurred in South Africa's cities between 2008 and 2015, but this is the first time Durban has seen violence and fear on this scale, said Imtiaz Sooliman, chairman and founder of Gift of the Givers, a humanitarian organization that helps foreign nationals living in the camps.
"In different parts of the country, at some time or the other, there has been some kind of attack, which means the underlying problem was always there," said Sooliman. "It's exported now, in a much bigger way, in Durban. It's the first time it's happened so big in Durban."
Local media outlets say violence flared up two weeks ago in Isipingo, near Durban, after comments made by Zulu King Goodwill Zwelithini, who said in a speech last month that foreigners are not welcome and must leave South Africa. Migrant workers from other African countries are seen by many as a threat to social and economic prosperity in a country where 54 percent of the population lives on the poverty line, according to the World Bank.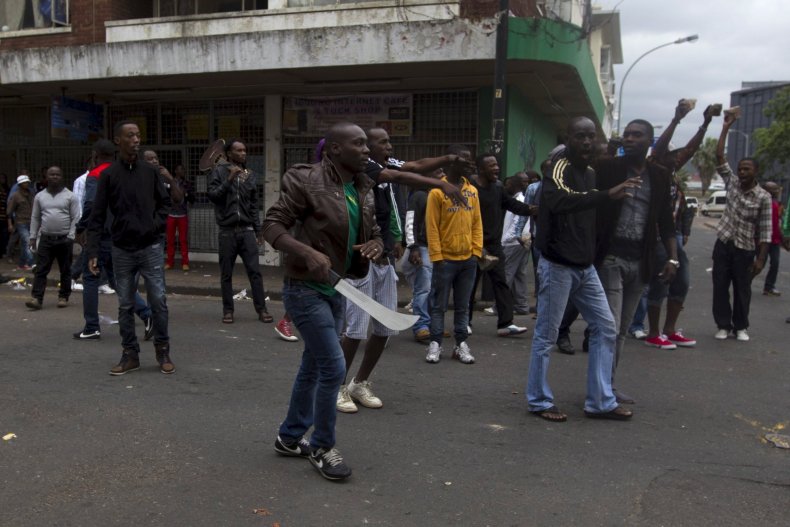 While Zwelithini might have made an off-the-cuff remark, which he later said was taken out of context, it revealed the sentiment of the country's political elite. This is especially important because South Africa's local elections are being held next year, says Mavhinga. Scapegoating foreign nationals diverts attention from real issues and the failures of the government to improve the lives of the country's poor, many of whom are taking up arms in violent fights with immigrants.
"This government of South Africa is failing to deal with this because of the political implications, because they need to retain the vote," said Mavhinga.
Many people who have arrived in the camps have had their businesses and livelihoods destroyed. Shops in the city centers have been the primary targets, and foreign nationals are being harassed in shops or while walking the street.
"Some people say local businesspeople cannot compete with foreign businesspeople because they've got better prices," said Sooliman.
Mahvinga notes, "One other thing which is fueling this is the myths, the falsehoods, that have spread about foreign nationals, that affect everything, even at a political levels."
Foreign nationals are thought of as criminals and blamed for the high crime rates; South Africa's murder rate increased for a second consecutive year, from April 1, 2013, to March 31, 2014. Foreign nationals are also regularly accused of selling drugs to children.
The government has done nothing to counter such falsehoods, says Mahvinga. On Thursday, President Jacob Zuma said that he doesn't think South Africans are xenophobic, and that if they were, there wouldn't be so many foreign nationals living in the country. He echoed comments made by Police Minister Nkosinathi Nhleko, who said the attacks are Afrophobic. "It is African-on-African. It is not on other nationalities," Nhleko said Wednesday.
Immigration concerns have also contributed to the violence. The government recently clamped down on immigration to South Africa, with work permits for foreign university staff not being renewed and a refusal of visas for family members visiting foreign workers in South Africa, Achille Mbembe, professor of political science at the University of the Witwatersrand, notes in a blog post.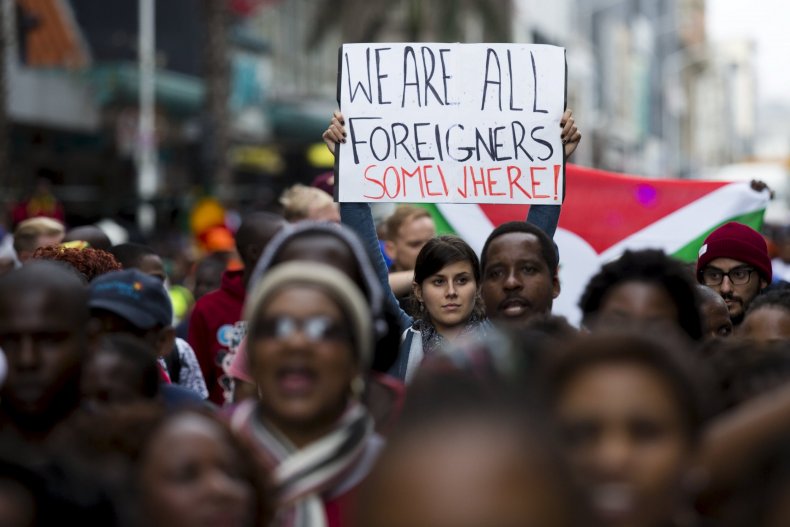 For the foreign nationals who have fled, the government has set up five camps and provided tents and water. Humanitarian efforts and additional supplies are being provided by organizations such as Gift of the Givers.
"Each day, more and more people are coming to the camps," said Sooliman. "They're not necessarily being attacked, but out of fear, as a preventative measure, people are coming to the camps."
Between 9,000 and 10,000 foreign nationals have moved away from their homes; 8,000 are in camps, and the rest have fled to private residences. They mainly come from Malawi, Somalia, Congo and Zimbabwe, with some from Pakistan, Burundi and Nigeria. Sooliman says the community response has been encouraging, and people have brought cooked food, sanitary products, towels, clothes and shoes. But he worries that the initial surge of concern will soon dissipate.
Now many foreign nationals don't want to return to their South African homes, and embassies are making arrangements for them to go back to their home countries.
"They've lost faith, they've lost respect, they've lost trust, they've lost everything," said Sooliman.
As the violence continues, Mavhinga expects to keep receiving calls from foreign nationals and compatriots who remain in South Africa. They're asking him the same questions: "Where do we go? Who will save us?"