Prepare for War, Xi Jinping Tells Elite Chinese Troops
Chinese President Xi Jinping called on his country's elite fighting troops to focus on "preparing for war" during an inspection of the People's Liberation Army Marine Corps on Tuesday.
Xi, who had ordered the restructuring of the marines as part of a national defense and armed forces reshuffle in 2017, recognised the troops as the "elite force for amphibious operations," according to Newsweek's translation of footage from Chinese state broadcaster CCTV.
The Chinese leader spoke to high-ranking navy officials during a visit to the coastal city of Chaozhou, in south China's Guangdong Province, as part of his plans to deliver a commemorative speech marking the 40th anniversary of the Shenzhen Special Economic Zone on the border with Hong Kong on Wednesday.
Special focus on the commercial and technology hub is expected to send a strong signal to Hong Kong—marred by recent protests over China's new security law—about the benefits of operating under a Beijing mandate.
Following a navy briefing, Xi stressed the importance of China's Marine Corps, who he said "shoulder important duties such as safeguarding the security of the country's sovereignty, territorial integrity, as well as maritime and overseas interests," via CCTV.
Chinese marines must "focus [their] minds and energy on preparing for war, while maintaining a high level of readiness," Xi told military leaders.
He also called for closer cooperation with other branches of China's armed forces in order to "fully integrate" the Marine Corps into a joint operations system.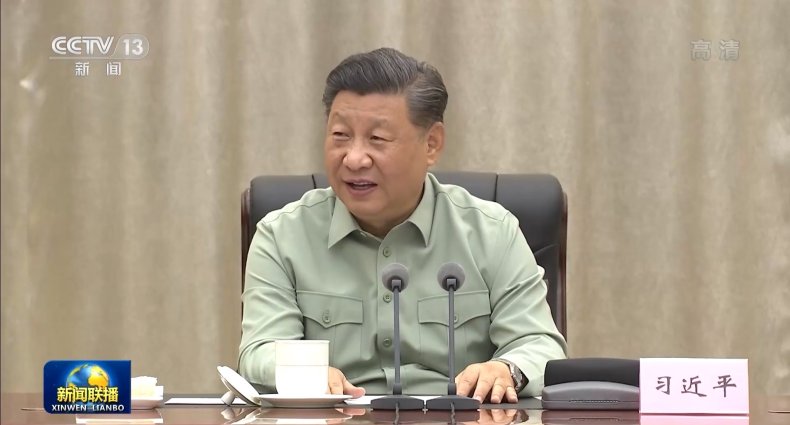 The Chinese president's rallying cry comes at a time when the Chinese navy continues to carry out live fire drills in the East China Sea, seemingly rehearsing for a potential invasion of Taiwan.
The self-ruled island of around 24 million people, which China views as a breakaway province, has responded with its own anti-landing exercises off its western coastline.
Since September, Beijing has also flown military aircraft through Taiwan's air defense identification zone with increasing frequency, the island's Ministry of National Defense reported recently.
Taiwanese President Tsai Ing-wen will be encouraged by the Trump administration's plans this week to push ahead with a number of planned armed sales to the island.
However, the decision has already angered China, whose Foreign Ministry spokesperson, Zhao Lijian, threatened Washington with "a legitimate and necessary reaction."
According to Reuters, Taiwan will receive weapons including a truck-mounted rocket launcher, air-to-ground missiles, F-16 fighter jet data sensors, drones and a coastal defense missile system.