Xi Jinping's Trip To Meet Putin Could Spell Trouble for the U.S.
Chinese President Xi Jinping has accepted an invitation to visit Moscow from March 20 to 22, for talks with his Russian counterpart Vladimir Putin, according to the Kremlin.
The Russian government said the two leaders will sign "important bilateral documents" and discuss "issues of further development of comprehensive partnership and strategic interaction between Russia and China."
Xi's visit comes against the backdrop of Russia's ongoing attack on Ukraine, which China has refused to condemn, and one expert told Newsweek the visit makes it "look like China is taking sides."
Posting on Twitter on Friday, Chinese Foreign Ministry spokesperson Hua Chunying said: "This will be a trip for friendship and peace. On the basis of no-alliance, no-confrontation and no-targeting of any third party, China and Russia have been promoting greater democracy in international relations.
"China will uphold an objective and fair position on the Ukraine crisis and play a constructive role in promoting talks for peace."
In a barely veiled swipe at the West, Hua argued the partnership between China and Russia is "entirely different from what certain countries have been doing including holding on to the Cold War mentality."
Speaking to Newsweek, Alan Mendoza, executive director of the U.K.-based Henry Jackson Society security think tank, said the visit is "absolutely" a challenge to the "U.S.-led international order."
He added the visit will "lead people to question China's neutrality on Ukraine, indeed it looks like China is taking sides."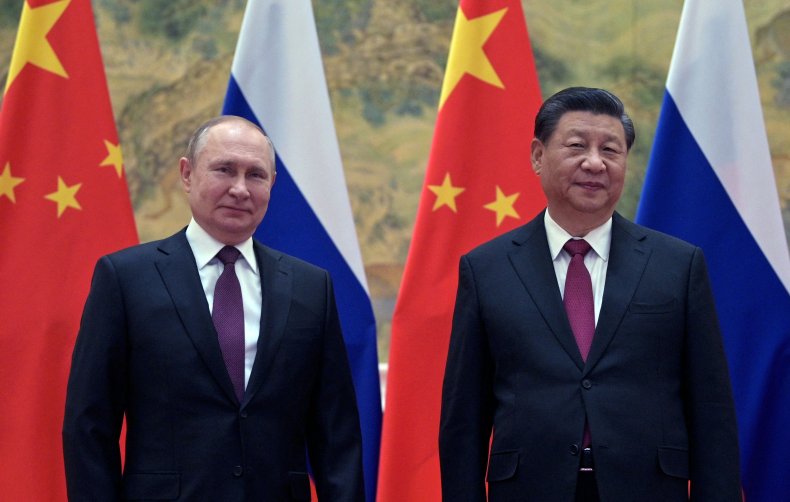 In February, the U.S. Department of Defense warned China might be planning to supply Russia with "arms that could be used to subjugate Ukraine."
Mendoza played down the suggestion this could be linked to the Chinese leader's visit, commenting: "Xi doesn't need to fly to Moscow to send Russian arms to Ukraine."
The Russian Foreign Ministry and Chinese government press center have been contacted for comment by email.
Tensions between the U.S. and both Beijing and Moscow are high, with the American military having been involved in incidents with both powers over the past few weeks.
In early February, a U.S. F-22 fighter jet shot down a Chinese spy balloon off the coast of South Carolina, after it had made its way across North America from Alaska.
On Tuesday, a U.S. MQ-9 Reaper drone was hit by a Russian fighter jet over the Black Sea, causing it to crash, according to the Air Force.
The U.S. European Command released footage of the incident on Thursday, which appeared to show the Russian aircraft dumping fuel on the U.S. drone before the crash.
In an accompanying statement, the command said: "Two Russian Su-27 aircraft conducted an unsafe and unprofessional intercept with a U.S. Air Force intelligence, surveillance, and reconnaissance unmanned MQ-9 aircraft operating within international airspace over the Black Sea on March 14, 2023.
"Russian Su-27s dumped fuel upon and struck the propeller of the MQ-9, causing U.S. forces to have to bring the MQ-9 down in international waters."