Attorney General William Barr Accuses Democrats of Waging 'Scorched-Earth, No-Holds-Barred War' Against Trump
Attorney General William Barr gave his most vociferous defense of President Donald Trump on Friday and accused his political opponents of trying to upend the Trump administration.
In an hour-long speech at the Federalist Society—a largely Conservative and influential legal group—Barr hit out at Democrats for trying to dismiss voters who elected Trump by "using every tool and maneuver to sabotage" his administration.
"In waging a scorched-earth, no-holds-barred war of resistance against this administration, it is the left that is engaged in a systematic shredding of norms and undermining the rule of law," Barr said.
Barr's comments came a week after the Washington Post reported that he declined a request from Trump to hold a press conference to state that there was no illegality in a July phone call between the president and his Ukrainian counterpart Volodymyr Zelenskiy. The call is central to Democrats' impeachment probe into whether Trump was withholding military aid in order to pressure Ukraine into a politically-motivated investigation into a possible presidential candidate.
Trump denied ever making such a request of Barr and said there would have been no need to do so, given that he says no wrongdoing took place in the call.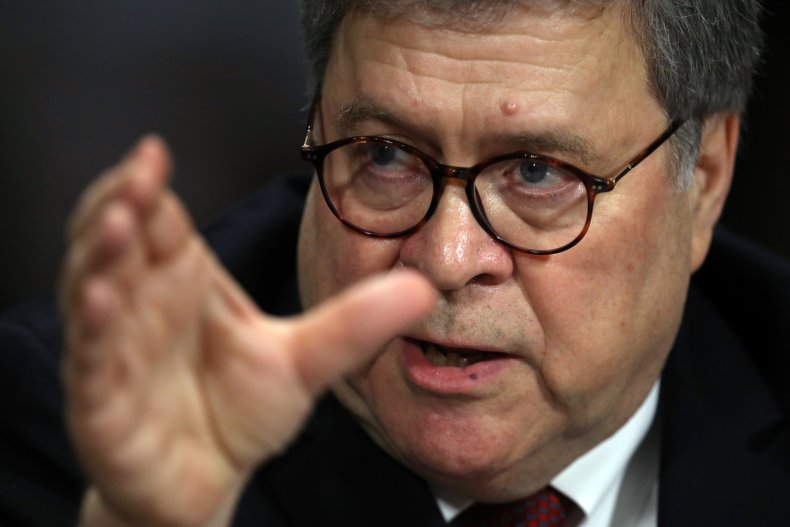 On Friday, as former U.S. Ambassador to Ukraine Marie Yovanovitch prepared to take questions from members of the House Intelligence Committee in the impeachment inquiry, the White House released a rough transcript of a call between Trump and Zelenskiy.
The transcript came from a call that took place in April—three months prior to the call at the center of impeachment investigations.
Barr's defense of Trump also came as a report emerged on Friday that there was a second witness to a call between Trump and his ambassador to the European Union, Gordon Sondland, discussing the need for Ukrainian officials to pursue "investigations."
At Friday's Federalist Society event, Barr said that the entirety of the Democrats' efforts to prove whether quid-pro-quo took place or not was part of a coordinated push to remove a legitimate president.
"Immediately after President Trump won election, opponents inaugurated what they called the Resistance," he said. "They essentially see themselves as engaged in a war, to cripple by any means necessary, a duly elected government."
Barr cited the number of subpoenas issued by House Democrats as an example of this.
"The sheer volume of what we see today—the pursuit of scores of parallel investigations through an avalanche of subpoenas—is plainly designed to incapacitate the executive branch and, indeed, is touted as such."
Barr, who also served as attorney general under George H. W. Bush, is a longtime and adamant believer in unitary executive theory—a notion in constitutional law that the executive powers of the president should be as unfettered as possible.