Zombie Drug Tranq Can Lead to Necrosis, Amputations and Death
A new drug is spreading rapidly in popularity across many U.S. states, and is causing skin-rotting symptoms in its wake.
Xylazine, also known as "tranq", "tranq dope", or the "zombie drug", has seen increasing usage across major U.S. cities, notably San Francisco, New York, Philadelphia and Los Angeles. According to one study published in the Journal of Analytical Toxicology in June 2022, xylazine has been detected in drug supply across 36 states and the District of Columbia. In the months since, it may have spread even further.
Overuse of the drug can lead to rotting skin ulcerations and ultimately limb amputations if untreated, hence its horrifying nickname "zombie drug". The drug has also been detected in a growing number of overdose deaths.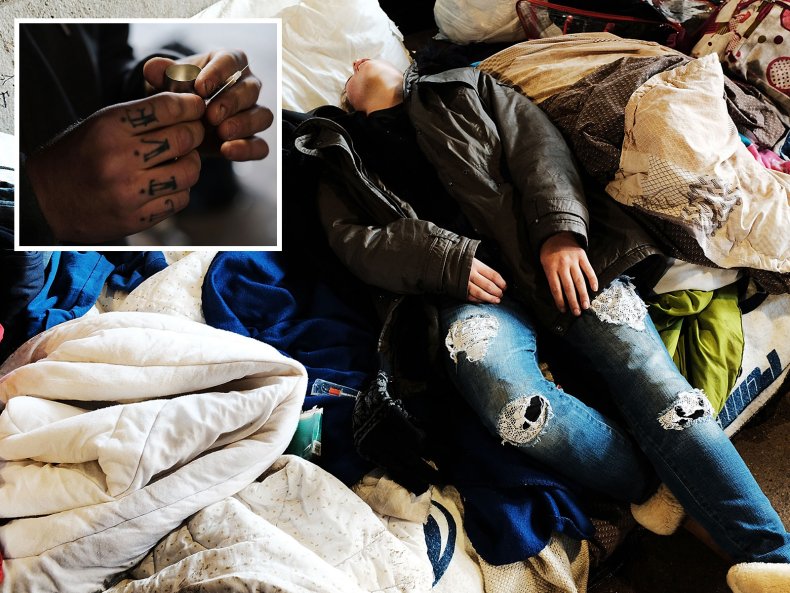 What Is Xylazine?
According to the National Institute on Drug Abuse, xylazine is a non-opioid tranquilizer used in veterinary medicine which is not approved for human use. However, it has increasingly been used illicitly as an adulterant in combination with other drugs, mostly fentanyl, but also with cocaine, heroin and other drugs, the U.S. Drug Enforcement Administration (DEA) states in a fact sheet.
Xylazine itself is a central nervous system sedative that causes drowsiness, amnesia, slow breathing, decreased heart rate, and decreased blood pressure. It is thought that when used in combination with opioids like fentanyl, it can elongate the effects of the high.
Xylazine can be snorted, injected or smoked. If injected, the so-called zombie drug can also cause crusty skin ulcerations near the injection site, which may eventually become dead skin called eschar and become necrotic, resulting in the need for amputation. These ulcers often ooze colored pus.
One xylazine user in Philadelphia developed ulcerous wounds near her opioid injection sites as a result of the drug use.
"I'd wake up in the morning crying because my arms were dying," Tracey McCann, aged 39, told The New York Times.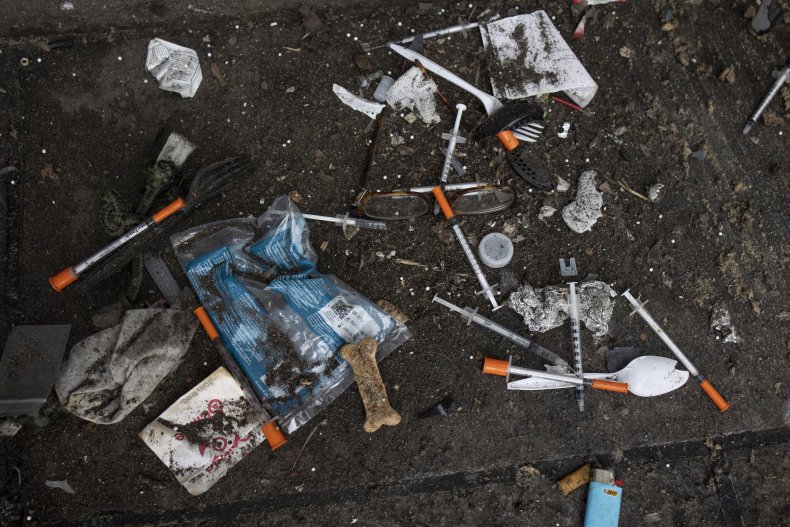 Another user also developed similar wounds.
"Tranq is basically zombifying people's bodies," Sam, aged 28, told Sky News. "Until nine months ago, I never had wounds. Now, there are holes in my legs and feet."
When combined with opioids, which are also nervous system depressants, the risk of a deadly overdose is increased. An additional issue is that people who are overdosing from xylazine do not respond to Narcan, also known as naloxone, which can usually be used to revive a user from an overdose of opioids.
Xylazine has been associated with increasing numbers of deaths: From 2015 to 2020, the percentage of all drug overdose deaths involving xylazine increased from 2 percent to 26 percent in Pennsylvania, and was involved in 19 percent of all 2021 drug overdose deaths in Maryland, and 10 percent of 2020 deaths in Connecticut.
Additionally, between 2020 and 2021 alone, the number of xylazine-positive overdose deaths increased by 103 percent in the Northeast, 516 percent in the Midwest, 750 percent in the West and a shocking 1,127 percent in the South, according to DEA figures.
In Philadelphia, 90 percent of lab-tested dope samples contained xylazine in 2021.
However, many of these figures may be an underestimate, as due to xylazine being considered a mostly non-human drug, it is often not tested for during post mortem examinations. Additionally, the DEA states that xylazine is not currently included with the Centers for Disease Control and Prevention's (CDC) reports of fatal overdoses.
It is also not currently a controlled substance under the U.S. Controlled Substances Act.
The DEA says that the major route of xylazine into the drugs trade comes from veterinarian suppliers online, as it is legal to buy the substance for use in veterinary medicine. It can be bought in liquid form either in vials or preloaded syringes, and is sold by concentration based on the animal it is being administered to. However, the DEA also states that xylazine can easily be bought online from Chinese suppliers in both liquid and powder form and at cheap prices "often with no association to the veterinary profession nor requirements to prove legitimate need."
Xylazine was first detected as a problem around 20 years ago in Puerto Rico, but has gradually made its way across the U.S. The DEA predicts that xylazine will follow the same path as fentanyl did, working from the east towards the west. They also forecast that the prevalence of xylazine will increase in the fentanyl supply, but will also increase in usage on its own, as it did in Puerto Rico.
Is there a health issue that's worrying you? Do you have a question about xylazine? Let us know via health@newsweek.com. We can ask experts for advice, and your story could be featured on Newsweek.