Yair Lapid May Have to Give Up Israeli Prime Minister Ambitions to Form Government, Remove Netanyahu
Israeli lawmaker Yair Lapid has been tasked with forming a new coalition government after Prime Minister Benjamin Netanyahu failed to do so, but crossing political divides may mean delaying his vision of being prime minister.
"Lapid must postpone his dream of being prime minister," in order to gain the necessary 61 seats in parliament Lapid needs for a majority, political analyst Shmuel Rosner said to AFP, France24 reported.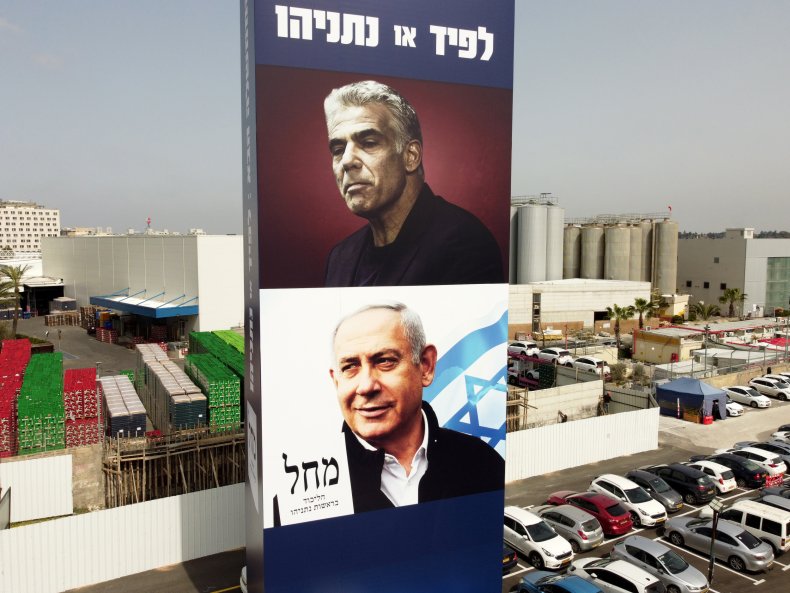 As of Wednesday, Lapid has been nominated by parliamentary President Reuven Rivlin to form a new government within four weeks, CNN reported. The president tapped Lapid, Netanhayu's strongest rival, after the prime minister failed to secure a coalition of allies. Lapid has been vocal about serving in a government without Netanhayu, citing criminal indictments against the longtime prime minister, Reuters reported.
"It is clear that parliament member Yair Lapid could form a government that has the confidence of the Knesset, despite there being many difficulties," Rivlin said in his announcement of his selection of Lapid.
Lapid will now need to persuade a majority of the 120-seat parliament to support him, and if he fails, the country will have to hold its fifth general election in just over two years, according to The New York Times. Lapid's political party Yesh Atid—Hebrew for "There is a Future"—came in second to Netanyahu's Likud party in the country's March 23 election.
"After two years of political paralysis, Israeli society is hurting," Lapid said in a statement released after he received the task to form the new government.
He added: "A unity government isn't a compromise or a last resort—it's a goal, it's what we need. We need a government that will reflect the fact that we don't hate one another. A government in which left, right and center will work together to tackle the economic and security challenges we face. A government that will show that our differences are a source of strength, not weakness."
A uniting factor among Israel's varied political groups is opposition to Netanyahu's continued leadership, and France24 reported Lapid can count on centrist and left-wing lawmakers and two right-wing parties set on taking out the current prime minister for their support. These groups would likely take Lapid to 51 of the 61 seats he needs to secure the majority.
"He will get credit for being the adult in the room and focusing on the larger goal—getting rid of Netanyahu," Rosner said to Newsweek.
Lapid isn't likely to get support from Netanyahu's Likud party, two ultra-Orthodox Jewish parties and the far-right Religious Zionism alliance, so he needs the support of former Defense Minister Naftali Bennett and his right-wing Yamina party, as well as a few Arab lawmakers to bring him the seats needed to close that 10-point gap.
But given ideological differences among lawmakers, a simple alliance isn't easily executed. Lapid delayed his own prime minister ambitions and offered Bennett a rotating prime ministership last month as part of a coalition-building strategy.
"Simply put, there is more right-wing in Israel than center-left," Rosner told Newsweek. "Lapid must have rightists in his government, and getting them is hard. The only offer that is tempting enough to lure them in is letting them have the highest office."
Sharing the role of prime minister would appeal to all anti-Netanyahu lawmakers as well as more right-wing parliamentarians.
"The only viable option is Bennett-Lapid with Bennett going first," Gayil Talshir, political scientist at Hebrew University said to France24.
But the move also risks further division. Arab lawmakers said this week they support Lapid government but wrote in a letter to Rivlin they "do not support a government headed by Naftali Bennett." Bennett wants to expand Jewish settlements in the West Bank, a contentious issue for Arab parliamentarians who advocate for Palestinian statehood.
"Palestinian statehood is not on the table and hence a non-issue in the current political climate," Rosner said. "Bennett and Lapid, and all the others, will have to moderate their ideologies if they want the coalition to survive. That's the main attraction of this coalition—more about practical solutions to urgent problems, less about grandiose ideological dreams."
Netanyahu will remain as the country's prime minister until the new government is agreed upon and sworn in. Rosner told Newsweek if Lapid achieves his goal, a new coalition government will have to coordinate in order to ensure its survival.
"There is still a chance that this coalition will not materialize and an even higher chance that it will not survive for very long because of ideological differences and personal tensions," Rosner added. "The thrill of getting Netanyahu out of the PM's house will be real, and short lived. After a few weeks, or months, the coalition will face tests that could easily break it if the leaders aren't well coordinated."
Newsweek has reached out to Talshir for additional comment.
Updated 1:55 PM ET, with comment from Rosner.