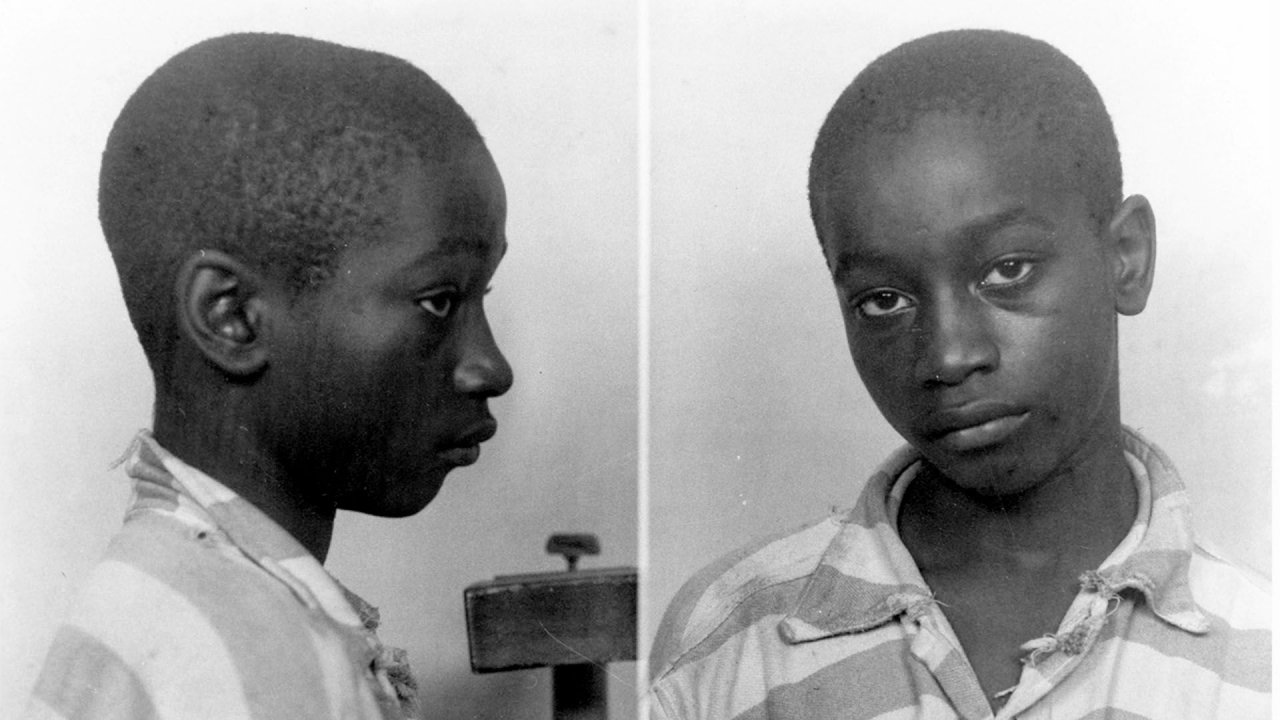 The Equal Justice Initiative's National Memorial for Peace and Justice in Montgomery, Alabama memorializes the over 4,000 victims of racial terror lynchings in over 800 counties in the U.S. between 1877 and 1950. Each implicated county has a monument with the names of the victim or victims etched into its surface, and every monument has a duplicate that EJI hopes the counties will claim as a way of acknowledging injustice. The nonprofit insists on a very deliberate process: Counties are first asked to erect historical markers at the site of each lynching, commemorated with a ceremony. As part of the process, local high school students are offered the opportunity to write an essay on a topic related to racial justice. The winner reasons a $3,000 scholarship.
Yamiri Mants, a high school senior in Lowndes County, Alabama, won for his 2016 essay "Things Remain the Same." As his topic, Mants chose systemic bias in sentencing, connecting two men separated by 72 years: George Stinney Jr., a 14-year-old boy wrongly accused and executed for rape and murder in 1944, and a college student convicted of rape in 2016. "You hear in the media how white and black men are treated different, but it seemed like such an exaggeration to me," Mants tells Newsweek. "It's one of those situations where you have to see it to believe it." He will use his scholarship money to attend his local college, Alabama State University, where he plans to study graphic design. Mants is optimistic about the future but sees the enormous work needed "to push forward" beyond bias. "They say things have changed," he says, "but only some things."
I am a high school student who has never gotten in trouble with the law or at school. I participate in church and community activities. It seems like these statistics would keep me out of prison. Yet, I am not certain about that! For decades, young men of color like me have endured and received judgments and punishments that are far harsher and longer than those of my white counterparts for the same or similar crimes. I am still growing up and maybe naive about some things. But I am not naive about the injustice happening with the judicial system in America.
I have recently read the story of George Stinney, a young black male living in South Carolina in 1944. I imagine he had family who loved him and he enjoyed doing things boys like to do—play games, eat ice cream or go fishing. I imagine he was like me, smart and, certainly for that era, did not get in trouble with the law. I also imagine he might have been somewhat naive about life and the things that might happen to him because he was black. However, what I cannot understand or image is being arrested, charged, tried, found guilty in April 1944, and electrocuted in June, becoming the youngest person in modern times to be put to death. One day he was a happy, healthy 14-year-old; less than three months later, he was dead.
According to articles, the only evidence against him was the testimony of the local sheriff, who said George confessed to the crime. There were no witnesses to the crime or in his defense. The jury was not made up of people who were his peers. His attorney had no legal experience—he was the tax commissioner. Everything was stacked against this small-framed, 90-pound boy. Where was the justice for George?
It came 70 years after his electrocution. But that is how the court system worked back then, right? It could not possibly continue to be that way today, could it? Unfortunately, there have been many cases like this recorded in American history.
Fast-forward to the 21st century, year 2016. While I hope and pray that I am never accused of or become involved in illegal acts, I surely hope that the attributes I mentioned at the start of this essay would be taken into consideration. America's past does not reflect that it would be likely.
Recently, two college athletes were convicted of the brutal rape of two unconscious women at their prestigious colleges. News reports indicate these young men were both caught and seen in the act of attacking these young ladies. The evidence was clear for both defendants. Both had consumed plenty of alcohol prior to the attack, and both claimed they did not remember attacking the ladies. They were tried and convicted, but their punishments were vastly different.
The young black man was sentenced to 15 to 25 years in prison, while the white man was sentenced to six months in county jail, with the possibility of getting our for good behavior after three months. I can imagine that both possessed some of the same attributes I have. But for the white man, these traits were used to justify lenient punishment. I understand that these were two different cases in two different states with two different sets of laws, and there may be factors that I am not aware of. However, the fact remains that black males receive harsher and longer sentences for similar crimes. It is a common and unfair practice in America, and history seems to be repeating itself.
I imagine, hope and pray that one day racial injustice in the courts and other places will end and young men like me are treated with the same respect as other men.
RELATED: America is racist. So what now? Activist lawyer Bryan Stevenson has some answers.