Montgomery is the capital of Alabama. It is also a ghost town.
The trip from the airport to the city proper takes 20 minutes, and after you leave the freeway the traffic disappears and the ironies pile up. My taxi driver points out the home of Jefferson Davis, the only president of the Confederacy. A block later, we pass the Dexter Avenue King Memorial Baptist Church, where the Reverend Martin Luther King Jr. presided between 1954 and 1960, followed soon after by the Alabama Confederate Monument. I'm reminded that this is a state where the day celebrating King is shared with Robert E. Lee, commander of the Confederate Army, and where the largest high schools, named for Davis and Lee, are 99 percent African-American.
Black and white photos of the civil rights movement had informed my vision of Montgomery: images of King entering the city at the head of a black voters' rights march in 1965; police dogs straining their leashes as African-American protesters emerge from a fog of tear gas; white people, their faces contorted with hate, yelling at women carrying signs demanding the integration of public schools. But on this evening in July, under a still bright-blue sky, the place is eerily quiet. My taxi passes meticulously preserved 19th-century homes, immaculate green lawns, stately, flowering trees. There's not a soul on the streets.
I get to chatting with the driver, an African-American who looks to be in his 60s. He tells me that he grew up and raised his children in Montgomery, that he loves it here, particularly the slow pace and the barbecue. He asks the reason for my visit. I explain that I'll be interviewing Bryan Stevenson, the lawyer, activist and director of the nonprofit Equal Justice Initiative. He nods in recognition. I ask if he's been to EJI's three-month-old National Memorial for Peace and Justice, which remembers the thousands of lynched African-Americans. "No," he says. "I don't need to go. I lived it." Has racism in Montgomery improved since his childhood? "A little," he says evenly, "but it will always be here. I don't expect that will change in my lifetime."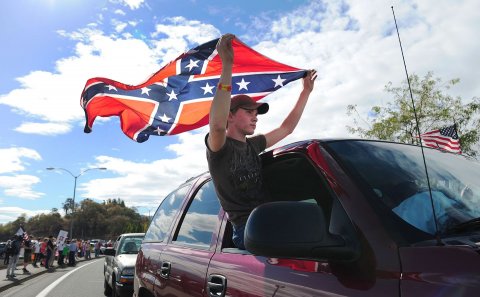 A few months into Barack Obama's presidency, Jimmy Carter told NBC Nightly News that he felt "an overwhelming portion of the intensely demonstrated animosity toward Obama is based on the fact that he's a black man." He got hammered by the media—America wasn't racist anymore!—but African-Americans knew what he was talking about. Bigotry had merely been pushed into the closet. And with the surprisingly successful campaign of Donald Trump, and his subsequent administration, that entrenched hatred emerged with a vengeance.
Nonwhite citizens of America grow up with an understanding: Even as racial discrimination has lessened, it remains embedded in our government, legal system and law enforcement. There is no post-racial America. There is, however, a neo–Jim Crow America. Consider the still segregated school districts, steering black children onto separate and unequal tracks (a 2016 report by the Government Accountability Office found the gains of Brown v. Board of Education of Topeka, which declared segregation of schools unconstitutional in 1954, have been almost entirely reversed); or that employment opportunities remain disproportionately stacked against people of color; or the relentless harassment of African-Americans by the police; or the prison population—the largest in the world—with its predominance of black and brown inmates. Systemic bias, it turns out, is as American as apple pie.
In his 1955 book, Notes of a Native Son, James Baldwin described America as having a "depthless alienation from oneself and one's people," and not "the faintest desire to look back." But the past, he went on, "is all that makes the present coherent, and further, the past will remain horrible for exactly as long as we refuse to assess it honestly."
These aren't black problems; they are the problems of a nation. As Baldwin also wrote, no one in America escapes the effects of racism, "and everyone in America bears some responsibility for it."
Roughly 65 years later, Stevenson is still making that argument, becoming one of the most prominent faces of the modern civil rights movement. Just Mercy: A Story of Justice and Redemption, his best-selling 2014 memoir (soon to be a film starring Michael B. Jordan), is an account of his decades of work as a lawyer representing poor clients wrongly convicted or excessively punished. The stories are horrifying and infuriating, but delivered with an unshakeable sense of hope and a belief that evil can be overcome.
Since EJI's founding in 1989, Stevenson and his staff, against tremendous odds, have overturned 135 death sentence convictions in Alabama and assisted in another dozen nationwide. They've taken four cases to the Supreme Court, two of them—Jackson v. Hobbs (2007) and Miller v. Alabama (2012)—resulting in landmark decisions: the abolishing of mandatory life without parole for children. And since 2008, EJI has expanded its scope to education, exposing a narrative missing from America's textbooks: A recent nationwide study revealed that, among other things, 92 percent of middle school students did not know slavery was a central issue of the Civil War.
In April, EJI opened two sites in Montgomery. The Legacy Museum depicts the history of black people in the U.S., beginning with slavery, through segregation, up to the systemic crisis of street-level harassment by police and mass incarceration. "Truth is not pretty, it's not easy," Stevenson will tell me, "but truth and reconciliation are sequential, so you need to get to the truth first."
The second site, the National Memorial for Peace and Justice, informally known as the Lynching Memorial, remembers the more than 4,400 victims of racial terror lynchings in over 800 counties in 20 states between 1877 and 1950—sanctioned violence that forced 6 million black refugees to flee the South. Stevenson is not looking for financial reparations, like author Ta-Nehisi Coates, nor does he prioritize punishment, "but I do want to increase the shame index of America."
The memorial is a deeply moving step in that direction. But it also provides a bold bid for reconciliation. Each implicated county has a monument, and EJI is inviting those communities to claim and erect a duplicate where a lynching occurred—an offer that 300 counties have expressed interest in, and which will involved a deliberate process for claiming.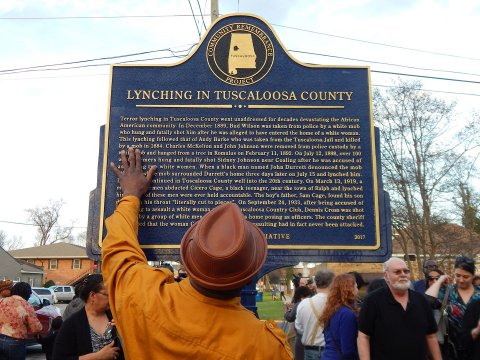 Stevenson's mission for reconciliation is more urgent than ever. Trump, who launched his modern political rise by questioning the legitimacy of Obama's presidency, won the 2016 election, in part, by casting racial and religious minorities as criminals and terrorists. When white supremacists marched on Charlottesville, Virginia, last year, a demonstration that resulted in the death of a counterprotester, he told reporters that there were "very fine people, on both sides." More recently, he warned that Democrats wanted migrants to "pour into and infest our country."
White supremacists have acknowledged that such rhetoric has inspired them to speak and act out in openly racist ways, and it has certainly reset the terms of acceptable discourse, at least in the Republican Party—chillingly demonstrated by November's midterms, including voter suppression and startling numbers of GOP candidates attacking minority opponents in nakedly bigoted terms. A week after the midterms, and three weeks after a shooter killed 11 in a Pittsburgh synagogue, an FBI report made all of this plain: Hate crimes rose 17 percent last year, with nearly three out of five motivated by race and ethnicity. African-Americans made up roughly half of all victims. The election of a biracial president felt like progress, but it's clear we overplayed the symbolism.
Lynching, it might shock you to learn, has never been classified as a federal crime. Passing a bill to abolish it would be a symbolic gesture of atonement, as well as a strong statement about the present and future. There have been dozens of anti-lynching bills introduced since the first in 1918, all of them aggressively opposed by members of the House and Senate. In June, Representative Bobby Rush of Illinois, and 35 members of the Congressional Black Caucus, introduced the latest, H.R. 6086. In doing so, Rush said, "you only need to look at the events in Charlottesville last year to be reminded that the racist and hateful sentiments that spurred these abhorrent crimes are still prevalent in today's American society."
As Stevenson likes to say: Slavery didn't end in 1865. It evolved.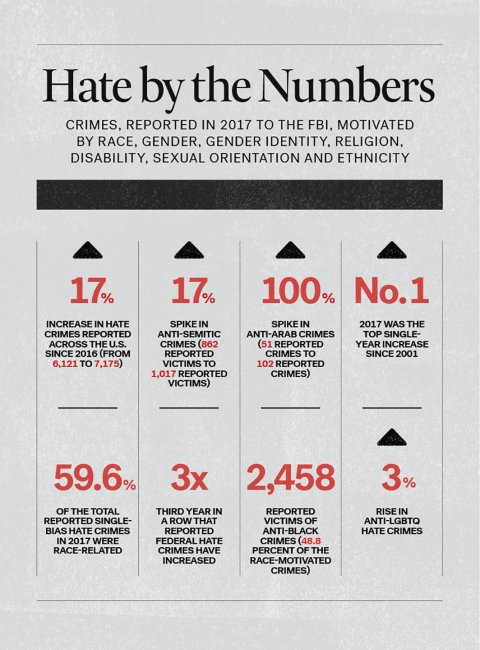 "A PLACE THAT SILENCES YOU"
Stevenson is walking toward me, trim and smiling broadly as if an interview at 8:30 a.m. on an already steaming summer day is his idea of a good time. We've met at the entrance of the National Memorial for Peace and Justice. "You're an optimist," I say, gesturing to his long-sleeved button-down shirt.
Three months after the memorial's April 26 opening, Stevenson is still marveling over its effect on visitors—20,000 in the first few days alone, and 30,000 in July. He tells me that people have been bugging him for a sequel to Just Mercy, and this, to his mind, is it—"another way of communicating to the world something I think we need to hear and see."
The memorial sits on six acres in Cottage Hill, what was, for generations, the heart of the black community. The women behind the yearlong bus boycott of 1955, a galvanizing moment in the civil rights movement, organized in this neighborhood. The Reverend Ralph Abernathy's church was here too.
In 1959, as black America was benefiting from worldwide attention for this movement, Sam Engelhardt—who had run for lieutenant governor on the campaign slogan "Segregation every day in every way"—was named director of Alabama's State Highway Department. By 1967, 1,700 homes, 75 percent of them black-owned, had been bulldozed to create Interstate 85, essentially boxing off the neighborhood from the rest of Montgomery and effectively erasing a civil rights incubator.
"That isolated and killed the community," says Stevenson of a strategy that was repeated in cities across America during the '60s. "The area fell into decline, with low-income housing, vice and drugs." Six years ago what was left of the neighborhood was razed. "Transforming this space back into something that has beauty and meaning, that represents this history," he says, "was really important."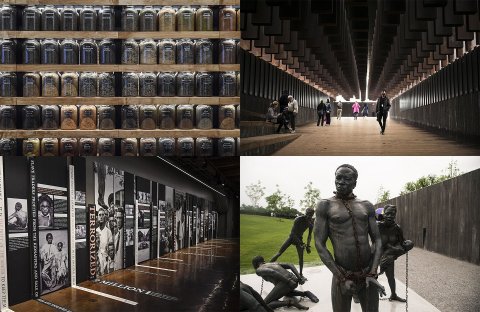 The stunning site—a collaboration with Mass Design Group—has a Zen simplicity, with winding gravel paths featuring sculptures and poetry that contextualize racial terror. "Art can communicate things words lose," says Stevenson. A heartbreaking piece by Ghanaian artist Kwame Akoto-Bamfo features chained Africans being sold at auction. "We wanted something that revealed the anguish and brutality," says Stevenson, "but that was also human and had dignity."
He's been heartened by reactions to it. "A lot of people in their 50s and 60s have told me, 'You know, I've lived in this country my entire life, and I've never seen a sculpture about slavery.'" An institution, he adds, "that so profoundly shaped this nation."
Dixie pride—the celebration of the Confederacy and white supremacy—is communicated relentlessly in the South, with monuments, memorials and historical signs. It's worth noting that the majority were erected long after the Civil War's end, during the Jim Crow era, when racial subordination was codified, creating America's official system of apartheid. Such totems were pointedly placed in locations with political or judicial significance, like on courthouse lawns. And that scenario continues: In recent years, "heritage" laws have been passed in some states to protect these monuments. (Alabama, Mississippi, Arkansas, Florida and Georgia still include Confederate symbols in their flags.)