Inside the Former Yankee Candle Owner's $23 Million Massachusetts Mansion
The former Yankee Candle owner's $23 million mansion is on the market, complete with its own indoor water park, a 9-hole golf course and three tennis courts.
This sprawling, 16-bedroom mansion covers 120,000 square feet in the quiet town of Leverett, Massachusetts, and includes the main house, two car barns, two guest houses, a clubhouse, a pool cabana and a luxury spa.
The colonial home is surrounded by meandering paths, reminiscent of a luxurious golf resort, even requiring a golf cart to move around the 60 acres in the heart of western Massachusetts.
"There was nothing he loved more than bringing his family and friends together and hosting parties at his home," said the son of the late Michael James Kittredge II, founder of The Yankee Candle Company who passed away in 2019, in the estate's real estate listing.
There is a 9-hole golf course and three outdoor tennis courts—two clay (with lighting for night play) and one grass. Kittredge was an avid car collector, and the two climate-controlled car barns are designed to house 60 roadsters.
The handsome clubhouse has four bedrooms, two baths, and a full kitchen, and opens to a T-shaped Gunite pool with an expansive deck. The cabana comes equipped with a full kitchen and bar for lavish outdoor entertaining.
Residents can retreat to the 55,000-square-foot spa for a refresh or a reboot. The oasis boasts a 4,000-square-foot world-class fitness center, a full kitchen, multiple massage and treatment rooms, a sauna, a steam room, and two complete his/hers locker rooms with finishes and features that rival the world's most exclusive spas.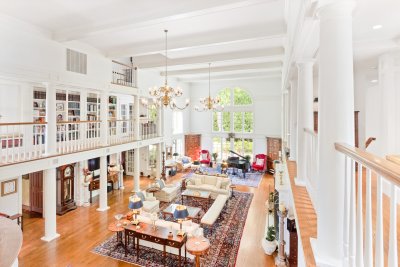 The home also includes a three-lane bowling alley, a billiards and game room, and, in the massive auditorium, an indoor tennis court with ample spectator seating alongside a 25-foot-long oak bar and fireplace. The 4,000-square-foot stage on one end is equipped with professional, concert venue-quality sound and lighting systems.
Notable bands who played on the stage for private events include Hall & Oates, The Doobie Brothers, KC and The Sunshine Band, and Eric Burdon & The Animals.
A separate, smaller gym houses a basketball court.
The two-story arcade is equipped with pinball machines, slots, and carnival-style skeeball. The indoor water park, inspired by The Bellagio in Las Vegas, dazzles with its blue "sky," free-form swimming pool, slides, waterfalls, and palm trees.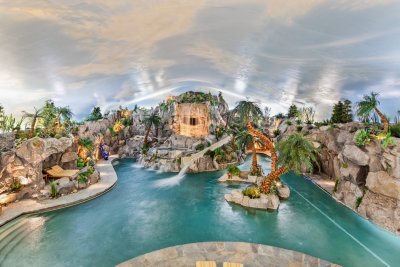 The entryway to the 25,000-square-foot main residence is columned and formidable, yet offers no hint as to what is inside. The original home on this site was constructed in the 1980s and was quite modest.
Upon acquiring the property, Kittredge added enhancements (and square footage) in eight stages, with the final completed in 2010. The main house has five bedrooms, six baths, and five half baths on multiple levels. Generously-sized rooms boast magnificent custom millwork and 11 fireplaces.
The front door opens to a foyer, with a stairway to the second floor and two massive wings to the right and left. Surely one of the most spectacular rooms on the property is the two-story great room—it's not surprising that it was featured on the cover of luxury-lifestyle magazine The Robb Report in 1997.
The atrium-like ceiling and second-floor balcony lend a feeling of spaciousness and light, while the oversized fireplace warms on even the chilliest winter nights.
The dining room accommodates a table for a crowd and the solarium offers a sunny spot to relax or enjoy morning coffee. An "oval office" offers panoramic views of rural vistas from its glass walls.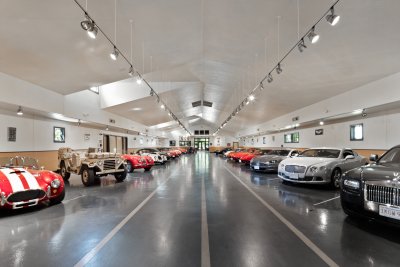 The massive, gourmet kitchen stuns with its high vaulted ceiling, multiple skylights, five islands for prepping or snacking, custom cabinetry, granite countertops, seven sinks, and commercial-grade appliances including a dishwasher with a 60-second cycle.
It was designed to accommodate a team of cooks for grand-scale entertaining. The original kitchen still exists and is used for smaller meal prep and as a butler's pantry.
The very private main bedroom wing occupies an entire side of the home. It features a sumptuous main bedroom with a fireplace and private balcony, two auxiliary bedroom suites, a kitchenette, and a den/office.
Another wing is comprised of two ensuite bedrooms, a large office, a music room (that doubles as a sixth bedroom), a billiard room with a lounge, a dog room, and an attached three-car garage.
There are two additional private homes for guests or staff on the estate: one has three bedrooms/two baths and the other has four bedrooms/two baths.