Inuyasha and Kagome's Daughter's Design and Background Revealed in New Update
One of the biggest recent developments in the anime/manga world was the announcement that the beloved series Inuyasha is getting a sequel. Now, anime and fans have a better look at the design of one of the follow-up's protagonists.
The official Yasahime: Princess Half-Demon Twitter account posted an image of Inuyasha and Kagome's daughter over the weekend, complete with color scheme and more information on what fans can expect from her.
Take a look at the final design of Moroha, from the Inuyasha sequel, below: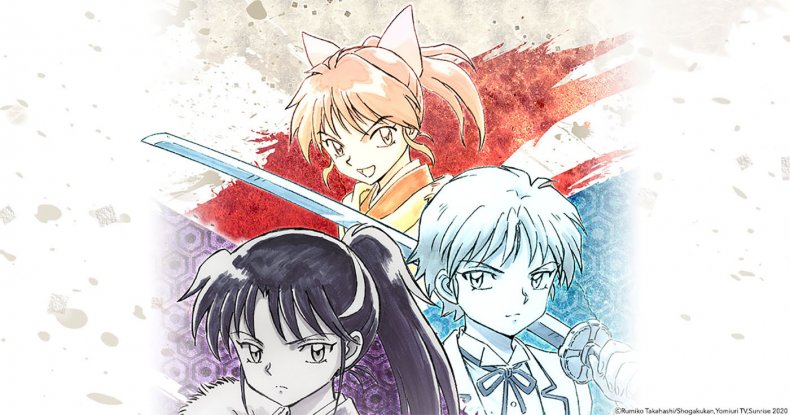 Fans of the manga/anime will recognize Moroha as having a similar-looking red cloak to her father, Inuyasha. There are also hints of white in her costume, likely referencing her mother Kagome's outfit.
The biggest defining feature of Moroha's costume is her giant red bow, which looks like dog ears, similar to the ones Inuyasha has. Kagome and Inuyasha (when he's in his human form, that is) have dark black hair, which Moroha also has.
According to the official series website, Moroha is a 14-year-old bounty hunter. She kills yokai and trades their body parts—like fangs—for money. The site describes Moroha's personality as "cheerful," but while she's the daughter of Inuyasha and Kagome, she doesn't know them, as she grew up alone.
When the series was announced back in May, it was revealed that Viz Media owns the rights to handle digital streaming, electronic and home video sales in North America and Latin America.
The announcement also confirmed Yashime: Princess Half-Demon will not just focus on the daughter of Inuyasha and Kagome, but the twin daughters of Sesshomaru, Towa and Setsuna. The twins are also 14 years old, according to the official series website.
Here's the full synopsis for Yashime: Princess Half-Demon:
In Feudal Japan, Half-Demon twins Towa and Setsuna are separated from each other during a forest fire. While desperately searching for her younger sister, Towa wanders into a mysterious tunnel that sends her into present-day Japan, where she is found and raised by Kagome Higurashi's brother, Sota, and his family.
Ten years later, the tunnel that connects the two eras has reopened, allowing Towa to be reunited with Setsuna, who is now a Demon Slayer working for Kohaku. But to Towa's shock, Setsuna appears to have lost all memories of her older sister.
Joined by Moroha, the daughter of Inuyasha and Kagome, the three young women travel between the two eras on an adventure to regain their missing past.
The Inuyasha sequel is being developed by Japanese production company Sunrise, which had a hand in the original Inuyasha anime.
What do you think of this latest update to the Inuyasha sequel? Which of the three daughters is your favorite? Let us know in the comments section.