Yellen Pleased With Economic Recovery, But Inflation Rate 'Not Acceptable'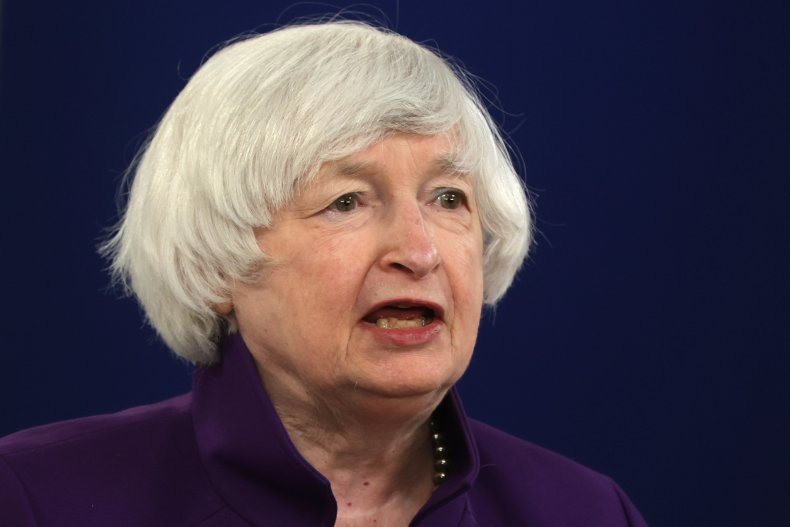 Treasury Secretary Janet Yellen is touting a strong recovery following economic devastation brought by the COVID-19 pandemic, while conceding that the nation's high inflation rate is "not acceptable."
Yellen credited President Joe Biden's American Rescue Plan for bolstering employment numbers that had plummeted at the beginning of the pandemic during an Agence France-Presse (AFP) interview published on Wednesday. However, she said that the country's year-to-year inflation rate, which this month hit a 40-year high of 7.5 percent, remained a "concern" that needed to be fixed.
"Inflation is clearly a great concern to Americans, and it really needs to be addressed," Yellen told AFP. "Certainly it's not acceptable to stay at current levels."
Yellen expressed confidence that the Federal Reserve would use its "suite of tools" to "keep the recovery on track" and "deal with the excess pressures that we have that are causing inflation."
Federal Reserve relief could be on the way. During a meeting last month, Fed officials discussed raising interest rates at a "faster pace" than anticipated to combat inflation, according to The Wall Street Journal. A series of increases may happen over roughly six-week intervals beginning in March and ending in June.
Regardless of inflation concerns, Yellen praised Biden's policies for helping the economy recover faster than the "very slow recovery" she said the country experienced after the Great Recession of 2008.
The Treasury chief said that government aid since the beginning of the pandemic had helped Americans "enormously" by pausing evictions and preventing childhood hunger.
"President Biden worked with Congress to put in place the American Rescue Plan to shield households and businesses from those adverse consequences," Yellen told AFP. "We have a very strong job market, very low unemployment, (and) households feel good about their current financial circumstances."
Republicans have taken a different view of the recovery during Biden's presidency, pointing to the skyrocketing inflation rate as evidence that the president's policies are hurting the economy while emptying the pocketbooks of Americans.
A group of Senate Republicans pushed for less government spending and described the inflation rate as a "Biden tax" during a press conference on Wednesday.
"Joe Biden is the president of high prices and one of the defining failures of the Biden presidency is going to be inflation," Senator John Barrasso (R-Wyo.) said during the event.
Meanwhile, Democrats and progressives have pinned consumer price increases on corporate greed instead, pointing to record high corporate profits since the beginning of the pandemic.
"The problem is that corporations are using 'inflation' as an excuse to jack up prices so that they can make record-breaking profits to enrich CEOs and wealthy shareholders," Senator Bernie Sanders (I-Vt.) tweeted after the inflation figures were released on February 10.
The U.S. has not been alone in seeing inflation rates rise dramatically while economies struggle to recover from the pandemic and global supply chain issues. Rates have also recently skyrocketed in the European Union and countries including Canada, the U.K., South Korea and Turkey.
Newsweek reached out to the U.S. Department of the Treasury for further comment.