Yellowstone Flooding Update: Campers Still Stranded, No Known Deaths
Campers are still stranded in Yellowstone National Park amid severe flooding in the area, the National Park Service (NPS) have said.
There are currently no known deaths or injuries due to the floods, a statement issued by the NPS on June 14 said. However, officials have closed Yellowstone's backcountry "effectively immediately" while crews help campers still in the area. There are currently "five known groups in the northern range," the statement said.
Crews were also assessing the damage to campsites, trails and bridges in the area
Unprecedented rainfall across Montana, Wyoming and Idaho has caused record flooding across Yellowstone National Park in recent days. The National Park Service took the rare decision to close all five entrances of the park, across areas of all three states.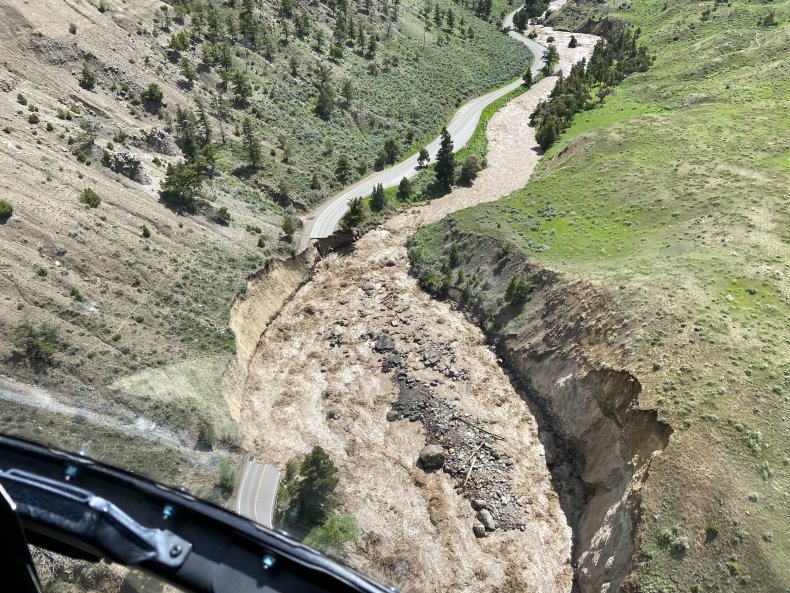 In the NPS statement, issued on June 14 at 6:38 p.m., Yellowstone National Park said the northern portion of the park is "likely to remain closed for a substantial length of time," due to severely damaged infrastructure.
Those staying in national park lodges were also evacuated overnight to "prevent visitors from being stranded."
Areas around the North Entrance, near Gardiner in Montana, are particularly badly hit. The Gardiner community is currently isolated—many are without power and safe drinking water.
Aerial assessments conducted on June 13 show "major damage" to roads around the North Entrance, Mammoth Hot Springs, Lamar Valley and Cooke City, Montana, near the Northeast Entrance. Yellowstone said parts of these roads are "completely gone" and "will require substantial time and effort to reconstruct."
"Water levels are expected to recede today in the afternoon; however, additional flood events are possible through this weekend," the statement said.
The weather service has warned of additional rainfall in the coming days.
It is not yet clear when the park entrances may be able to reopen, however a statement from Yellowstone National Park superintendent Cam Sholly said it is likely that the northern loop especially will be "closed for a substantial amount of time."
The southern loop of the park "appears to be less impacted than the northern roads," Yellowstone National Park said in a statement.
"Teams will assess damage to determine when opening of the southern loop is feasible. This closure will extend minimally through next weekend," the statement said.
Around 2.5 inches of rain fell between Saturday and Monday, according to National Weather Service data. Rainfall was even heavier to the north, in Montana where up to 4 inches of rain fell on parts of the Beartooth Mountains.