Yellowstone Grizzly Relocated After Feasting on Wyoming Cattle
A Yellowstone grizzly bear has been relocated after it was caught feasting on Wyoming cattle.
As the bear had been hunting cattle on private land, the Wyoming Game and Fish Department took the decision to relocate the grizzly, it said in a statement.
The bear was taken to a different area of the park, 30 miles from the northeast entrance.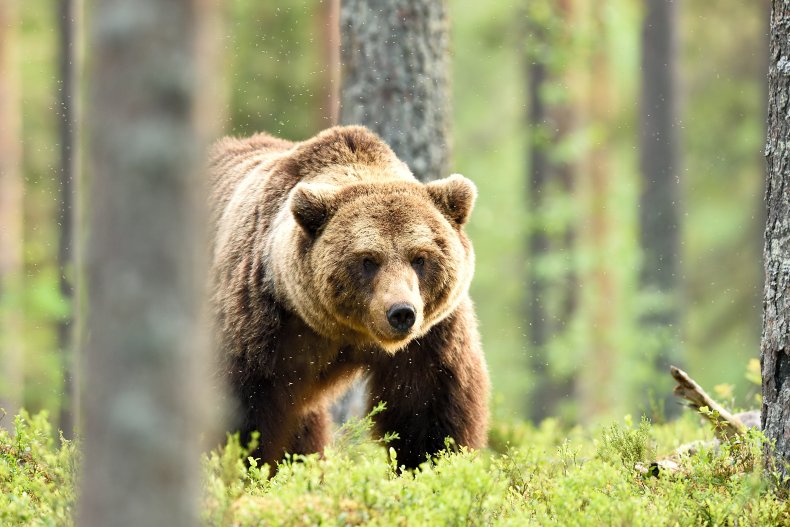 As the grizzly bear had no previous history of conflict, no further action was taken against it. However, this may change if it is caught killing cattle again.
Bear relocation is a management tool sometimes used by the Wyoming Game and Fish Department to ensure the predators do not prove a nuisance to people.
In a statement, the department said it is "critical" to manage the National Park's expanding population of bears.
"Capture is necessary when other deterrent or preventative options are exhausted or unattainable," the department said in a statement. "Once the animal is captured, all circumstances are taken into account when determining if the individual should be relocated. If relocation is warranted, a site is determined by considering the age, sex, and type of conflict the bear was involved in as well as potential human activity nearby."
When a grizzly bear is relocated, it is taken to an area also occupied by other grizzly bears.
The department said with any relocation, it "consults with appropriate agencies to minimize the change of future conflicts and maximize the relocated grizzly bear's survival."
Bears that are considered dangerous, and a threat to humans, are not usually relocated. In this situation, the department may take the decision to euthanize the animal.
The National Park Service (NPS) estimates there were about 728 grizzly bears living in Yellowstone National Park.
Grizzly bears used to be endangered, which lead to widespread efforts to recover their population. Over the years, grizzly bears have expanded their habitat across Yellowstone National Park by over 50 percent.
Since 1996, the number of female bears having cubs has remained stable, which suggests the park "may be at or near ecological carrying capacity" for the bears.
According to the NPS, an estimated 150 bears live in ranges partly or entirely within Yellowstone, however much of the expanded population has wandered into ranges outside of the park.
Conflicts with livestock have been a main problem in maintaining the Yellowstone grizzly bear population.
As bears occasionally prey on livestock, it becomes inevitable that the expanding population will often wander onto private properties, lured in by an easy meal. Bears are also opportunistic hunters, meaning they prefer easy meals that are readily available.