'Yellowstone' Episode 5 Recap: Piper Perabo Butts Heads With John Dutton
Yellowstone's beautiful landscape won't last forever if humans don't change their behavior.
That was the message expressed in Season 4, Episode 5 of the Paramount Network show Yellowstone which introduced a new protester played by Piper Perabo (Coyote Ugly).
Elsewhere in the episode, titled "Under a Blanket of Red," we see Lloyd continue to suffer on the Dutton Ranch, Beth takes a new job, and Jamie has his suspicions about his birth father confirmed. We also got a closer look at the 6666 ranch in Texas, further setting up the upcoming spin-off series.
Piper Perabo in Yellowstone
Perabo is introduced as Summer Higgins, one of the many passionate activists who are causing a scene protesting in town. Two of the protesters approach Kayce Dutton and throw "blood" (red paint) over themselves, while others start to throw rocks at the police. Kayce and his colleagues quickly put a stop to it as they start to make arrests, but with the protesters filming everything, they prevent things from getting out of hand.
John is called down to see the scene for himself, where he approaches the leader Summer who is handcuffed and sitting on a curb. They exchange words and Summer tells him they're all there to protest the "existence of a state sponsored police force that protects industrialized animal farming and the mass murder of millions animals every year."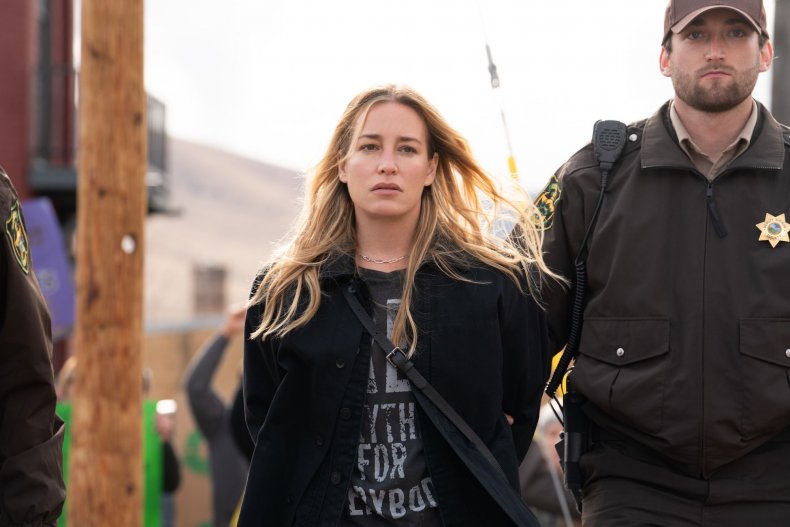 Hoping to deter the protesters, John instructs the police to arrest her, but later on in the episode has a change of heart. He bails her out and invites her down to the ranch because he disagrees with her stance, but respects her passion. He also hopes that the two can get to understand each other better.
Whilst driving across the plains of Montana, they discuss the beauty of the landscape. Summer comments that it will all be gone soon because of human behavior and its effects on climate change. Surprisingly, John agrees with her stance and tells her he's well aware of global warming, saying "You're right. There will come a time when earth sheds us like dead skin and it will be our own fault."
What happens in "Under a Blanket of Red"
Episode 5 of Season 4 is short on action but heavy on plot progression, setting up the storylines and things to come for many characters.
Beth takes her new job with Market Equities which gives her the controlling interest in Schwartz and Meyers. Her first act as the new boss? She drives seven hours to fire the CEO Bob Schwartz in person, with the intention of moving the company back to Montana.
Lloyd is still in the doghouse with Rip after being caught fighting in Episode 4. He's given grunt work until he can earn Rip's respect back, but Lloyd grows increasingly frustrated with his situation, especially when he sees Walker out with his girlfriend Laramie getting intimate under the stars.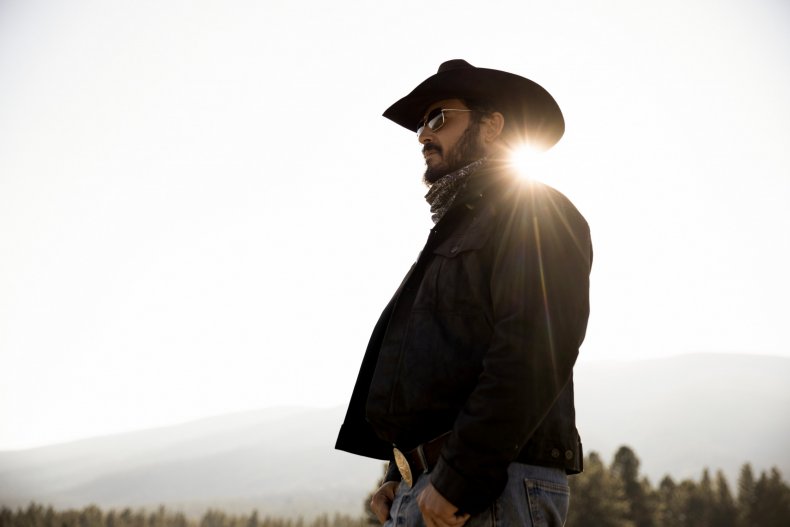 Jamie follows through on his promise to the Dutton family and goes to visit the inmate who might be connected with the assassination attempts on Kayce, Beth and John. Jamie's suspicions that his birth father may have ordered the hit are seemingly confirmed by the inmate, and Jamie goes to confront Garrett Randall but is stopped in his tracks. When he arrives at the house, Jamie's former assistant and lover Christina is there with their child. Jamie meets his son for the first time.
Meanwhile, back at the Four Sixes Ranch in Texas, Jimmy is getting used to his surroundings. After interacting with some older cowboys who share their wisdom, he's sent off on his first job without warning on an unbroken horse.
When does the next episode of Yellowstone air?
Episode 6 of Yellowstone, "I Want to Be Him" will air exclusively on Paramount Network Sunday, November 28, at 8 p.m. ET, 7 p.m. CT.
Each episode airs weekly on Sundays at the same time on Paramount Network. Season 4 will have ten episodes in total.