'Yellowstone' Episode 6 Recap: John Dutton Takes a Lover and Lloyd Finally Breaks
After a relatively quiet week on the ranch, Episode 6 of Yellowstone ramped things up as two ranchers got the chance to vent their anger in a brutal fashion.
In "I Want to Be Him", Beth Dutton (Kelly Reilly) gave her father's house guest a warm welcome with a knife, Jamie Dutton (Wes Bentley) confronted his birth father about the murder plot against the Duttons, while Lloyd (Forrie J. Smith) lost his cool and made his own attempt to kill someone.
We're more than halfway through Season 4 of Yellowstone now. Here's a wrap-up of everything that happened in the latest episode to air on Paramount Network.
John Dutton takes a lover
Piper Perabo returned as the climate change activist Summer Higgins, and it turns out she's getting very comfortable on the ranch, shacking up with John Dutton (Josh Lucas).
Beth walks in to find Summer in the kitchen wearing John's shirt and greets her by threatening her with a knife until John intervenes. Not for the first time, this is an overreaction from Beth, especially since she was the one who recommended he find someone to sleep with in the previous episode.
An awkward breakfast scene with Summer's dietary restrictions goes poorly, and ends with Beth departing, saying she hopes her father's new lover dies of "ass cancer."
Later on, Summer watches John at work as he rescues a stray calf from wandering onto the highway. She can see how much John and Rip Wheeler (Cole Hauser) love their jobs, but she leaves the ranch nonetheless, hitchhiking her way back to town.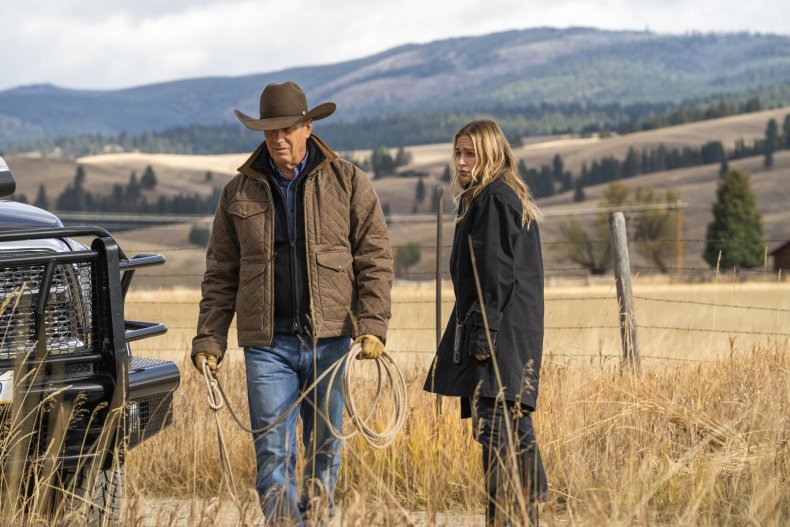 Lloyd loses his cool, and his hand
Lloyd has been on the verge of breaking point for a few weeks now, and finally, after being kept on the outside for too long, he returns to the bunkhouse and destroys Walker's guitar in an unprovoked attack. Walker (Ryan Bingham) of course takes exception and starts goading Lloyd until he draws a knife and expertly throws it at Walker.
The knife penetrates his chest, sticking in above his heart and below his shoulder. Instead of calling a hospital, the vets are called to come and deal with the medical emergency. Throughout all of the mayhem, Mia (Eden Brolin) packs up and leaves the ranch.
The veterinarians fix Walker but it's touch and go for a minute, especially when Laramie (Hassie Harrison) takes it upon herself to remove the knife from his chest herself.
Lloyd is handcuffed and on his knees outside. John walks up and informs him that he has one more chance on the Dutton ranch, but Rip is told to make an example out of him. John also instructs Rip to remove all of the women from the bunkhouse, so Laramie and Teeter (Jen Landon) are given their marching orders.
In the morning, Lloyd and Walker are forced to enter a pen and fight out their feud. Even when they're both exhausted, Rip instructs them to continue. After what must have been hours of fighting, John arrives to find Lloyd "has no quit in him" and is about to enter the pen to finish the bout himself. Rip steps in instead, hugs Lloyd, tells him he loves him, before giving him a brutal beat down. At the end of the fight, Rip stamps on Lloyds hand, seemingly breaking it in the process.
Once the fight is finished, Lloyd helps Walker to his feet and they both imply to John that they've reached a truce.
Rip is visibly agitated by the incident and seems devastated that he had to beat Lloyd so badly again.
Jamie confronts his real father
The last few episodes of Yellowstone had strongly implied that Jamie's birth father Garrett Randall (Will Patton) was the one who ordered the assassination attempts on the Duttons.
Garrett flat out admits to the deed and informs Jamie that he'll keep on trying to kill them until he gets it right, all because he loves his son. Jamie starts the conversation by holding a gun against Garrett, but by the end is hugging his father in tears, seemingly forgiving him for all he's done.
Garrett has previously reunited Jamie with Christina (Katherine Cunningham) and his son, so perhaps that was a factor in Jamie's forgiving him so quickly.
Later on, Jamie returns to the office only to find the Head of Operations for Market Equities (Beth) sitting in his office, stubbing a cigarette out on his table. Continuing her campaign against Jamie, she issues him a stark warning that she is going to ruin everything good for him.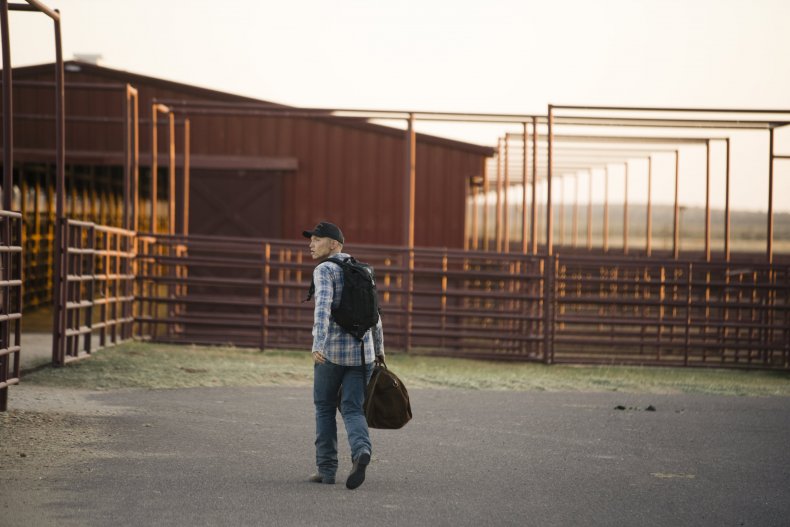 Life away from the Dutton ranch
Elsewhere, we see both Kayce (Luke Grimes) and Jimmy (Jefferson White) moving on with their respective lives away from the Yellowstone ranch.
Jimmy continues his education at the four sixes ranch in Texas, a set up for the upcoming spin-off series 6666. After a long day out on the plains, he is told that he needs to learn how to rope, which he dually does.
Meanwhile, Kayce finds the perfect house and spot of land to take his wife and son to. They weren't happy at the Dutton ranch after the murder attempt in their house, so instead they move into their own place and adopt a stray dog in the process. Kayce is also called to assist with a missing horse case by Chief Thomas Rainwater (Gil Birmingham).
Yellowstone is heading towards the business end of Season 4, with Episode 7 of 10 up next. The episode titled "Keep the Wolves Close" will air on December 12 on Paramount Network at 8 p.m. ET, 7 p.m.