Paramount Confirms 'Yellowstone' Will Return for Season 5 and New Cast Added
One of television's most popular shows, Yellowstone has been confirmed to return for a fifth season on the Paramount Network.
Taylor Sheridan has been expanding his universe of TV shows recently with the Paramount+ exclusives Mayor of Kingstown and 1883, but he's going back to where it started with his first television series Yellowstone.
Season 4 recently wrapped with another power shift within the Dutton family, giving Beth all the marbles. We now know for sure that we'll get to see how her plot plays out as Paramount Network confirmed Yellowstone would return, and they also announced the two new cast members who'll be joining.
Yellowstone Season 5
As Yellowstone continues to break viewing figure records, it was almost inevitable that the show would be renewed by Paramount Network.
The Season 4 premiere of Yellowstone amassed over 14 million viewers and the viewership increased to over 15 million for the finale. With such high numbers, the team at Paramount Network's parent company were thrilled with the results.
"Yellowstone's record-breaking performance proves we've tapped a cultural nerve and unleashed a passionate audience from the center of the country to each of the coasts," Chris McCarthy, president and CEO of ViacomCBS Media Networks, said. "Kevin Costner leads our incredible cast who make the Duttons America's favorite family and, this new season is sure to be another one fans won't want to miss."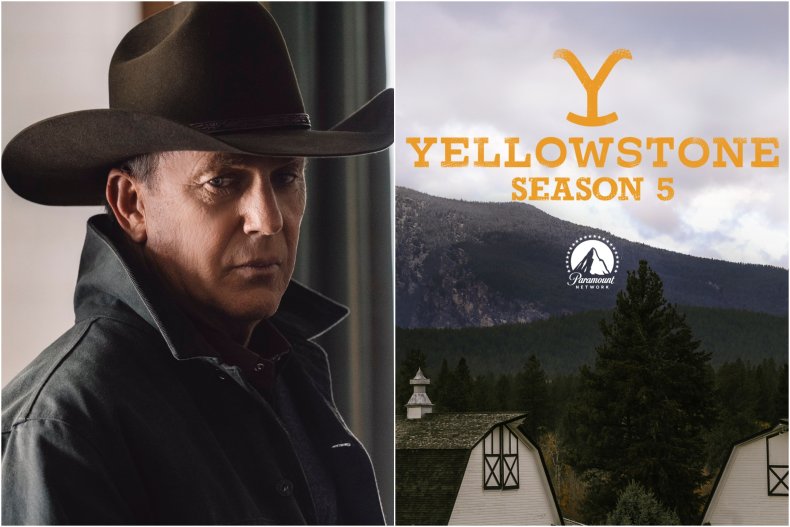 When will Season 5 of Yellowstone air?
There has been no definitive date announced for the return of Yellowstone yet, but clues dropped by one of the show's executive producers suggest production will resume in May, and Season 5 is likely to return in the fall.
David Glasser said: "I know with Taylor, he's got a lot to say and a lot to write. He's deep into Season 5 of Yellowstone now. He's got some incredible ideas that he shared that I think audiences are going to be really excited about."
Casting for Yellowstone Season 5
Guest stars from Season 4 of Yellowstone have been promoted to show regulars.
Kathryn Kelly was introduced as Jimmy's new fiancée Emily from the 6666 ranch. They returned to Texas at the end of Season 4, which left Jefferson White's (Jimmy) time on Yellowstone in doubt. Since Kelly will now be returning as Emily, it's likely Jimmy will be back too.
And Teeter (played by Jen Landon), who has firmly been a part of the Yellowstone ranch for a while now after joining in Season 3, will be back as Landon is set to become a series regular.
They'll join the impressive ensemble cast which already boasts Kevin Costner, Luke Grimes, Kelly Reilly, Wes Bentley and Cole Hauser.
While viewers wait for Season 5 of Yellowstone to arrive, the prequel series 1883 is still airing Sundays on Paramount+.