While one love ended, another blossomed in episode 6 of the Yellowstone prequel series 1883 on Paramount+.
The latest episode, "Boring The Devil," addressed Elsa's (Isabel May) heartbreak after her beloved Ennis died in episode 5, as the traveling group happened upon a small town at the edge of Texas. A trip to the town almost proved costly for some, but it also allowed one of the Duttons to let loose and unwind.
1883 fans were left in the lurch last week as the show took a week off, but Taylor Sheridan's spin-off is back on a weekly basis from now until the end of the season.
Here's everything that went down in episode 6, "Boring the Devil," of 1883 on Paramount+.
Elsa's reaction to Ennis' death
As expected, Ennis' death had a big impact on Elsa's wellbeing. She starts episode 6 as she finished episode 5—in tears.
While crying in the back of the wagon, she pauses and notices she's bleeding. She informs Margaret she's going for some privacy because she got her period. This most likely puts an end to the fan theories that she is pregnant with Ennis' baby.
She goes to sit by Ennis' grave and takes a revolver out, perhaps contemplating suicide, as Shea approaches her. The moment is reminiscent of the times we've seen him do the same thing in 1883, as he still mourns the loss of his wife and daughter to smallpox.
Sam Elliot gives an incredibly touching performance here, as Shea gives a speech written expertly by Taylor Sheridan. He informs Elsa about his theory of grief, that when someone you love dies, a part of them lives on in you, meaning she carries a piece of Ennis with her. Opening up further about his own motives, he tells Elsa that he intends to head to the beach in Oregon so that his wife can see the ocean through his eyes. Then he wants to see his wife again.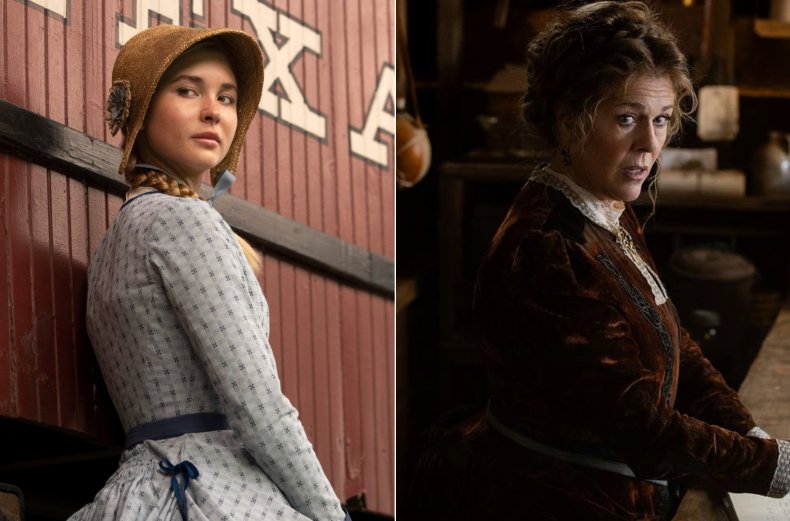 Shea's pep talk (of sorts) seems to work as Elsa heads back to work with the cattle. She then stops crying and spends the rest of the episode stoic rather than tearful.
We get an exact location of the wagons this week as the camp arrives at Doan's Crossing on the Red River. This was a real location in the Old West, which featured cabins and a store for cowboys to stop at before crossing the river. The river is the point where the group will leave Texas and enter Oklahoma.
The Duttons enter the town, and Elsa is aggravated when a man leers at her. She pulls a gun on him, he pulls his, but James (Tim McGraw) defuses the situation by holding a pistol against the man's temple. He sends Elsa back to watch the cattle.
Later on he tells her a story of his first kill, and then about the many kills he'd had to enact since. He pleads with his daughter not to hate, since the man she killed (one of the bandits) was going to be killed anyway, and that she didn't technically murder him.
Papa Dutton's story seemed to help her, as she spent the night dreaming of Ennis, and in the morning she could finally see colors again. She went back to work with a smile on her face, and even seemed to flirt briefly with a new cowboy joining the group.
Later she sincerely thanks Shea for his kind words before herding the cattle across the Red River. Shea looks on and seems emotional, presumably because his interaction with Elsa made him think of his own daughter.
Thomas gives in to love
Elsewhere during Episode 6, Thomas (LaMonica Garrett) finally seems to succumb to his own feelings for Noemi (Gratiela Brancusi), the Romani widow he's been taking care of.
At her request, he takes her husband's belongings into town to pawn them. While there, he sees a shiny hand mirror from Paris and buys it as a present. While Thomas is in the town he also secures the services of a cook to travel with the group until they reach Oregon. Credited as Cookie, he's played by James Jordan, who also plays livestock agent Steve Hendon in Yellowstone.
Later that night, he returns to Noemi and presents her with the gift. She confronts him about his feelings for her, and essentially informs him that he's in love with her but hadn't realized it. She removes her clothes and approaches him, telling him that she's not the one who is scared, he is. They kiss and spend the night together.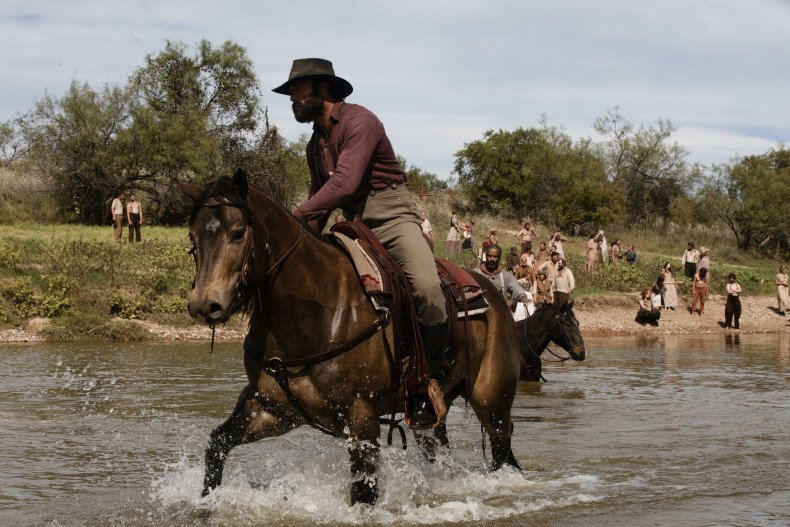 A cameo, new cowboys and another river crossing
When the Duttons arrive in the small town at Doan's Crossing, Margaret (Faith Hill) breaks off from the group and enters the shop. There she meets the owner Carolyn, played by Rita Wilson. She's the second person in her family to star in 1883, after Tom Hanks made a brief cameo in episode 2.
Margaret and Carolyn hit it off and spend the rest of the day getting blind drunk, having a great time until they pass out. Eventually James comes to collect his wife and takes her back to the camp.
Cookie isn't the only one joining the party as we are also introduced to Colton (Noah Le Gros). He seems to be taking Ennis' place on the trail (he even takes Eric Nelsen's place in the opening credits), and like his predecessor also takes a shine to Elsa. She isn't interested in his friendship at first but is calling him a pretty boy by the end of the episode.
The group will next have to endure an even more dangerous river crossing than the first, as the job is likely to take all day if they want to get everyone across safely.
There's no break in episodes this week as episode 7 of 1883 airs on Paramount+ on Sunday, February 6, 2022.