Congress Just Gave You the Right to Leave a Nasty Yelp Review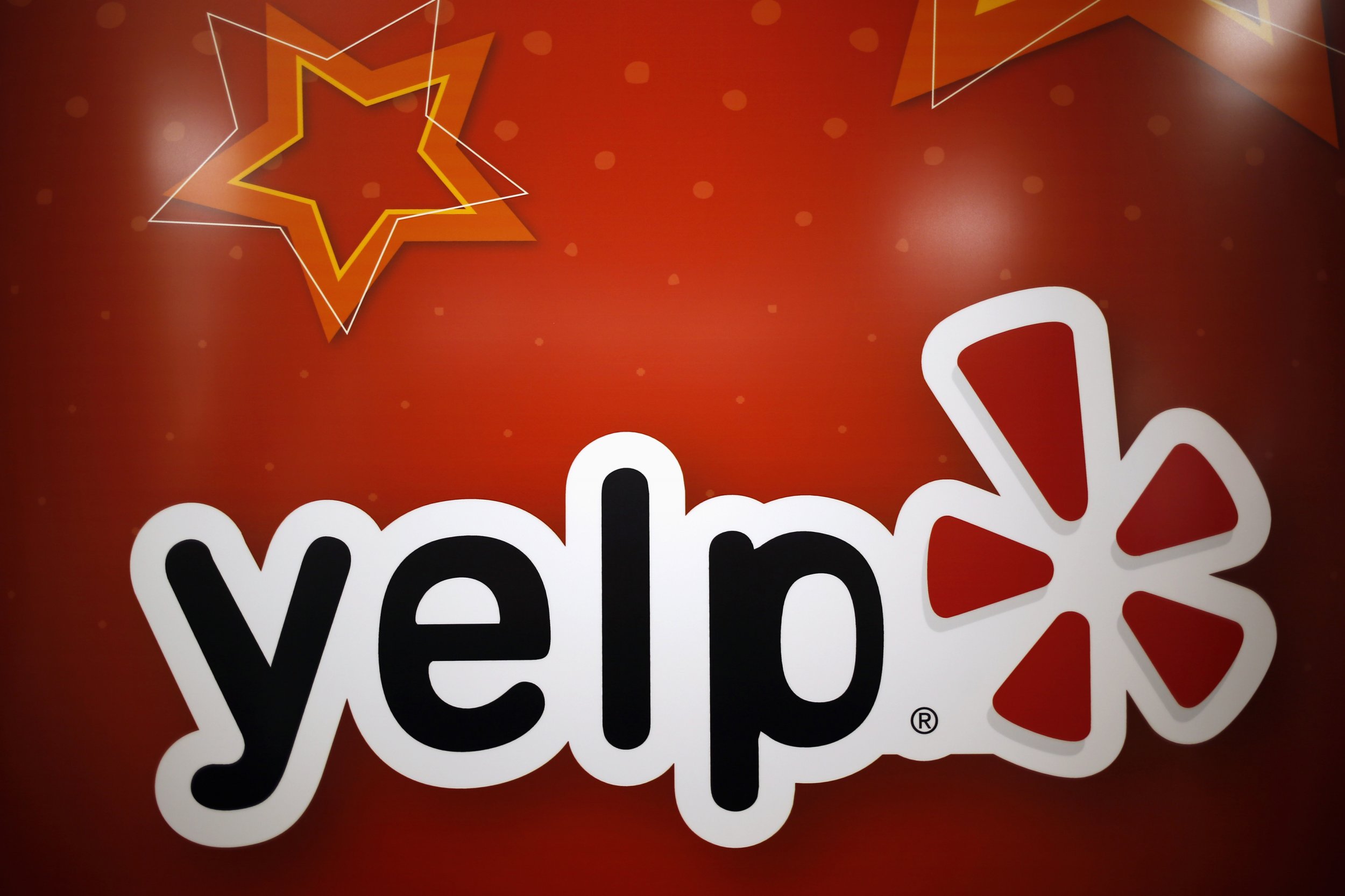 Leaving a bad Yelp review is the modern version of asking, "Can I speak with your manager?" It's the ultimate way to vent, justified or not, when you aren't given enough chicken from the person at the drive-thru. Some businesses have sued customers—and Yelp—saying online reviews are irrational and harmful for their bottom line, while the reviewers say it's their First Amendment right to complain about their pizza having too much crust. Now Congress says that, yes, you do have a legal right to complain online about pomegranate-flavored FroYo, or to leave an erotic review of your CrossFit instructor.
On December 2, Congress approved the Consumer Review Freedom Act, which says it's illegal for businesses to hold people accountable for their reviews, legally or financially. It also says "gag clauses" that place financial liability on consumers for speaking negatively about a business or service are illegal in contracts. Soon, President Barack Obama is expected to sign the legislation into law. The bill would empower the Federal Trade Commission and the states to enforce it.
In recent years, businesses have been suing customers for leaving false or harsh reviews. Early next year, the California Supreme Court will hear a case brought by a San Francisco law firm that sued Yelp for negative reviews.
In 2014, a hotel in New York charged patrons $500 for the same reason, citing a "gag clause" they agreed to upon making the reservation.
A Texas couple hired Prestigious Pets to watch their two dogs and a fish, but were unsatisfied with the service—the fish's water got cloudy—and left a negative review. The business claimed it suffered "...irreparable and continued...libelous and slanderous harm," and sought $6,700 in damages.
Yelp's response to the rise in lawsuits from businesses has led to it putting a warning on Yelp pages, stating: "This business may be trying to abuse the legal system in an effort to stifle free speech, including issuing questionable legal threats against reviews. As a reminder, reviewers who share their experiences have a first Amendment right to express their opinions on Yelp."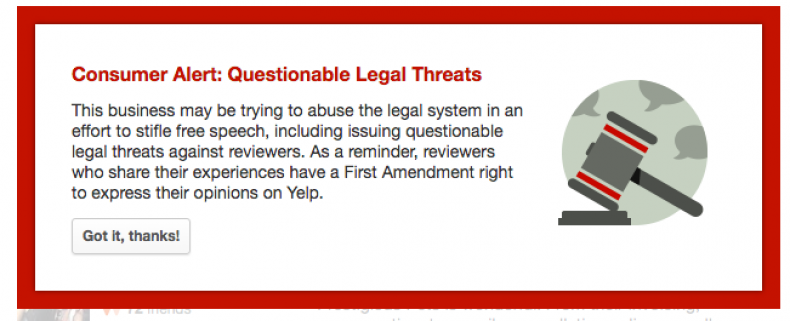 The new act, if signed into law by Obama, does have a couple loopholes for businesses. There's an exemption in regard to contracts between employers and employees—an employee can't leave a Yelp review claiming the boss smells like roast beef sandwiches—and the same goes for independent contractors.
But it isn't only businesses feeling the impact of negative reviews. Employees, especially those in the service industry, have been forced to grapple with the potential job-ending reality of a one-star review.
One Los Angeles bartender who asked to remain anonymous out of fear of retribution from his employer or, worse, a bad Yelp review, says customers recognize the power of Yelp, and use it to intimidate workers. "What I see most often is asshole customers who use it as a tool to intimidate people who work in service," he says. "I think [Yelp] has destroyed some people's businesses, and it gives a very big voice to people who don't deserve one. And that gives them a lot of power...and it can be abusive. I'm at work right now, and it isn't busy. But if somebody sees me texting and Yelps about it, I'm toast."
Just because you have a legal right to complain about a business online, that doesn't mean the business can't respond in an equally snarky manner. Take the owner of a New York City dive bar, The Iron House NYC, whose response to a bad Yelp review went viral.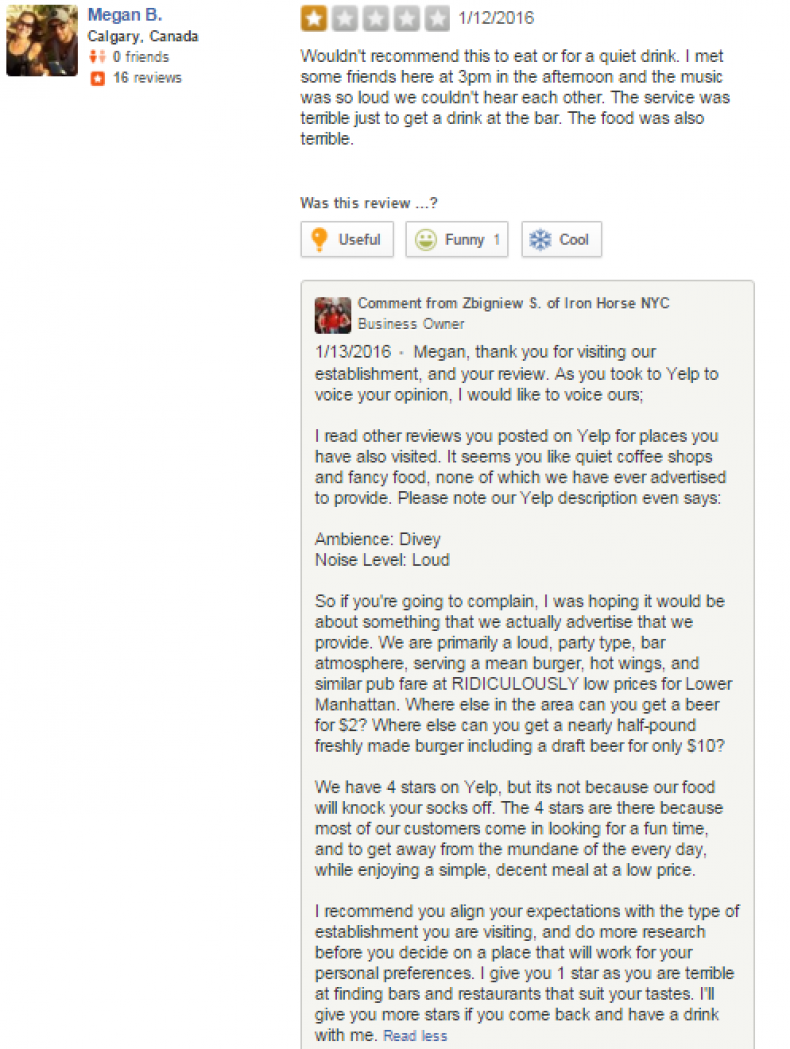 Megan wrote:
"Wouldn't recommend this to eat or for a quiet drink. I met some friends here at 3pm in the afternoon and the music was so loud we couldn't hear each other. the service was terrible just to get a drink at the bar. The food was also terrible."
So the owner replied:
"Megan, thank you for visiting our establishment, and for your review. As you took to Yelp to voice your opinion, I would like to voice ours;

I read other reviews you posted on Yelp for places you have also visited. It seems you like quiet coffee shops and fancy food, none of which we have ever advertised to provide. Please note our Yelp description even says:

Ambiance: Divey

Noise Level: Loud

So if you're going to complain, I was hoping it would be about something that we actually advertise that we provide. We are primarily a loud, party type, bar atmosphere, serving a mean burger, hot wings, and similar pub fare at RIDICULOUSLY low prices for Lower Manhattan.

Where else in the area can you get a beer for $2? Where else can you get a nearly half-pound freshly made burger including a draft beer for only $10.

We have 4 stars on Yelp, but it's not because our food will knock your socks off. The 4 stars are there because most of our customers come in looking for a fun time, and to get away from the mundane of the every day, while enjoying a simple, decent meal at a low price.

I recommend you align your expectations with the type of establishment you are visiting, and do more research before you decide on a place that will work for your personal preferences. I give you 1 star as you are terrible at finding bars and restaurants that suit your tastes. I'll give you more stars if you come back and have a drink with me."
No word as to whether Megan took the owner up on the drink. Why should she? Congress just told her she can say whatever she wants.
Read more on Newsweek.com:
- Was Peeple, the 'Yelp for Humans,' Just a Big Hoax?
- Google Search Hurting Yelp, Finds Study Funded by Yelp
- Facebook Plans 'Thousands' of Drones in Next Decade