Yemen Rebels React to Biden Moves, Say US Must 'Stop War, Lift Siege' to Save Lives
The Yemeni rebel movement fighting a civil war in the beleaguered Arab nation is calling on President Joe Biden to expand the efforts to end it that he and his newly appointed Secretary of State Antony Blinken have announced.
A representative of the Zaidi Shiite Muslim movement Ansar Allah, also known as the Houthis, told Newsweek that the new U.S. administration should pressure regional partners to end the conflict and remove all restrictions surrounding the flow of goods into the country in order to save human lives.
"The true position as it relates to Yemen is to stop the war and lift the siege," Ansar Allah spokesperson Mohammad Abdul Salam told Newsweek. "This will address all the negative humanitarian and military effects and will allow the Yemeni political process to begin."
In his debut press conference Wednesday, Blinken made no reference to any such position. Biden's new top diplomat did, however, make two potentially consequential announcements regarding U.S. foreign policy in Yemen.
First, when asked about the most pressing concerns he had about a series of controversial last-minute foreign policy decisions made by the Trump administration, Blinken said that the labeling of Ansar Allah as a terrorist organization by his predecessor Mike Pompeo was being reconsidered.
"I will tell you that I'm particularly focused on the question of sanctions on the Houthis," Blinken said.
Although Ansar Allah is supportive of Iran, it denies direct ties to Tehran. The group has been engaged in a nearly six-year civil war with a Saudi-led, U.S.-supported coalition and the internationally-recognized government-in-exile it backs.
Ansar Allah captured the Yemeni capital of Sanaa in early 2015, an event Blinken referred to as "an act of significant aggression." He accused the group of "committing human rights abuses and other atrocities" since then.
But Blinken also referenced widespread reports of civilian casualties that came as a result of the air campaign launched by Saudi Arabia and the United Arab Emirates against Ansar Allah. Along with allied forces of the ruling Supreme Political Council, Ansar Allah presides over roughly 80 percent of Yemen's population, a people already beset by disease and famine.
"We've seen a campaign led by Saudi Arabia that has also contributed to what is by many estimates the worst humanitarian crisis in the world today," Blinken said, "and that's saying something."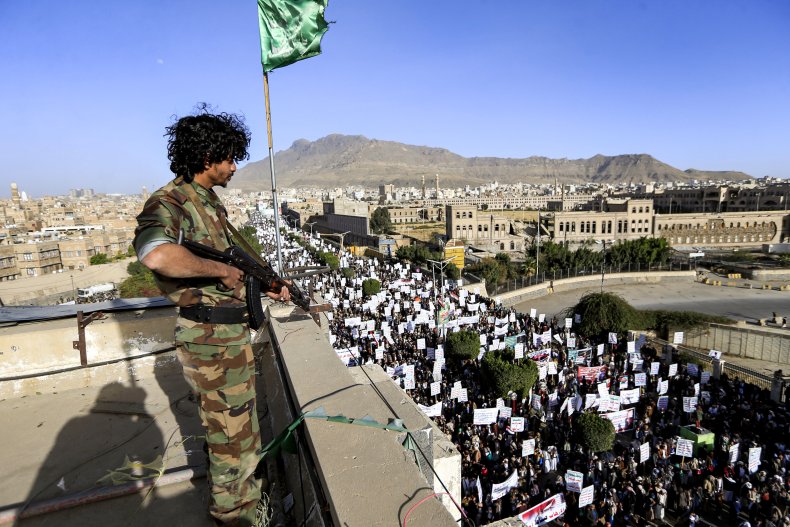 These humanitarian woes were likely set to deepen due to the Trump administration's decision to label Ansar Allah a terrorist organization, citing alleged "terrorist acts, including cross-border attacks threatening civilian populations, infrastructure, and commercial shipping."
New restrictions would likely block aid to the vast majority of the four-fifths of the Yemeni population who live in territory controlled by the rebel group.
"We want to make sure that not only our American aid groups are able to do what they can to provide assistance, but so are aid groups around the world that are providing the bulk of that assistance," Blinken said, "and to make sure that nothing we are doing interferes with that, particularly if it doesn't in any other way advance our policy and objective."
Abdul Salam said Ansar Allah could not directly comment on the prospective Biden administration move, but noted that although it would likely make no difference to the conflict itself, it might relieve its humanitarian effects, for which he held the U.S. responsible.
"What we consider from the American classification is that there's nothing new in it at the battlefield level, but rather it will negatively affect the humanitarian work and the political process," Abdul Salam told Newsweek. "And here we hold the United States of America fully responsible for this and this effect is known to the world."
He argued the U.S. could not shed its involvement in the deadly conflict that has cost the lives of up to a quarter of a million people.
"America is unable to overcome it nor cover it up," he added.
But Blinken's second Yemen-related announcement may indeed have an effect on the war itself.
The secretary confirmed reports that the U.S. had suspended arms sales to Saudi Arabia and the UAE established under the previous administration, in order "to make sure that we have a full understanding of any commitments that may have been made in securing those agreements."
But he downplayed the decision as common practice.
"Generally speaking, when it comes to arms sales, it is typical at the start of an administration to review any pending sales, to make sure that what is being considered is something that advances our strategic objectives and advances our foreign policy," Blinken said. "So that's what we're doing at this moment."
Abdul Salam said Ansar Allah was skeptical about any major U.S. foreign policy movement in this area, as previous attempts to halt such military assistance had failed.
"With regard to suspending arms sales," he told Newsweek, "it's been our previous experience that this happens for days or months and then the decision is changed."
U.S. lawmakers voted for an unprecedented invocation of the War Powers Act early last year to halt military assistance to Saudi Arabia and the UAE, but Trump vetoed the measure, citing a pressing threat from Iran.
In a statement released Wednesday, UAE ambassador to the U.S. Yousef al-Otaiba expressed confidence that U.S.-UAE security cooperation would continue. He pressed for continuation of the arms deliveries, especially on a proposed sale of advanced F-35 fighter jets.
"As in previous transitions, the UAE anticipated a review of current policies by the new administration," Otaiba said in a statement. "Specifically, the F-35 package is much more than selling military hardware to a partner. Like the US, it allows the UAE to maintain a strong deterrent to aggression."
He touted the new aircraft as positive for both regional and U.S. security.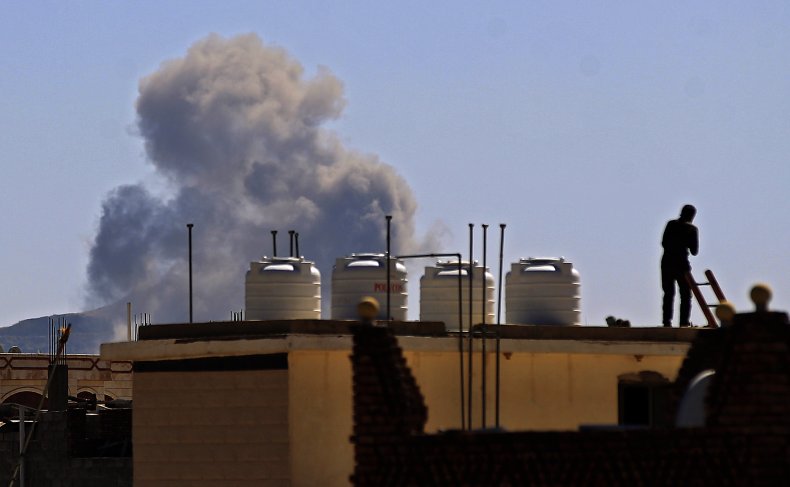 "In parallel with new dialogue and security cooperation, it helps to reassure regional partners," Otaiba said. "It also enables the UAE to take on more of the regional burden for collective security, freeing US assets for other global challenges, a long-time bipartisan U.S. priority."
The Saudi Arabian embassy in Washington did not immediately respond to Newsweek's request for comment.
In a statement later sent to Newsweek, Yemeni Foreign Minister Ahmed Awad bin Mubarak said that, "The Kingdom of Saudi Arabia and the United Arab Emirates play an important and vital role within the Coalition to Restore Legitimacy in Yemen to counter the destructive role played by the Iranian-backed Houthi militia, which threatens not only the security and stability of Yemen, but also that of the region."
He expressed confidence that the Biden administration would continue to support Riyadh and Abu Dhabi's role in the conflict, as did former President Barack Obama, whom Biden served as vice president.
Bin Mubarak also believed the new U.S. leadership would walk back from signals of repealing Ansar Allah's foreign terrorist organization label, and said the Hadi administration was already working with Washington to ensure aid deliveries went through anyway.
"While the Yemeni government joins the US administration in highlighting the importance of averting any unintended humanitarian consequences from this designation," bin Mubarak told Newsweek, "it warns that revoking this designation will send wrong messages that Houthis may misinterpret as impunity for their terrorist crimes, and eventually expands Iran's destabilizing influence in the region."
Human rights groups, however, welcomed both Biden administration announcements, and called for further actions to increase assistance to Yemen and halt weapons sales.
"President Biden's decision to freeze arms sales to Saudi Arabia and the UAE represents a welcome relief in an otherwise shameful chapter of history," Philippe Nassif, advocacy director for the Middle East and North Africa at Amnesty International USA said in a statement sent to Newsweek. "Almost six years of conflict in Yemen, fueled by irresponsible arms transfers, have left 14 million Yemenis in dire need of humanitarian assistance."
He said the move could have ripple effects that could change the international arms sales architecture.
"The suspension of arms sales by the United States is a step in the right direction and ups the pressure on European countries," Nassif said, "most notably the UK and France, to follow suit and stop fueling the human misery in Yemen."
This article has been updated to include comments by Yemeni Foreign Minister Ahmed Awad bin Mubarak.