Alabama Overturns Ban of Yoga in Schools That Cited Hinduism Connection
For the first time in nearly 30 years, public schools in Alabama can now legally teach yoga.
Governor Kay Ivey signed a law into effect Thursday that gives individual local school boards the authority to decide whether to offer lessons on the mental and physical practice.
But for any school that decides to offer yoga, the law includes a provision that requires parents to sign a permission slip saying that they acknowledge that yoga is associated with the Hindu religion. Yoga, under the bill, must also be limited to stretches and poses and avoid any non-English descriptions or "any aspect of Eastern philosophy and religious training."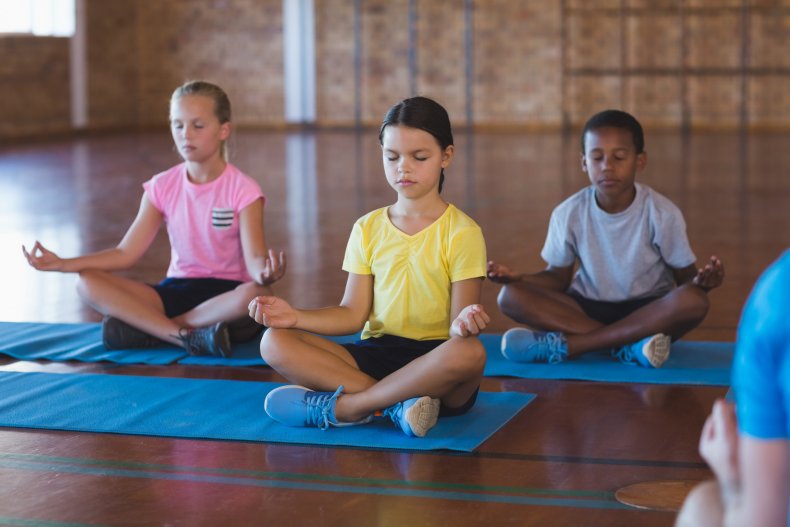 The state's Department of Education banned yoga in 1993 over its connection to Hinduism. The new bill allows schools to begin offering yoga, minus any Hindu mentions, as an elective class or activity starting in the 2021-2022 school year.
"Yesterday was a very special day as Gov. Ivey has signed the Yoga Bill into law," Democratic state Representative Jeremy Gray told Newsweek via email. Gray, a certified yoga instructor, introduced the bill, which failed to pass twice before. He has acknowledged that some language added to appease conservatives allowed it to become law this time around.
"Although the bill in its current form had amendments added to it in the Senate that aren't useful, I am determined to work harder to ensure that we remove that language from the bill," Gray said.
Among the items banned are the sound of "om" and the Sanskrit-based word "namaste." The bill also states that chanting, "the induction of hypnotic states," and "guided imagery" are expressly prohibited. Gray noted that he hoped to remove these restrictions in future amendments to the law.
Even with the careful wording, the new legislation was still opposed by some conservative groups, including former state Chief Justice Roy Moore's Foundation for Moral Law, as well as the Alabama chapter of the Eagle Forum.
"Yoga is a practice of Hindu religion," the Eagle Forum of Alabama—a group founded by the well-known activist Phyllis Schlafly in 1972—wrote in an email that urged maintaining the ban. The message added, "Religious practice in the schools constitutes a violation of the establishment clause of the 1st Amendment as public schools cannot promote the practice or ideology of religion."
Gray disagrees that there is such a strong religious connection. Despite practicing yoga, he's also a devout Baptist, as he told USA Today in an interview last month. A former college football player who later played in the Canadian Football League, Gray also noted to the paper the benefits yoga has for athletes, including many who practice it throughout Alabama.
"We know that scientific studies show that yoga helps children cope with daily stressors as well as helping to improve behavior, concentration, mobility, flexibility, and strength," he told Newsweek.
Update 05/21/21 3:30 p.m. EDT: This story has been updated to include comments from state Representative Jeremy Gray.