Yoko Ono Discusses Trump, 'Warzone' and Her Remarkable Longevity: 'I Hope I Have Another 50 Years'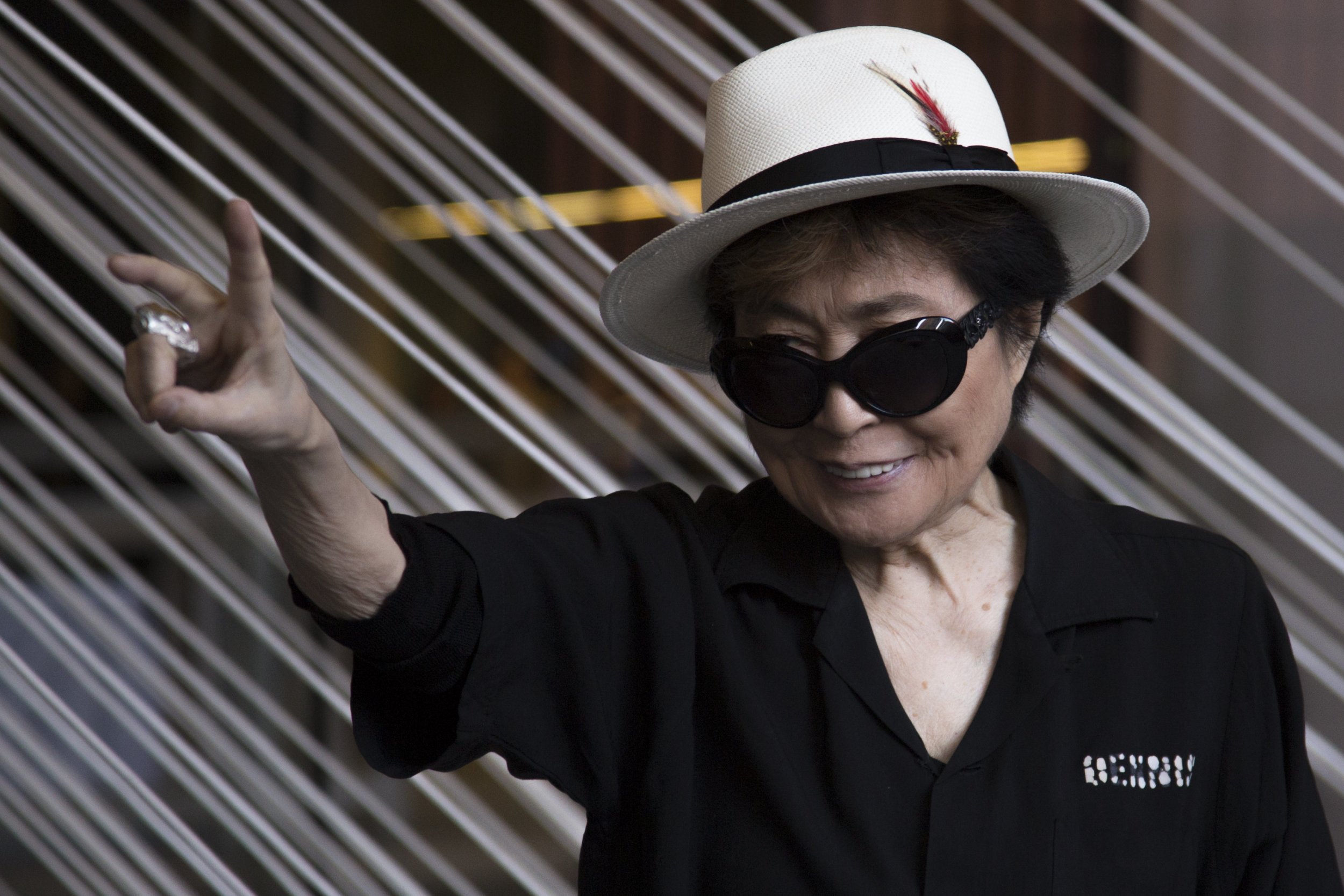 In 1968, Yoko Ono and John Lennon shocked Beatles fans with the release of their experimental album Two Virgins. Fifty years later, the world is finally catching up with Ono.
For decades, she was unfairly blamed for the Fab Four's breakup, and her art and songwriting abilities routinely dismissed by the press. But that blame has been exposed as knee-jerk rock-world misogyny, and Ono's avant-pop work, both with and without her late husband, has been embraced by a new generation. Her 1973 album Feeling the Space—chronicling the feminist struggles of the '70s and envisioning an end to "2,000 years of male society"—seems radically prescient today. And her surrealist wisdom and anti-war agitation have made her a Twitter favorite.
In September, the now 85-year-old Ono re-created the historic "Bed-In for Peace" that she and Lennon staged in 1969—this time with Lennon's bandmate Ringo Starr and actor Jeff Bridges, among others. And this month, she is releasing a new album, titled Warzone, featuring new recordings of 13 songs from throughout her career. (The record takes its title from a chilling 1996 track, "Warzone"; we premiered the music video back in July.)
For many listeners, the most familiar track will be a sparse rendition of "Imagine," which was a hit for Lennon in 1971. In fact, Ono co-created it, and 46 years later she retroactively received a co-writing credit.
Newsweek sent Ono a list of questions, which she answered by email.
How did it feel to re-create your historic Bed-In for Peace at Manhattan's City Hall recently?
Ringo was exerting warmth, which everyone felt, I'm sure. He was the right person [to fill in for Lennon] because he gave everybody, and me, a laugh as well.
Warzone features numerous songs from your 1985 album Starpeace. The concept and themes were inspired by protest against Ronald Reagan's missile defense program. What made you want to revisit it?
It's still relevant today, what the songs are saying, and I'm just amazed and appalled.
Your prescient 1973 song "Woman Power" celebrates "the coming age of feminine society." Could you have imagined the #MeToo movement when you wrote it?
Everything that I write is usually something that will happen much later.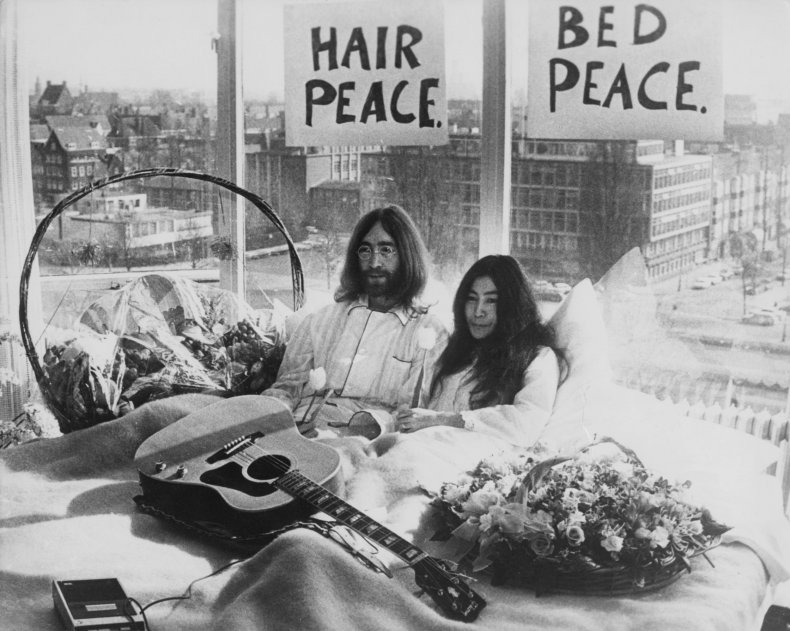 You chose not to include any songs from the 1981 Season of Glass LP on Warzone. Is that album painful for you to revisit?
Yes.
Do you have a favorite among your many musical releases?
Starpeace was pretty good.
How has your relationship with the song "Imagine" changed since you were given an official co-writing credit?
It didn't change at all. John and I both put our spiritual energy in it. I thought [the song] would have a long life.
You have often spoken and tweeted about your admiration for trees, including your Wish Tree installations (in which you plant trees with wishes tied around the branch). What is it about trees that intrigues you?
Trees are very fascinating for all of us, and the reason is that the tree has an energy to grow up. Such a beautiful energy.
Tell me about your dot drawings (or "automatic" drawings). How do they relate to the Warzone album?
We are all pebble people, and the drawings express that.
When Donald Trump was elected president, you tweeted an audio snippet of your anguished cries. Has his presidency been as terrifying as you feared?
He's the wrong person at this time. But anybody in the world can change, so let's see.
You've been a vibrant innovator for more than 50 years. How do you account for that remarkable longevity?
I don't think that's longevity. I hope I have at least another 50 years.