Yosemite National Park Deaths: Travel Bloggers Killed in Fall From Taft Point Overlook
Two people who died in a fall from an overlook in Yosemite National Park have been identified as a husband and wife who ran a popular travel blog and Instagram account.
Officials have confirmed that Vishnu Viswanath, 29, and Meenakshi Moorthy, 30, died after falling from Taft Point at the popular national park on October 25, NBC reports.
National Park Rangers said in a statement the couple fell approximately 800 feet below Taft Point in an area with very steep terrain. Their bodies were recovered following an operation involving Park Rangers using "technical climbing and rappelling techniques," as well as helicopter support from the California Highway Patrol.
"This incident is under investigation, and no further details are expected to be available for at least several days," a National Park Service spokesperson said. "Yosemite National Park extends its gratitude to the California Highway Patrol for their critical assistance in this recovery operation."
According to Nisha Kuruvilla, a professor at the College of Engineering Chengannur in the state of Kerala, India, the two were previously her students and had married at a Hindu temple in Kerala four years ago, the Associated Press reports.
Viswanath and Moorthy, originally from India, described themselves as a "travel-obsessed couple" who were "constantly exploring places near and far" after moving to New York around 2017.
The couple documented their travels on their blog Holidays and Happily Ever After, where they posted pictures of their times in Italy and Belgium as well as across the U.S.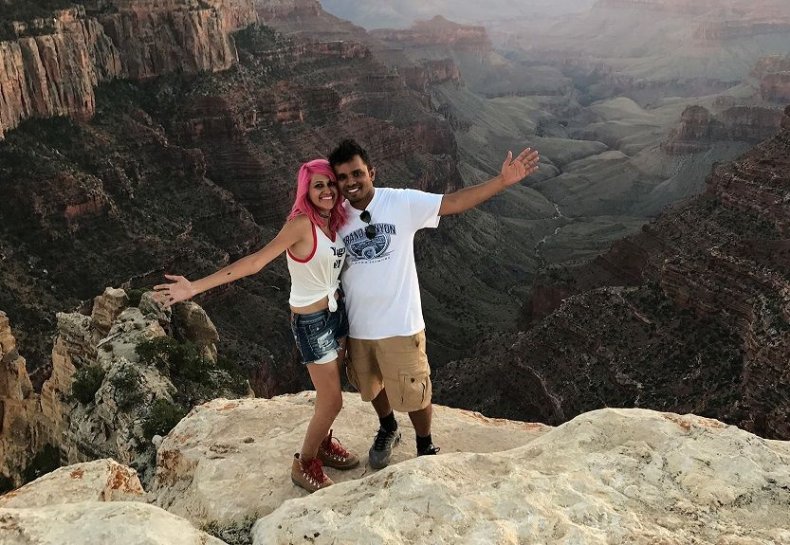 "I am a girl who loves to liven up every moment of her life and goes by the motto—Live Every Moment. Laugh Every Day. Love Without Limits. And that brings me to this amazing guy, exceptionally patient, who showers me with unconditional love—Vishnu, my dearest husband," Moorthy wrote in the About Us section of their blog.
The couple also posted photographs of their travels on an Instagram account with the same name, which has nearly 13,000 followers.
An Israeli teenager died at the park in September after falling hundreds of feet while hiking near the top of Nevada Fall. The death of 18-year-old Tomer Frankfurter was being treated as an accident, the Mariposa County coroner's office said at the time.