Thousands of internet commenters were appalled after one man explained why he financially threatened a child he helped raise for more than a decade.
In a viral Reddit post published in r/AmITheA**hole, Redditor u/Worried_papa_1762 (otherwise referred to as the original poster, or OP) said he found out one of his three children isn't biologically his and detailed the years of emotional turmoil caused by this stunning revelation.
Titled, "[Am I the a**hole] for cutting my son's college fund because he refuses to visit me?" the viral post has received nearly 6,500 votes and 3,000 comments in the last day.
Writing that he was informed his 16-year-old son (called Alexander) isn't his biological child three years ago, the original poster said he divorced his wife and moved to a different city "because [he] needed time to heal." Adding that he wasn't "physically involved" in his kids' lives for the next two years, the original poster said he regularly called his two biological children, but communicated less with the child he learned was not his.
"I felt uncomfortable," OP wrote. "One day he was angry and grabbed the phone crying and said: 'Don't you love me, dad, why are they more important to you?'"
After moving back to the same city as his children with a new partner, the original poster said he attempted to repair the relationship, but was stifled at every turn.
"I moved back to my city last year with my new partner to settle down and my kids...came to visit me immediately but Alexander didn't come so I went to his mom to see what was going on," OP wrote. "I talked to him and also apologized for treating him that way but [he] refused to come to my house."
After a brief reconciliation, however, the original poster said his wife's pregnancy drove another wedge between he and Alexander.
"When he found out my wife (he refused to come to my wedding) was pregnant he told me not to visit him again, then I found that his mom was seeing [his] biological father so I thought that my son wanted a relationship with his bio dad instead," OP wrote. "Until I found out that he rejects this guy...one day this guy was trying to spend time with him but Alexander said: 'Look dude, no hard feelings but don't try to force a fatherly role on my because you are not my dad.'"
"I decided to invite him again to live with me...and he is the only one who refuses," OP continued. "My daughter was born 6 days ago and he hasn't come to see his half-sister so I called him and said that if he doesn't come to see me I'll be cutting off his college fund."
"He told me to f**k off and then hung up," OP added.
In many cases, fathers who learn a child is not biologically their own suffer from "excruciating" emotional pain and often feel confused about their relationship with the child, according to the DNA Diagnostics Center.
While some choose to maintain those relationships, others choose the opposite, creating even greater emotional fissures between fathers and children who have known them only as their parent.
For children and teenagers, a father's absence (physically and emotionally) can severely affect mental health and cause other behavioral and academic issues, according to nonprofit Children's Bureau.
Despite returning to his home city and repeated attempts at reconciliation with the 16-year-old, the original poster's threat to cut his son's college fund comes at a major cost.
In the United States, the Education Data Initiative reports that the price of a four-year college education has more-than doubled in the last two decades, with the current average cost hovering around $35,000 per student per year.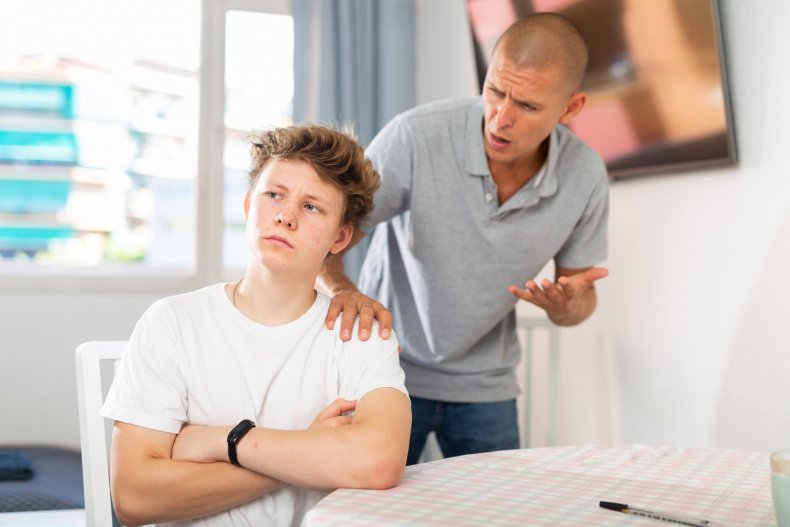 Throughout the comment section of the viral Reddit post, Redditors acknowledged this massive cost and called out the original poster for the emotional and financial distress his actions have caused his 16-year-old son.
"You abandoned your son who no doubt took this news as hard or harder than you did," Redditor u/Lurker_the_Pip wrote in the post's top comment, which has received more than 31,000 votes.
"Now you turned your back on him...you want him to dance like a trained monkey playing to your whims so he can have a future," they continued. "[You're the a**hole]. A very selfish a**hole."
Redditor u/Hazelwood38, whose response has received more than 8,000 votes, echoed that sentiment.
"You treated your son like s**t for [two] years because of what his mother did and you're shocked he didn't come running into your arms?" they questioned. "You clearly [favor] your biological kids. In what world would he want to visit more people you consider family when you don't consider him that?"
"This kid found out his life was a lie and then the only father he ever knew skipped town and couldn't even look at him for a crime he did not commit," Redditor u/Seckshaver420 added, receiving nearly 7,500 votes. "Threatening him because he has a hard time adjusting to all these changes makes you an awful father. Treating your son like that and prioritizing your comfort over his makes you a bad father."
Newsweek reached out to u/Worried_papa_1762 for comment.