Woman Slammed for Wanting to Leave Kids for Summer to 'Find Herself'
Commenters in a popular internet forum criticized a woman after she asked her sibling to watch her two children for the summer so she could "find herself" after a messy divorce.
The original poster (OP), known only as u/NoKidsAlloweds, posted about the situation in Reddit's "Am I The A**hole" forum where it received nearly 9,000 upvotes and 800 comments. The post can be found here.
In the post titled "AITA for not watching my sister's children while she finds herself?" OP said her sister is in the midst of a messy divorce and that her ex-husband "ghosted" her.
Nearly 2.5 out of every 1,000 marriages end in divorce, according to data from the Centers for Disease Control and Prevention. Researchers have long said that divorce can have long-term negative impacts on children.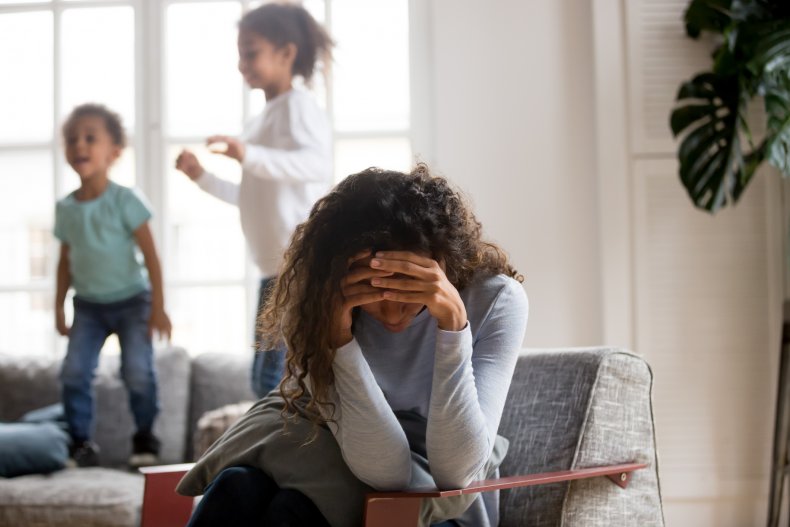 Studies also show that children of divorce may endure psychological stress from the split, which is why many experts recommend parents check-in with their children during and after the divorce.
OP said their sister was a stay-at-home mom for the last ten years but that she is now on a "must reclaim my youth phase."
"She wants me (I'm single and live in a small one-bedroom apartment in California) to watch her kids for the summer while she heals," the post read.
The issue is that OP's sister lives nearly 1,500 miles away and although they work from home three days a week, they still would have no time to take care of a five and seven-year-old for three months.
"My sister is hurt and said I can get a nanny and I can afford it. She starts crying she needs to reclaim herself over the summer," the post read. "I told her that's bulls**t and millions of people go through divorces and I doubt many people have someone else watch their children for them all summer."
OP said their sister cried over the phone about how she "needed this" and how it's "not fair" that OP won't watch her kids. OP told their sister to stop being selfish and that she needs to think of her children during the divorce rather than "dump them" with other people while she "finds herself."
"My sister took it as calling her stupid and I talk just like her ex-husband. I was exhausted with arguing with her so I just said no. It's not happening," the post read.
More than 800 users commented on the post, with the majority calling OP's sister unreasonable and selfish for "abandoning" her children during a tough time for them.
"NTA, and props for standing your ground and not being manipulated into an unreasonable situation," one user commented.
"She really doesn't care about her kids while they're going through this?" another mentioned. "She needs to stop being so selfish and entitled."
"Your sister needs to understand that you can't just dump your kids on someone for three months, yes mental health is important," another user commented. "But you can't stop being a mum when you are going through something tough in life, I could understand maybe a few days or a week but not three whole months."
Newsweek reached out to u/NoKidsAlloweds for comment.
One woman was recently criticized online after asking for some of her child's inheritance because she felt she didn't get enough in her divorce settlement.
But another parent was celebrated for telling her ex-boyfriend's current girlfriend to "back off" after she constantly interfered with her co-parenting efforts.