'You Can Hardly Buy Groceries': Inflation Complaints Grow as Gloomy Sentiment Hurts Biden
The Labor Department reported this week that inflation across a broad range of everyday products is at its highest in over 30 years, prompting consumers to increasingly complain about soaring costs under President Joe Biden's leadership.
Prices skyrocketed during the month of October, with groceries 5.4 percent higher than the same period last year, while overall inflation has risen by 6.2 percent this year. The cost for meat, poultry, fish and eggs collectively rose 1.7 percent last month, and 11.9 percent year-over-year.
"Oh my God," consumer Bernice Rink told NPR, "you can hardly buy groceries."
"You have chicken, which is the cheapest thing you can buy—$11," Rink added. "Not a family pack, mind you. A regular pack. Everything has increased."
Gasoline prices also soared by 12.3 percent last month, as part of a whopping 59.1 percent increase in 2021. Overall, energy prices rose by 4.8 percent in October and are up 30 percent for the 12-month period.
On Sunday, Energy Secretary Jennifer Granholm warned that Americans should expect to pay more to heat their homes as a result of the soaring gas prices.
"This is going to happen. It will be more expensive this year than last year," Granholm said on CNN's State of the Union.
Nick Apodiakos, who shares a house in Boston with his mother, told NPR that the rising prices make paying for food and energy feel nearly impossible.
"Before, you'd go to the store, and if you had $100, you could buy four bags of groceries and be happy. Now, you're lucky to get a bag. Milk, orange juice, eggs. Plus the oil for the house, the water bills. It's just crazy. It's so much money. How is somebody supposed to survive?"
Like Apodiakos, most Americans are feeling discontent over the state of the economy. A recent survey from the University of Michigan found that 1 in 4 people said their living standards have fallen in the past month due to inflation.
"Rising prices for homes, vehicles, and durables were reported more frequently than any other time in more than half a century," Richard Curtin, the survey's chief economist, said in a statement.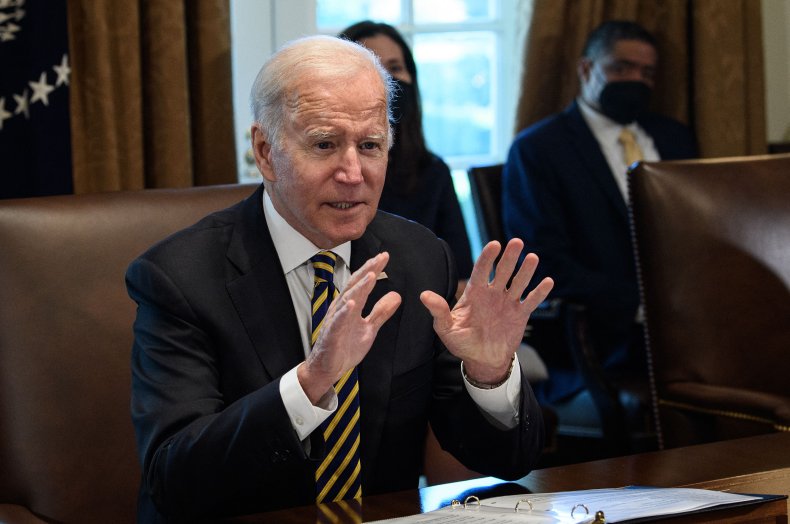 The surging costs have put an increasing amount of pressure on Biden. Recent polling has found that just 38 percent of Americans now approve of his job performance, while two-thirds of Americans believe the nation is on the wrong track.
Stephen Moore, a former economic adviser to former President Donald Trump, believes that the record inflation will help Republicans knock back Biden's proposed $1.75 trillion Build Back Better Act.
"Inflation is really resonating with people," Moore said. "I give us a 50-50 chance now of killing this bill," he added.
Earlier this week, Biden addressed the issue in Baltimore by stating that reversing the trend is a top priority.
"Everything from a gallon of gas to a loaf of bread costs more," he told a crowd on Wednesday. "And it's worrisome, even though wages are going up."
But economists have noted that the issue is likely going to get worse before it gets better.
"I'm now much more concerned than I was yesterday," Yale Economics Professor Samuel Kortum told the Yale Daily News. "My initial reaction is that it is a temporary rise in the price level that will not continue once supply chains start functioning properly again. But, the latest data suggest inflation may continue for longer than I would have expected."
Federal Reserve Chairman Jerome Powell and Treasury Secretary Janet Yellen have maintained that the current inflation levels are a temporary result of the COVID-19 pandemic, and that economic conditions should return to normal in the next year, CNBC reported.
But in the meantime, consumers are demanding that Biden's administration take more action to directly address the issue.
"I think that the White House is not focused as much on the things that the people need," Apodiakos told NPR. "I understand that climate change is an important thing," he added, in a nod to another Biden priority."Focus on climate change but also focus on price change."
Newsweek contacted the White House for additional comment but did not hear back in time for publication.