You Can Now Get Paid $1,170 to Test Nerf Blasters—and You Get to Keep All the Toys
Calling all big kids and gamers alike, the dream job really does exist after a company put out an advert for a toy tester.
The Toy Zone is looking to pay one lucky person a whopping $1,170 just to play with Halo Nerf blasters, and you'll get to keep all the swag too.
The brand is looking for a fan to give the new range a test drive and provide an in-depth review of the gear.
"We're scouring the world to find new blood to review a selection of products from Nerf's new Halo range, just in time for the hotly anticipated release of Xbox's powerhouse Halo Infinite. The ammunition may be made out of foam, but this is most definitely war," they said.
The person getting to live out their childhood fantasy will be sent a Nerf Halo bulldog SG blaster, a Master Chief helmet, and a Nerf Halo mangler, all valued at roughly $125.
You'll get to keep the lot and get a tidy sum for it, which even The Toy Zone reckoned was "ridiculous."
But it won't just be shooting your kids or spouse around the house, as you'll need to document every part of the mission.
You'll need to film an unboxing video, as well as do a photoshoot of the kit (close-ups required). And you'll need to record your epic home warfare as you test out the swag.
Now comes the hard part, as you'll also be expected to give an in-depth review of each piece of kit, telling people what you love and don't love, and what your overall verdict is.
And it goes without saying you'll need to "rigorously test these toys (aka play with them.)"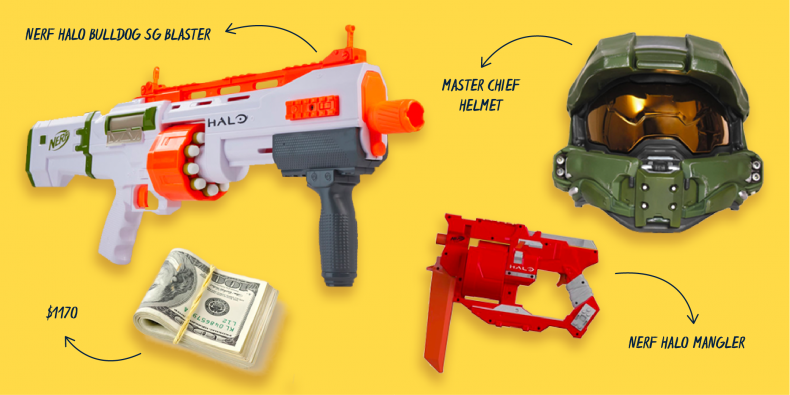 The team explained: "We're looking for someone with that same passion for toys who will deliver an accurate, impartial, and sincere review that fits our light-hearted demeanor. One which gives our readers all the information on the products whilst not losing the playfulness of the job at hand."
The deadline for applications is November 12, with the winner announced on the 29th. In order to be in with a shot of clinching the job, you'll need to tell the team in 100 words or less why you're perfect for the position.
They confirmed no experience is required, but advised: "We're offering this opportunity to the masses, not to the few. We're looking for your enthusiasm, sense of childlike curiosity, fresh ideas, and those who have always dreamt of being that kid from the hit Hanks movie Big."
Toys will be shipped via Amazon, and you'll be expected to submit your reviews no later than three weeks after receiving the merchandise.
You need to be over 18, and based in the U.K. or U.S.A to apply, which can be done by clicking here.