You Probably Missed Naked Men Playing Strip Dodgeball on "The Bachelorette" Last Night Because, 2020
The world of reality TV just got so much weirder on Tuesday night. A game of strip-dodgeball was featured on The Bachelorette, and it ended with some of the men being completely naked on national television.
Yes, everything was blurred out, so viewers didn't really have to look at the genitals of the men competing for Clare Crawley's heart, but it seems like Crawley got a good look at more than just the men's abs... which seemed to be the main point of the game. That is, until, the men were forced to lose their pants.
Naturally, The Bachelorette is now being slammed by viewers who thought the concept was completely inappropriate. The dating show is known for pushing the limits on family-appropriate television, what with fantasy suites and steamy moments, and last night's "love languages" date. In one setting, the men and Crawley explored "physical touch," which Twitter users compared to groping each other in front of a group of other singles.
Some also compared the strip-dodgeball game to a date from Peter Weber's season of The Bachelor in which the women dressed in lingerie to have pillow fights. Yes, that really happened.
The whole episode was bizarre to say the least, and felt like one of the year's wildest reality-tv moments, nearly as surreal as when Sarah Palin rapped "Baby Got Back" in a pink bear costume on The Masked Singer.
There's already a somewhat unpredictable storyline unfolding in Crawley's love life. The Bachelorette is expected to ditch the show entirely when she falls madly in love with one contestant, Dale Moss. From night one, much of the season has focused on Crawley's connection with Moss, which is something that viewers also complained about. The obvious draw between the two may be the reason for the show hosting such a wild distraction, like a strip-dodgeball game.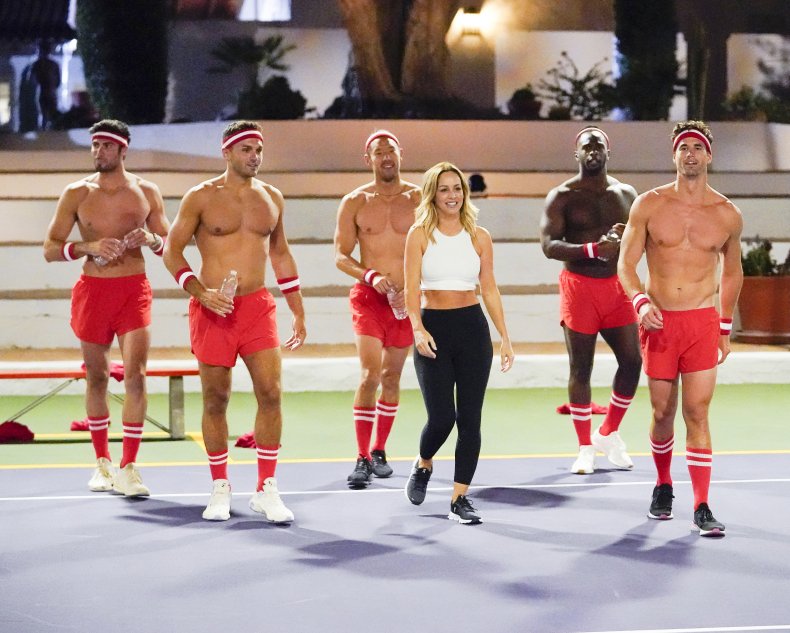 Whatever the reasoning, it did seem truly out of place in The Bachelor world, even though fans know to expect cheesy, risque moments from the long-running reality series. A vocal segment of viewers was just clearly uncomfortable with the game and how it put the male contestants on display. So, Tuesday night's episode seemed to gain Crawley even more haters.
No doubt there are many members of Bachelor Nation who are simply waiting for Tayshia Adams to step in and start handing out roses when Crawley inevitably decides to leave the series.