Viewers were shocked after watching a now-viral TikTok video that a woman posted showing her uncomfortable experience getting a sternum piercing, which resulted in her decision to remove it.
TikTok user @bigcatari posted the video on June 28 where it has currently received nearly 15 million views.
"Watch me get an exciting experience ruined by a rude a$$ piercer," read the text over the video, which showed how the piercing technician gave @bigcatari her piercing.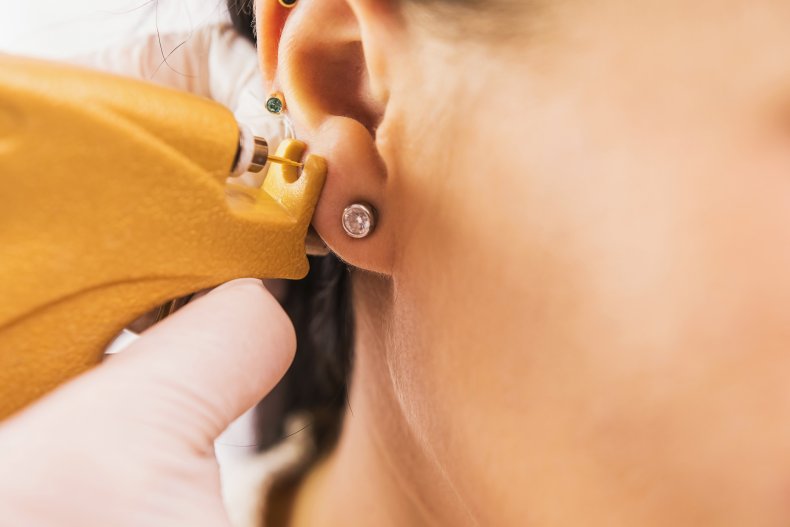 According to an article in Healthline, these types of piercings are performed when the skin is clean and sterilized.
"After the area is dry, they'll mark your skin with a pen or a marker to ensure that the entry and exit holes are created in the right spot," the article said.
The piercer will then push the needle into the entry hole marked on the skin and out to the marked exit hole. Different people will have different experiences with pain, depending on their tolerance.
There may also be risks for potential clients to consider, including infection, scarring, and rejection.
"Migration and rejection are common with surface and dermal piercings," Healthline reported. "If your body views the jewelry as an intruder, your skin tissues may expand until the jewelry is completely pushed out."
At the start of the video, @bigcatari is seen waiting for the piercing technician as a friend offers words of encouragement.
"I was laughing and then...no warning," the text over the video read.
The piercer walked over, and immediately began the piercing process without saying a word. The TikTok user gasped and an uncomfortable expression crossed her face as the piercer continued.
"Don't be mad at me, you wanted it," the piercer told her.
At one point during, the technician placed the piercing before removing it and placing it back into the hole.
"So rough with me??" the text over the video read, which also noted that the piercing did not lay flat.
She said she was not given a mirror to look at the final result before the video concluded.
TikTokers React
Viewers took to the comments section to share their disapproval.
"That whole thing seemed...incorrect," a viewer wrote.
"Yea no he needs to go re-evaluate his manner and behavior with customers," another commented.
Some urged @bigcatari to complain about the piercer to the manager, while others who said they work as professional piercers also weighed in.
"As a prof. piercer this hurts to watch," one viewer wrote. "I explain every move to make my clients comfortable."
"They should have guided your breath and asked if you were ready," another viewer wrote. "Doesn't look like it's sitting well either. I'm so sorry."
The Follow-Up
In a second video, @bigcatari said that she went to her own piercing shop and was told the piercing might sit correctly, but it looked off-angle.
She provided an up-close look at the piercing, and said she was going to wait and see how it would heal over the course of a few days.
She then posted a third video, and said that while the piercer she typically sees told her that the sternum piercing has a chance to heal properly, many others advised her that it was better if she removed it.
"I couldn't find an appointment for another week, so I wanted to take it out myself," she explained. "I didn't want it to heal in the wrong place, so here I am on FaceTime with my boyfriend just taking it out myself."
Using a cotton swab, @bigcatari swiped with downward motions around the piercing until it came out.
She said she planned to let it heal before trying to get the area re-pierced.
Shop Owner Responds
Viewers surmised that the piercing was done at Diversity Tattoo, which is located in Las Vegas.
The owner of Diversity Tattoo, who did not want her name printed, told Newsweek that the video was "unfortunate."
She said @bigcatari was given verbal and written aftercare instructions, but she does not know if they were followed. The owner said if the bandage was removed too early, it would cause the piercing to not heal properly.
In response to how her employee approached the piercing, she said each tattoo artist and piercer have their own techniques.
She added that some clients tend to flinch when they anticipate getting pierced. To avoid any flinching, the owner said the piercer immediately began the process without counting down or warning @bigcatari when he would start.
His typical demeanor and approach to his work, the owner said, is "very serious."
Newsweek reached out to @bigcatari for further comment.
Other Viral Social Media Moments
Others have shared their experiences as it relates to getting piercings and tattoos.
A client took to Reddit earlier this year after they realized that their tattoo artist included her initials in the final tattoo design.
Meanwhile, one woman posted a video last year showing that while she intended to get her navel pierced, the piercer missed it and pierced the skin above the belly button.
In addition, another woman last month defended herself against viewers who criticized her decision to pierce her newborn daughter's ears while still in the hospital.
Update 7/11/22, 5:48 p.m. ET: This story has been updated with additional information and background.