Mom Defends Herself Against Online Trolls for Piercing Newborn's Ears
A mother defended herself against online trolls after piercing her newborn daughter's ears while she was still in hospital.
The mom, who posts on TikTok under her daughter's name, Lara [@laraticaofficial], shared a clip that has been viewed over one million times of her baby in hospital, just one day after her birth.
The footage shows Lara with small floral studs in her ears, causing a huge backlash among users—with some saying the mom should have waited until the tot could decide for herself.
Several users defended the mother against critics, saying the practice is common in various cultures and arguing babies feel less pain than toddlers when piercing their ears.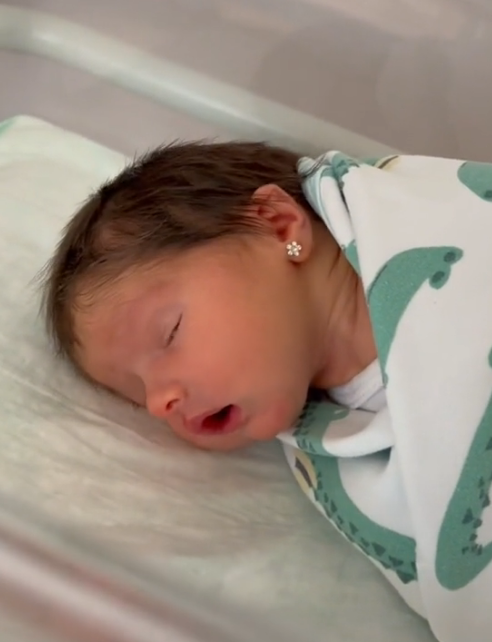 Mom who pierced newborn's ears defends herself against online trolls
laraticaofficial/TikTok/laraticaofficial
However speaking to Newsweek, the mother, who lives in Colombia but did not wish to give her name, said: 'There are a lot of mischievous comments. 'Why did I pierce my little girl's ears so young?'.
"Well the answer is, because I wanted to, and that it is possible in our country. I think a few days after birth is much more non-traumatic for a child to pierce their ears than when they are one or two. Lara had no reaction when the doctors gave her the holes."
Ear piercing is a common practice in various cultures throughout the world—however it is more contentious in the U.S. and the U.K.
While ear piercing is influenced by a family's culture or traditions, the American Academy of Pediatrics (AAP's) notes: "as a general guideline, postpone the piercing until your child is mature enough to take care of the pierced site herself."
However, the organization also acknowledges that if the piercing is properly cared for, there is little risk to an infant's health.
A survey of 779 U.S. parents by ABC News and Good Morning America back in 2010 found that, on average, they thought 9-years-old was an appropriate age for children to have their ears pierced.
Baby Lara was born in January and her mom has amassed over 747,000 followers on TikTok sharing sweet clips of her newborn.
While many users fawned over the adorable baby in the comments, some were quick to criticize the decision to pierce Lara's ears.
"I'm glad I wasn't forced to get my ears pierced as a baby. It should be the choice of the child," wrote one user.
Another unimpressed user said: "A beautiful baby, definitely didn't need earrings though."
"Uhmmmmmm... is a brand new baby wearing earrings? Why?," asked a third.
But several users jumped to the mom's defense, with one writing: "In our culture/family, we also have ears pierced as soon as they are born."
Another commented: "I had my ears pierced as soon as me and my twin sisters were born, by my late grandmother. Nothing wrong with it in the first 24 hrs of life".
"We had earrings while we [were] still in hospital bed too it's the culture in our country just like her but people are like so confused," wrote a third.