A 7-year-old girl was killed after a tree fell on her family's tent on Wednesday in Tennessee, according to park officials
The girl was camping with her family at Great Smoky Mountains National Park at the Elkmont Campground when she was crushed by a large red maple tree that was around 2 feet in diameter, the park said in a news release.
Park rangers responded to a call about the incident at 12:03 a.m. Wednesday.
The Gatlinburg Fire Department and Gatlinburg Police Department were also sent to the scene at Elkmont Campground. The father and two siblings were unharmed, per officials.
No details were revealed about what caused the tree to fall.
The park closed the campsite and adjacent campsites following the incident, but the Elkmont Campground remains open.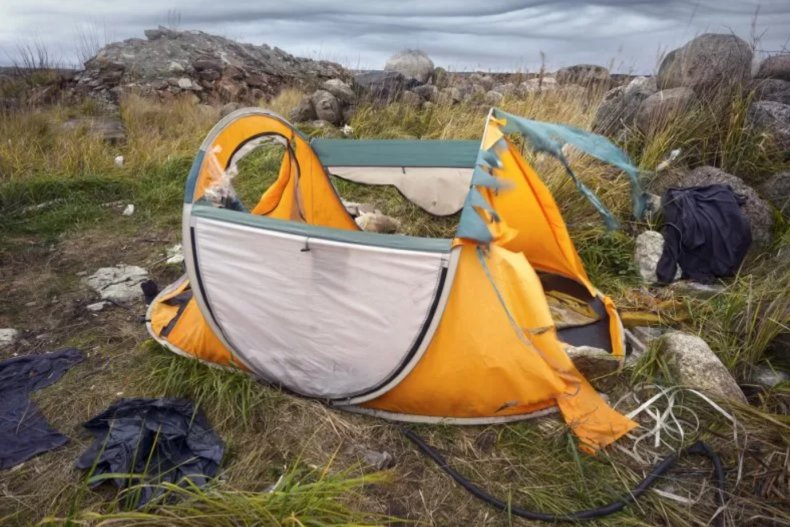 The park, which is known for its diverse plants and animal life, covers the border between North Carolina and Tennessee, according to its website. It spans over 520,000 acres of the Great Smoky Mountains and has 10 developed campgrounds with an overall of 1,000 campsites, per Patch.
Newsweek reached out to the Great Smoky Mountains National Park and the City of Gatlinburg for additional information and comments.
Similar camp incidents have not been uncommon, according to some social media users who recently shared their experiences. One person on Reddit revealed that when they were young, their family was camping in New Hampshire's White Mountains where a "bad storm" suddenly struck the area in the middle of the night. It caused a tree to fall and land on a woman, killing her while she was sleeping in her tent near their camping site.
In October of last year, strong winds blew dozens of tents into the sky in the Wugong mountains in China. Over 30 tents were circling in the air above campers who were looking up in disbelief.
Camping has become more popular, especially during the COVID-19 pandemic that forced many cities around the world to go under partial or complete lockdown to curb the spread of the virus.
The number of first-time campers was 9.1 million in 2021, according to research from Kampgrounds of America's (KOA) annual North American Camping Report. Meanwhile, the number of households who camped at least once during the same year was 56.9 million, increasing from the following year when 48 million households camped. The number of first-time campers in the country increased "five-fold" in 2020, according to a previous KOA report.