Young Girl's Foot Swells to Three Times the Size From Venomous Snake Bite
A schoolgirl has been hospitalized after a painful bite from a venomous snake left her face "swollen" and foot "black and blue."
According to a report from Teesside Live in the U.K., 11-year-old Grace Roys, from Netherfields in Middlesbrough, was bitten on Friday while visiting local beauty spot Cod Beck Reservoir in Osmotherley.
The young girl was out walking with her dad and sister after completing her last day of elementary school when the bite happened.
While traversing along a footpath, Roys stepped on something that, according to her mother Maggy Mace, she "then saw slither away."
"Her dad came back from packing up the car and saw Roys was crying hysterically, but he thought she was overacting," Mace told Teesside Live.
"She was adamant she'd stood on a snake, but he thought it was just a worm or a caterpillar."
According to the report, Roys began to suffer with stomach pains and vomiting on the journey home while her foot was already beginning to throb.
By the time her mother saw her later that day, the situation had escalated further.
"Her face was swollen, her foot was black and blue and she was physically sick," Mace told the news outlet.
Spotting the tell-tale teeth marks of a snake bite on her leg, Mace took Roys to hospital, where doctors confirmed she had been bitten by an adder.
Worse still, they found some of the adder's venom had reached Roys' kidney.
She spent the next two days in hospital, during which time her leg continued to swell up as a result of the venomous bite.
"Her foot is three times the size it should be, and it's burning rock hard," Mace told Teesside Live.
"All of the medical professionals we spoke to said they've never seen anything like this."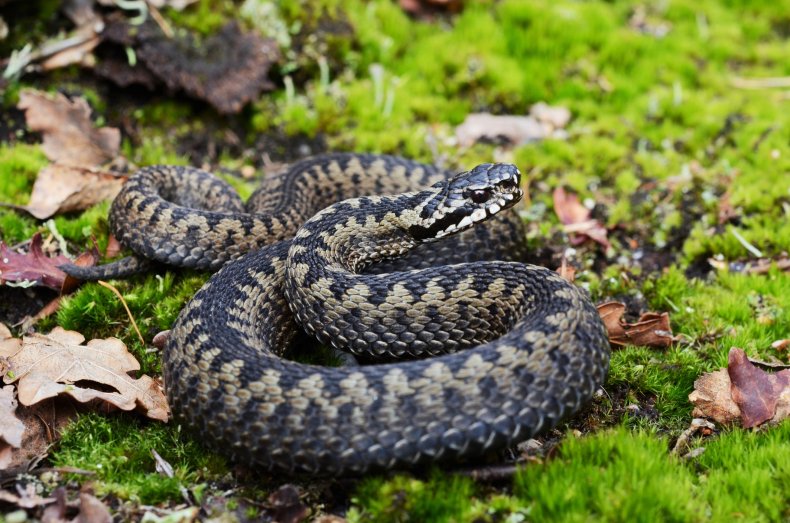 Roys is expected to be discharged from hospital soon, but in the meantime her mother is urging the public to be vigilant of the potential dangers posed by adder bites.
"People think there's no dangerous snakes in England, but they should be made aware of the threat" she told the news outlet.
A relatively small species of snake, according to The Wildlife Trusts, adders most commonly reside in woodland, heathland and other moorland habitats.
Distinguishable by the zig-zag pattern that runs down its back, the adder is the UK's only venomous snake.
While its poison poses little in the way of threat to humans, an adder bite can be painful and lead to inflammation and represents a much more significant danger to the very young, very old or anyone with a pre-existing illness.
Newsweek has contacted The Wildlife Trusts for comment.